It's the best day of the year! You know what that means, DANCE BLUE! Not sure what that is? Well let me tell you.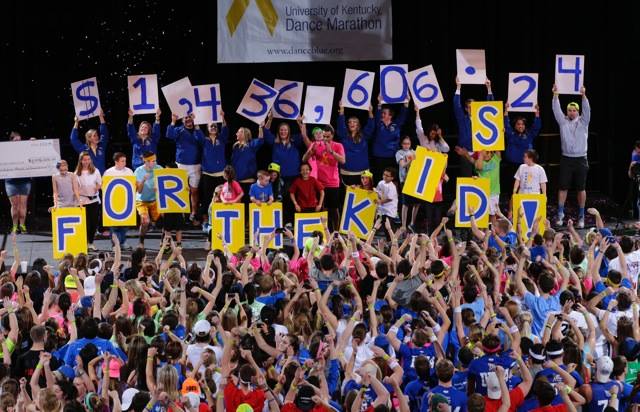 www.danceblue.org
It is a 24-hour no sitting, no sleeping student-run dance marathon held at the University of Kentucky. It's a huge fundraising event that goes toward the Kentucky Children's Hospital (KCH) and is devoted to Pediatric Hematology/Oncology Research.  This year at Dance Blue 2014, over 100 campus organizations participated and there were over 800 dancers who helped raise a total of $1,436,606.24 for the kids.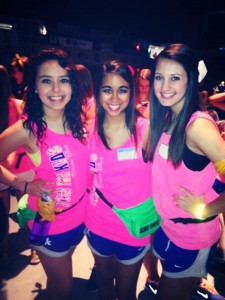 Liza Krein with friends Rosana and Andrea
WHOA. Incredible, right? As a participant in the marathon for the second year in a row, I can only speak very highly of this wonderful philanthropy event. Part of being a dancer in the event is learning a line dance in the beginning to perform at the top of every hour. This might be one of the coolest things to watch, here's a video from the campus newspaper (Kentucky Kernel) to give you a glimpse of the event.

At times during the marathon it gets hard though and you feel pain in your feet that you never thought you could feel in your life. That you are so exhausted from sleep deprivation, you consider learning to sleep with your eyes open (and standing up – giraffes can do it, maybe you can to?) and for some reason, no matter how many meals they give you, you are STARVING.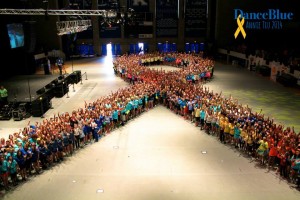 www.danceblue.org
The last few hours of Dance Blue make it all worth the pain and suffering though. As you watch the children from KCH get on stage for the Talent Show hour (my personal favorite), you can't help but forget all the pain. This year there was a cheerleading routine as well as several talented singers and I could never forget the little girl whose talent was doing the splits. Hearing the stories of families personally affected by KCH is the most moving thing you will ever hear, with tears rolling down your face from the positivity and energy you feel or the utter pain you're in; you realize why you're dancing. For The Kids. #FTK #DB14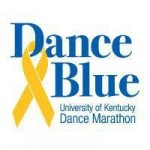 If you would like to read more information about this philanthropy, check out www.danceblue.org or if you would like to donate for next year's marathon (you can never start fundraising too early!!) you can go here www.danceblue.org/Donate/Donate-to-DanceBlue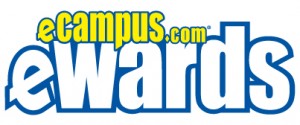 Earning points with eCampus.com eWards is easy and free. Just sign up using your email address and you are ready to get started. Earn points when you make purchases, refer a friend, follow us on Twitter and more. Receive exclusive deals on future orders when you trade in your eWards points. Get started today and start saving money!
1. Enroll today: 
Enrolling into the eWards program is always FREE and you are always rewarded with +50 points for doing so.  Between the dates of 3/4/14 and 3/17/14 those free enrollment points are DOUBLED. Enroll for free here: http://bit.ly/1g7iUtL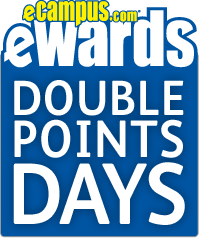 2. Earn Points:
Earning points is simple with eCampus.com eWards! You can earn points for purchases, selling textbooks, referring friends, sharing products and more. Points are added to your account automatically, so you'll never have a membership card or account number to keep track of.

+50 Points
Follow Us on Twitter
+  many more!  
3. Redeem Rewards:
Once you've earned enough points, you can trade them in for exclusive deals on your next order!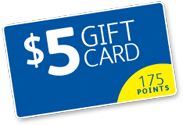 +  many more!  
4. Earn Badges 
Unlock an exclusive badge each time you place an order on eCampus.com.

Freshman
Unlock this badge after completing your first purchase!
+ many more!
What are you waiting for?  Enroll now: http://bit.ly/1g7iUtL

http://www.kbkcommunications.com
Being introduced to Pinterest was the best and worst thing that has ever happened to me. I have, however, learned how great Pinterest actually is.
1. Recipes. FEAR NO COOKING PAN! Pinterest has been proven to help turn you from Ramen Noodle Nancy to a 5 star chef in just a matter of minutes. Pinterest is full of endless amounts of fast, easy, tasty and healthy step by step instructions of recipes that will taste like a party in your mouth. It'll be impossible to go back to eating microwave dinners after scrolling through your timeline.
CAUTION: you may possibly burn down your building in the process of attempting to be the next Betty Crocker, don't worry your friends will thank you when they see all the cute firefighters.
2. Appearance. You can easily spruce up your dorm room with quick simple D.I.Y crafts, put together outfits for the week, and makeup/hair tips to help you look "natural" in your 9:00am class so you could catch that cutie's eye without looking like you're trying too hard. Who said you can't be Fabulous on a budget?!
CAUTION: If your D.I.Y. crafts end up looking like a kindergartener's art project…give all the credit to your roommate!
3. Dream Wedding. In the world of Pinterest, planning out every last detail to your dream wedding while you're still single is totally normal. If you want to have the best and most memorable wedding ever you're going to need to prepare 4,5,6 or heck maybe 10 years in advance, darling it' s never too early. Besides who needs to pay thousands of dollars for a fancy wedding planner when you have a Pinterest account?! With the money you save from not hiring a planner you can use it for your dream honeymoon which you can also plan on Pinterest. *hint, hint*
CAUTION: Mentioning your Pinterest wedding board on the first date is not the ideal ice breaker, you may just end up walking back to campus alone.
Pinterest is the ultimate survival guide of living on a budget. You can be super hip without having to move back in with your parents. Be careful, you might get hooked.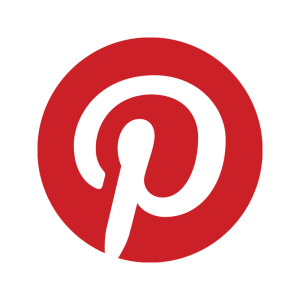 https://about.pinterest.com
Check out our eCampus Pinterest when you have some free time: www.pinterest.com/ecampusdotcom/
Thinking about skipping Gym day? You might want to think again, not only is exercise good for your heart and helps keep the "freshman 15" from making an appearance. Exercise has also been proven to help increase brain power and memory. And honey, with midterms and spring break around the corner we're going to need all the brain power we can get!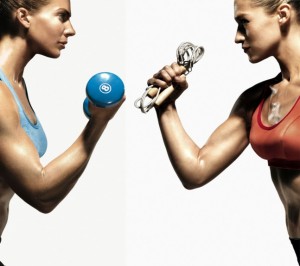 Gain Energy
Do you hate the crash and exhaustion you feel after your caffeine high dies down? You're not the only one. Regular physical activity has been proven to improve endurance and muscle strength which gives you the energy that helps you think clearer and faster. Who knew?
Focus Better
Regular Exercise helps improve your focus and memory.  Regular exercise releases endorphins which have been shown to improve memory, making it easier to memorize those equations and vocabulary terms. The brain is a muscle. The healthier this muscle is, the more information it can absorb and retain.
Be happier
I don't know about you but the thought of any type of exam puts me in a sour mood. Who wants to spend 6 hours in a library on a beautiful day? Fret no more you debby downers! According to the Mayo Clinic, exercise releases hormones called endorphins and serotonin, which helps improve your mood and reduce symptoms of depression.
Relieve stress
Let's be honest juggling endless amounts of homework, campus social events, and extracurricular activities can be pretty stressful. Exercise is the best way to relieve stress and tension. Whether it's a brisk 20 minute run or jog, a yoga class or just stretching in your dorm room being active can naturally release stress and leave you feeling refreshed.
I know fitting gym time into your already busy schedule might seem like a challenge, but trust me it's worth it. Besides not only will daily exercise help get you ready for bikini season but it will also play a role in increasing your GPA, you're hitting two birds with one stone!
Sources: http://www.webmd.com/men/features/exercise-benefits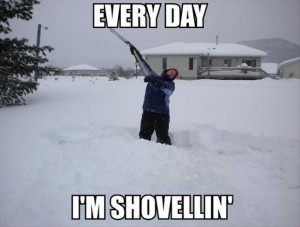 If you don't live under a rock, you've probably noticed that this winter has been particularly harsh thus far. So if your plans have been ruined and your classes have been cancelled—AGAIN—here are a few ways to stay sane while you are cooped up indoors waiting for the blizzard to pass.
Don't feel bad about cancelling plans.
This one is important. If you made plans with someone before a snowstorm, don't feel bad about changing or postponing said plans. Remember, your safety comes first. If you must drive in this weather, be sure the roads are safe and make a list so you can get as much done in one trip as you can.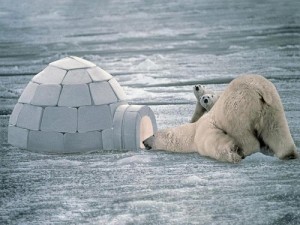 If something were to happen when you were out getting milk and bread, be prepared to build an igloo for safety in the case of an accident. This basic skill could save your life and even if there was no accident, practicing in the backyard could lead to hours of worthwhile fun.
Learn a new skill
Between Pinterest and StumbleUpon, it's easy to find something new to learn. Maybe you've always wanted to crochet a scarf. Or play the harmonica.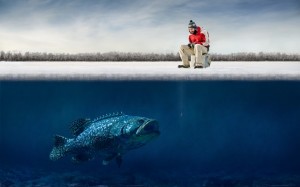 You could even learn how to go ice fishing, I hear Eskimo's do this a lot in their free time why not try it out and see what the rave is all about.                                                                                   
Catch up on homework
Okay so this one isn't actually enjoyable but hey, it needs to be done. If you're an assignment or two behind, now is a good time to catch up.
If your fireplace is running low on wood, you could always use that homework assignment your professor gave you last week. Staying warm or doing homework? I think we know the answer.
Skype your family
Your parents are probably worried about you, as parents often are, because of the severe weather. Take some time to let them know you're okay and while you're at it, let them know what you've been up to lately.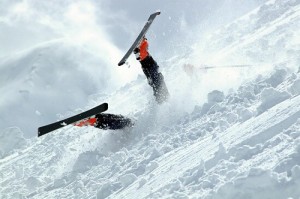 Like how you've become a famous YouTube star from sledding down a hill on your campus, then flying up 15 feet in the air and planting your face into the snow.  The Today Show has already contacted you about a guest appearance – mishaps in the snow aren't so bad.
Hang out with your friends
Just because you're staying in doesn't mean you have to be alone! Call up some friends in town or around campus and have some fun.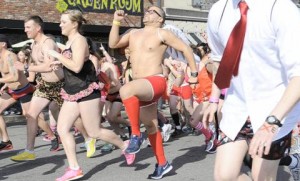 You could have a movie night, play some board games or participate in a philanthropy event! Every year, my campus hosts an undie run, you show up and donate your clothing to a homeless shelter. Then you get to run across campus in your undies, doing good and having fun all in one!