Nothing is more enthralling than writing up your first post college resume, right? ….Okay I am only joking about the thrills of the trade.  Let's change things up a little by me sharing with you how to write a BAD resume in three easy steps.
Step 1. WRITE FAST.
You seriously want to be done with this horrible task as soon as possible.  Editing takes forever and you may have to find another person for a second opinion.  Human Resources will definitely know you were trying to say "shift" the 30 times you left out the f.
Step 2. WRITE A LOT.
No need to be shy- the employer has all day to read over your resume.   You should flood them with useless achievements beginning with your youth t-ball team home run up until the award winning omelet you created this morning. The less relevant the achievements are to the job posting the better.  You want to stand out!
Step 3. LIE. LIE. LIE.
This company doesn't know you.  Embellish EVERYTHING! Odds are they are not going to actually cross check all credentials you list.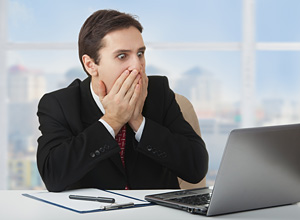 Okay…READY? SET? GO!
*DISCLAIMER: Following any of this advice will almost guarantee you a spot in the "reject" pile for landing interviews. Only follow these steps if you would like to remain unemployed.
Yesterday my mom called me from work. She was having trouble being productive—the office was quiet, she had tons of work, it just didn't add up! Then it struck us, put on some music. Even as background sound it can add something extra and get your creative juices flowing.
Now, some people hate distractions when they're working. They would rather sit alone and work than ever be bothered by people, or worse music. But on the flip side, some people can't work without it, they need music, or background movement to get anything done.
In fact, this summer at my internship, everyone had headphones in and was glued to Spotify as they completed their daily tasks. I loved it—but then again, I'm team music. It helps me focus while also letting my brain breathe. When it's silent and I'm studying I feel like I'm boring myself to sleep!
But since the verdict is out, and there are supporters on side of the "to listen or not listen at work" debate, I was surprised to find that some companies are blocking free streaming sites.
My mom couldn't pull up Spotify, Pandora, or even AOL music—all blocked. But why? Just because these sites exist doesn't mean everyone at the office wants to listen to them, and just because music is involved doesn't automatically mean it's a distraction.
In my mind, the option to listen should be available—music isn't like facebook, you don't need to block it! As long as you are doing your work, or studying, or whatever your task list might be, then it doesn't matter what else is going on around you. While I do agree with blocking shopping, and social media—music is pushing it.
But maybe I'm wrong? Where do you weigh in?
Do you listen, or shut it completely out?
One of the harder decisions for after graduation is deciding where you want to end up. You might have once dreamed about living in NYC, but does that still seem like a possibility now with the job market and the career you want? If you've spent your whole life, including college, living close to family, is it time to move away or can you not stand the thought of leaving them behind? For some, it's as simple as moving to wherever you can find a job. For others, this could be the hardest decision since deciding where to apply for college.
After college is when your life truly begins. Or so everyone says. We have our first real jobs, a house or apartment to ourselves, and we're completely responsible for our own well being. If that doesn't sound stressful enough, we have to figure out where will make us happiest—or at least where we can tolerate living until something better comes along. So where do we begin deciding what we want to do and where we want to go?
It seems the best way to go about this decision is to talk to advisors about a career path. Meet with your favorite professors in your field, go to career services at your school, and even talk to your family about what you can do with your degree. Though you might not know what you want to do down to the job title, you probably have some idea as to what kind of workplace you can see yourself in—after all, thinking about a future job is probably what got you into your college major. But if you've changed your mind about the career path you may have begun forging for yourself with your degree and internships, definitely do some research on your own and take advantage of people on campus to figure out the best next steps.
When you do have a career path in mind and know what kind of position you want—and can be hired for—it's time for more research. Though you might feel qualified for a position after your undergrad work, sometimes certain fields or job titles require a higher level of education. Others might scare you in their job descriptions with requests for people with years of experience in the field. Don't let these things discourage you. If you're holding off on graduate school or just know you never want to bother with it, it's important to look into other options; if you're dead-set on a certain position though, you may want to reconsider your nay to graduate school if it's needed.
Once you figure out what skills you have, what kind of job you want and can get hired for, it's time to think about who you want to work for. Obviously, a major part of this decision is paying attention to who's hiring. But before getting into all that, you should make a list of companies where you would like to work. For example, as an art history major, I looked into a lot of museums, including the big well-knowns like MoMA. Check out their websites, find out what positions they have open or even if they have any internships you can start off with. Though you might not get a job at the big-name companies right off the bat, at least you'll start to have an idea of what kind of experience they want in their staff and the kinds of positions they offer. If you have a certain place you want to live, start with those companies and begin crafting resumes and cover letters for there first. Though it might be scary, don't be afraid to apply to jobs farther from home and in places you'd never expect to live in. Even if you don't end up there long term, it's a good foot in the door to have and can lead to an even better future.
Ultimately, the decision is up to you. Take advantage of your family, friends, and campus services to help set you on the right path for you. But don't be afraid to go after what you really want, even if your family will be on the other side of the world or your friends don't like your decision. This is where your life really begins, and you can live it the way you want to.
Happy researching!
Maybe you didn't get into your first choice college.  Maybe you didn't get that internship you were hoping for.  Maybe you let yourself down a bit, but don't fret! Not everyone starts his or her career off perfect.
The Buried Life names 26 Successful People Who Failed At First on their Tumblr including the iconic Marilyn Monroe:
"Marilyn Monroe's first contract with Columbia Pictures expired because they told her she wasn't pretty or talented enough to be an actress."
Also, "Vera Wang failed to make the U.S. Olympic figure-skating team. Then she became an editor at Vogue and was passed over for the editor-in-chief position. She began designing wedding gowns at 40 and today is the premier designer in the business, with a multi-billion dollar industry."
Don't forget, " Oprah Winfrey was fired from her television reporting job because they told her she wasn't fit to be on screen. But Winfrey rebounded and became the undisputed queen of television talk shows. She's also a billionaire."
Even, "Lucille Ball spent many years on the B-list and her agent told her to pursue a new career. Then she got her big break on I Love Lucy."
Ladies aren't the only ones who have this problem, but Winston Churchill, Thomas Edison, R.H. Macy, Walt Disney, Albert Einstein, Dr. Seuss, Charles Darwin, Sir Isaac Newton…  The list goes on and on.
This isn't to say that if you fail at something, if you sit around and feel sorry for yourself good things will happen.  Since everything is solved through inspirational posters from your high school cafeteria's wall:
Photo credit: allfamousquotes.net
If you don't believe me, check out Barney Stinson's office wall! That guy is awesome and super successful.
Photo credit: skilven.com
You've heard it before.  Prior to even making a first impression, the other party involved is already taking a visual account of you.  From there they have formed a conception of what they think you're all about.
What if your visual presentation was the only thing you could use to make a good impression?  What if you weren't allowed to say anything, and the employer interviewing you, or the attractive group by the bar had complete jurisdiction over whether they liked you or not?
This is what happens at the literary magazine where I intern.  It is clearly obvious when submitters have not read our directions, or have just consciously chosen not to follow them.  It's not so much the folded corners on papers, or using a stapler versus a paperclip.  It's the coffee stains, the line spacing (single-spaced submissions are quite a sight for an already-overwhelmed editor or intern), the lack of a clearly articulated cover letter, or the lack of a cover letter altogether.  Resulting from these follies and more, we have already formed an opinion of the writer.  I am less eager to read a thirty-page, single-spaced story simply because it looks too dense to get through.  It could be very well written and engaging, but I might not make it far enough to find out.
Cover letters that don't say too much about you in general, much less as a writer, are also a turn-off.  I mean to address the letters that basically say, "Here is my submission, I don't really care what you do with it."  Instead of just having your contact information and the title of your piece as your cover letter, try making the reader interested in what else you have to say.  Even if you have no prior publications, give us a sense of your personality.  I like to have at least somewhat of an idea of the person whose work I'm about to read.  That being said, don't be too presumptuous!
Like any other company or group of people, at the magazine we're human, too.  We like to laugh, we like to poke fun, and sometimes it happens at other people's expenses.  Don't give us the opportunity to do that.  Make yourself as professional as you can be and that's what will put you ahead.  Of course, even professionals can have their share of bad writing, but if their cover letter and physical submissions are done well, they're one step closer to polishing off the rest of it.
I wouldn't want to walk into a bar and be judged just on how I was dressed.  It happens to people every day, of course, but just take note of the fact that it's an important factor.  Presentation is key, whether we like it or not.  Being aware of that guides us further along the professional and social lines of where we live.
So next time you submit your poetry to a literary magazine, a resume to an employer, or even a friendly text to the cutie from last night, be sure to realize that everything you're presenting is an extension of yourself.  Turn those extensions into the beginnings of showing everyone else exactly what great qualities you have to offer.