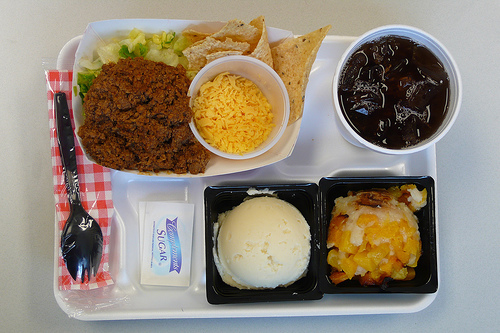 College is tough, not just academically but as you know it can be seriously tough financially as well. One place where college students tend to spend a lot of money is food. Face it, we love to eat out, we love our chipotle and delivery pizza, but you're looking at about $10 a person for either of these options. Then there's the cafeteria, somehow professors love it, I say eww. I've got a few cool, delicious, and super cheap recipe ideas to hit you with. Try them and let us know what you think.
1. Mom's tomato Mac – serves 4 for less than 2 dollars!!
Ingredients:
– 1 Box Macaroni noodles
– 1 Can, Diced tomatoes
– Sugar, salt, pepper
Boil the macaroni until it is tender to your liking then a teaspoon of sugar, salt and pepper. Stir, and then add the diced tomatoes. Simmer for about 1 min, cool and serve.
2. Totino's Pepperoni Chicken Pizza
I know what you're thinking… It can't be done, Well it can be. Heres the recipe.
Ingredients:
– 1 Totino's Pepperoni Pizza
– ½ pack of Chicken Flavored Ramen noodles
Just cook your pizza in the oven and crumble up the dry noodles. When the pizza is complete add the noodles and ½ of the ramen chicken seasoning packet. Bam! The Totino's Pepperoni Chicken Pizza.
3. The Seanwich
Yeah, I invented this one. When I was 8. It stuck with me until college and thankfully so, it super cheap and easy.
Ingredients:
– 2 slices of your favorite bread
– 1 slice American cheese
– 1 Banana
– Peanut butter
– Jelly
Toast the bread and add peanut butter and jelly. Next, add the cheese to the peanut butter side. Slice up the banana and add it to the jelly side. Sandwich the two together and cut in half. Serve with your favorite Doritos.
For some other ideas check out this book by Jamie Oliver: Jamie's Food Revolution: Rediscover How to Cook Simple, Delicious, Affordable Meal
SeanJohn
I'm reading Marketing