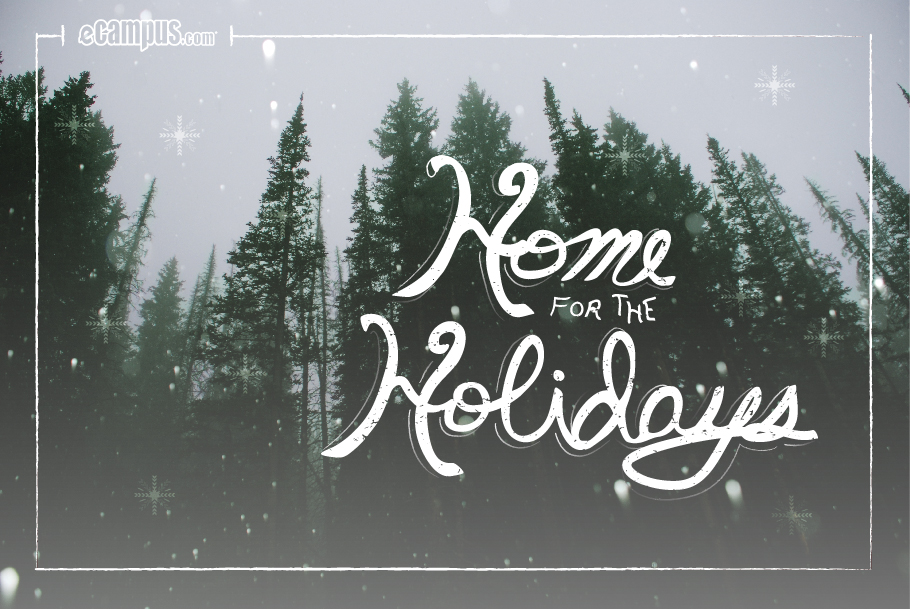 Everyone's favorite season has finally arrived! It's the time of year when ice skating downtown with friends every weekend is the norm, drinking hot chocolate and eating sweet treats daily is acceptable, and heading home to spend time with family and friends is what every college student looks forward to the most. I, like most students, love being away at school for the majority of the semester. However, as soon as Mariah Carey Christmas carols hit the radio and bells start ringing for The Salvation Army outside of the local grocery store, my anticipation to get home for the holidays begins.
Although we all look forward to heading home for the holidays, we at eCampus.com understand that for some, it can be difficult to get there. No one should have to spend their holiday in a deserted college town for lack of traveling expenses. Now, with our help, hopefully no one will have to! We are proud to announce our Home for the Holidays contest. We are celebrating the season of giving by paying for one student to travel home for the holidays. One lucky winner will receive a $300 check to spend on travel expenses this holiday season. Whether by plane, train or automobile, we want to send you home for the holidays!
To enter, simply answer the question "What do you love most about going home for the holidays?" through our Facebook or Twitter page. For Twitter, tweet your answer to @ecampusdotcom using #homefortheholidays. For Facebook, visit the eCampus.com Facebook page and click on the Home for the Holidays link at the top of the page.
For those of you who will be traveling on your own dime this holiday season, don't forget to check out Orbitz.com for top travel deals.
Good luck and happy holidays from the eCampus.com team!
This month my roommates and I went on a last-minute overnight trip for the Fourth of July. The best part? I spent less than $50 for the entire thing (hotel, travel, food and fun)! One of my roommates received an email on July 3 from a travel site (think Travelocity, Expedia, etc.) saying that there were still rooms available in select cities for the fourth. We decided on St. Louis since it was only a few hours for us to drive, and we booked a room for just under $100. We stocked up on cheap snack food and we were on our way!
As annoying as they can be, emails from these kinds of websites can let you know about great deals or sales they have going on that you wouldn't know about otherwise. In this case, we were able to celebrate the holiday in a really fun way without spending more than we can afford. I decided to make myself an email account that is strictly for "junk" mail that I give to stores or restaurants when I have to provide one. Although I don't check it everyday, I do check it at least once or twice a week to see if there's anything good going on, but this way I can keep my actual email's inbox clean without missing out on great promotions.
Living on my own this summer has taught me the importance of saving my money. Like most college students, I'm always on the lookout for ways I can cut costs, but that doesn't mean we can't treat ourselves to a weekend getaway. Whether it's a weekend excursion to see an away game for your college, or a spring break trip to the beach, we just have to be smart about planning and use the resources available to us! If you are planning a trip that requires a flight, be sure to check out this travel site that offers cheap airfare just for students.
What ideas do you have for affordable weekend trips? We would love to hear!
One of the biggest challenges and most rewarding aspects of studying abroad is getting to know and become comfortable with your host family—and to have them feel the same way about you! It takes time and happens gradually, but if you both put in the effort, you'll leave with a new home and an extended family waiting for your return. Having a host family was one of the most nerve wrecking aspects at first—what if they don't like me? What if we don't get along? What if it's horrible and I feel like I can't be at home? Though they were all valid questions, you just have to be open and honest with your host family and slowly start to get to know one another.
You might not be instant friends with them, especially if you're from completely different generations on top of being from different cultures. It might be hard to communicate if there's a big language barrier, but you have to try. The more effort you show in getting to know them, the more they'll come to appreciate you and want to be open with you. It's the same thing as meeting a stranger in America: slowly start to teach each other about yourselves and as time goes on, you'll (hopefully) be more comfortable and become better friends. So don't get into the nitty gritty details right away—especially with Italians, who are known for wanting to keep their privacy with people they don't know well. Maybe the first night focus on talking about yourself: why are you studying here, what your family's like, things you don't like to eat, etc. But also try to get them to engage as well, by asking them questions too or giving them room to interject. Even if it's frustrating and you don't know what to say, just remember that in a week or less all of your efforts will pay off.
To further help your relationship with them, you need to be considerate and respectful. Don't let garbage and clothes pile up around your room. Italians pride themselves on keeping things neat, and many other home stays elsewhere—even if the family doesn't care about organization—would appreciate you being able to pick up after yourself and not make a mess out of their home. You are a guest in their house first and foremost, and no matter if you become a new family member by the end, you still need to respect their rules and boundaries. Though they don't set a curfew, be conscious of the time you come home and the amount of noise you make when you return.  Also be aware of how much time you spend in the bathroom, how much/little you eat of what they make you and how you interact with any friends they have over or pets they have. It's not that you're being tested per say, as much as you should be respectful and aware of how you're acting in someone else's house.
After time, you and your host family will grow to be more accepting and understanding of the others' behaviors and likes or dislikes. You'll be able to talk freely and fall into their habits of how long to spend in the bathroom, a normal serving size at dinner or how neat you should keep your bedroom. The more you integrate yourself into the culture and try to learn from your host family, the happier all of you will be and the better experience you'll have. So just jump right in and learn, experience and grow. This opportunity is all about you and your hosts learning from one another, so why not make the most of it?
It's like freshman year all over again…the dreaded thought of weight gain. In a foreign country with an entirely different diet than the States, it can be hard to maintain your weight and fitness—especially when you have to juggle class, exploring your new home, and venturing off on the weekends to new places! Not to mention having a host mom who likes to fill your plate with three courses at 8 pm. Others try to save money or avoid the weight sitch entirely by eating infrequently and as little as possible—no buono!
Food is an important part of every culture. Italy is all about the pasta, bread and vegetables, versus Americans chowing down on hotdogs and hamburgers. But if you look around Italy, you'll see mostly skinny or average weight citizens ordering light lunches and big dinners. So how can you handle a pasta lunch, and a pasta dinner followed by potatoes, meat and salad, and ending with a fruit salad? You have to keep your food quantities in perspective. Follow the culture. If they eat a lighter lunch, follow suit. You might get hungry again before dinner if you're used to eating earlier or having a larger lunch, but give yourself some time to adjust. Grab a snack or go exploring to keep your mind off food (though passing so many little gelato stores might make it worse). After an adjustment period, you'll be able to eat on the same schedule as the Italians, or whatever culture you're experiencing, do.
Saving money is always a concern when abroad, but don't let that keep you from eating! You don't have to go to a nice restaurant every time you want to eat. Check out grocery stores—they often have cheap, already made options for lunch or ingredients to make your own. Go out to eat with a large group and try sampling a variety of dishes; by splitting the bill, you'll still get all the flavors of your country at a lower price then trying to work your way through the restaurant's menu on a variety of visits. Also, simply checking out the smaller cafes and lesser known restaurants on side streets could lead to big money savings—and having a secret hangout!
Besides money and weight gain, others are just concerned about pleasing their host families. When you first arrive, just talk about what you can or can't/won't eat and go from there. Get a sense of their eating habits—how much they eat and when they eat—and try to mimic them as much as possible. They want you to have a good time studying abroad and want to make the adjustment easier, which can mean making you feel at home with a big hearty meal. Don't feel like you have to eat it all. Learn how to say "I'm full" or something along those lines, and politely decline. They won't be offended and it can actually help them learn how much food they should make so it's sufficient for the whole family.
Most importantly, you need to enjoy your abroad experience. Don't let counting calories or coins hold you back from eating and doing what you want to do. Once you immerse yourself in the culture, measuring out everything you eat won't matter anymore. Besides, there's always time to lose weight if you need to or form a stricter budget for the rest of your stay. In the meantime, buon appetito!