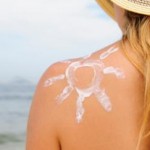 As someone who spends as much time possible outside during the summer, I never gave much thought to skin cancer. Whether I was outside daily for softball, my lifeguarding job for two summers, or just tanning in my backyard, I used sunscreen once but that was it. As I've gotten older, and as the cases of skin cancer have increased, I knew I couldn't ignore this issue anymore.
The first major change I made was that I stopped using indoor tanning beds. I heard just how greatly they increased your chance for skin cancer, and I knew I had to stop. I love the sunshine, and I would much rather be able to spend my days outside (using sunscreen!) than have to cover up during my favorite season. I've also limited the amount of days I tan outside. Rather than waking up and spending the day in my backyard tanning (which was my daily routine), I now try to limit myself to at least every other day.This infographic (below) does a great job of expressing just how wide-spread the issue of skin cancer has become.
I can't say that I don't love having a great tan, but the negatives far outweigh the positives. What are your thoughts? Is this something college students should start taking more seriously?
While on the train to New York City, my laptop is out and I'm writing articles, not for the job I'm going to, but for writing jobs out of Lexington and San Francisco.  California isn't even awake yet, but my editor will have another article in her inbox before her morning coffee.  Lexington is probably awake but the posts aren't even due for another week.
Journalism collegians, just like most other majors I can imagine, have so much on our plates.  We need to work for our degrees, work for our bank accounts, work for our resumes, work for scholarships for school and balance some sort of social life so we don't end up having a mental breakdown (which might happen anyway).  Don't forget to add family life and workouts into the mix!  
Photo credit: http://battleforthebathroom.wordpress.com
So how do we keep everything straight?
Planners and white boards, calendars and post-its, alarms and Word Docs, organize, organize, organize.
In writing, it is difficult to keep editors and writing styles straight, especially when working for some liberal companies and some conservative ones.  That's something you don't want to mix up.
The best way to keep everything in order is to simply pay attention.  You may be juggling fifteen things at once but always doing one thing at a time and thinking each task through to completion will keep everything in order.
Good luck, and just remember that the days of juggling essays, tests, quizzes, part-time jobs and college life is just around the corner!
One of the biggest challenges and most rewarding aspects of studying abroad is getting to know and become comfortable with your host family—and to have them feel the same way about you! It takes time and happens gradually, but if you both put in the effort, you'll leave with a new home and an extended family waiting for your return. Having a host family was one of the most nerve wrecking aspects at first—what if they don't like me? What if we don't get along? What if it's horrible and I feel like I can't be at home? Though they were all valid questions, you just have to be open and honest with your host family and slowly start to get to know one another.
You might not be instant friends with them, especially if you're from completely different generations on top of being from different cultures. It might be hard to communicate if there's a big language barrier, but you have to try. The more effort you show in getting to know them, the more they'll come to appreciate you and want to be open with you. It's the same thing as meeting a stranger in America: slowly start to teach each other about yourselves and as time goes on, you'll (hopefully) be more comfortable and become better friends. So don't get into the nitty gritty details right away—especially with Italians, who are known for wanting to keep their privacy with people they don't know well. Maybe the first night focus on talking about yourself: why are you studying here, what your family's like, things you don't like to eat, etc. But also try to get them to engage as well, by asking them questions too or giving them room to interject. Even if it's frustrating and you don't know what to say, just remember that in a week or less all of your efforts will pay off.
To further help your relationship with them, you need to be considerate and respectful. Don't let garbage and clothes pile up around your room. Italians pride themselves on keeping things neat, and many other home stays elsewhere—even if the family doesn't care about organization—would appreciate you being able to pick up after yourself and not make a mess out of their home. You are a guest in their house first and foremost, and no matter if you become a new family member by the end, you still need to respect their rules and boundaries. Though they don't set a curfew, be conscious of the time you come home and the amount of noise you make when you return.  Also be aware of how much time you spend in the bathroom, how much/little you eat of what they make you and how you interact with any friends they have over or pets they have. It's not that you're being tested per say, as much as you should be respectful and aware of how you're acting in someone else's house.
After time, you and your host family will grow to be more accepting and understanding of the others' behaviors and likes or dislikes. You'll be able to talk freely and fall into their habits of how long to spend in the bathroom, a normal serving size at dinner or how neat you should keep your bedroom. The more you integrate yourself into the culture and try to learn from your host family, the happier all of you will be and the better experience you'll have. So just jump right in and learn, experience and grow. This opportunity is all about you and your hosts learning from one another, so why not make the most of it?
I went to China in May. It was amazing. Everything was different—the food, the culture and of course, the language.
I loved everything about it.
I got to climb to the top of the Great Wall, and try 10 different kinds of dumplings. But, no matter how hard I tried, I couldn't crack the language. It was fascinating to listen and watch the people speaking. There are so many tones and symbols—even watching people write had me in awe.
It got me thinking about how important language is. When I was in China it was so hard to communicate because of the language barrier. You are stuck using your hands, or trying to convey a message with your expressions alone.
It's tough. It's scary. It's beyond frustrating.
You want to be able to speak the native language of country you travel—it's easier, respectful, and of course just cool.
In fact, if I could have any superpower it would be the gift of speaking and understanding every language in the world. Now granted, that's a lofty goal. But imagine what that would mean—the ability to communicate with anyone, anywhere, anytime. It's not that easy, but I wish it were!
Languages are unique and complex. They are full of history and tradition. I took French starting at a young age. I didn't keep up with it and it's a shame. Looking back now, I wish I would have practiced more or taken it more seriously. How cool would it be to really talk to someone in French, like really talk?
Every time I travel I get enthralled with the language—I hang on every word. Even the ones I can't understand, which are a lot.
I have a new life goal—one that will no doubt take a while to accomplish. I want to learn to speak Chinese, at least conversationally. I left China in May knowing how to say hello, how are you, I'm fine, and thank you. It's not a lot, but it's a start.
I may never reach my super power goal, but I can say hello and goodbye in French, Chinese and English—I just have to keep adding to my word base!