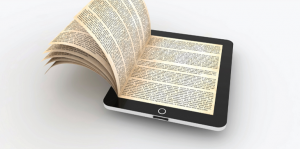 Today everyone uses their laptops, cell phones and tablets for everything including textbook readings for class. It may seem that the only duty our paper textbooks have, is to collect dust on the book self. This isn't as true as you might think. There are several pros and cons for both an eTextbook and a physical textbook. I'm here to enlighten the public on which to choose, an eTextbook or a physical textbook.
According to Cynthia Boris of NBCNews.com there are various categories of comparison that can be viewed when weighing the pros and cons of an eTextbook and a physical textbook. In her opinion, ease of use, portability and cost are among the most important aspects to consider when making your book decision.
Ease of use: Although an eTextbook encourages you to explore the world of knowledge at the drop of your fingertips, does it make it harder to retain the information you are looking for? Some eTextbooks allow you to make notes and highlight for memorizing purposes but according to a study performed by Survey Monkey, nearly 40% of students preferred to use a print book to study with. An eTextbook might be easier to use sometimes while other times there is nothing better than being able to feel the pages of a physical textbook.
Portability: At times, textbooks can put a large strain on your back when walking to class. The weight of some textbooks can be several pounds each versus a few ounces for only one tablet to store thousands of e-textbooks on. When taking this into consideration, your back might thank you in a few years.
Cost: Textbooks are expensive, it's true. Today, there are several ways to save money on buying textbooks, like renting! Not to mention some great coupon deals. When comparing costs to eTextbooks on a tablet, they are extremely cost effective. Although you have to take into consideration the cost of the actual device, as Boris says, "It could take a year of schooling before it pays for itself."
In the end an eTextbook works for some and not for others, no worries though, there will always be physical textbooks to go around. Happy textbook shopping!
Especially once senior year hits, we end up holding more and more responsibility. It is important to take these responsibilities seriously, doing your homework, staying present in class (literally and figuratively) and overall staying on top of your game.
Along with this, networking, interning and applying for jobs are all on the horizon.
It is easy to get wrapped up in all of this work. You know how girls and boys end up having social lives that are all consuming? Remember petty high school drama? I'm sure you do, as it will be around you for the rest of your life, in college and in the workplace. Getting too wrapped up in work is just as bad.
Senior year in college is a crucial time in your life as the decisions you make will shape your future. If you research and apply for jobs and prepare for graduation, you will be in a much different place the day after graduation than someone who doesn't.
There's one big factor to remember though. You are young. This will be the only time in your life where going to crazy themed parties is acceptable. This will be the only time you are able to pull and all-nighter and still be a functional member of society the next day. This will be the only time you are able to wake up and wear yoga pants on a day you have work to do.
Savor it.
Remember you need to get work done, but savor and exploit the times you do not.
The best way I've found to do this is to take a fun class, save an hour or so right after class to go to the library and get homework done so everything's out of the way and be sure to get an eight-hour sleep. Eat right. Take care of yourself. Make a time to prepare for after graduation. Make time to go out on adventures with your friends.
It might take some tea, some coffee and a legal drink, but you can get all your bases covered. I promise. If you are determined and persistent and manage your time right, you can do it all.
People have been debating about successful study tactics for a long time. Recently, several scientific studies have emerged that challenge traditional wisdom about the best places, times, and ways to study. Let's take a look at some of these different tips:
· Vary your studying location – Contrary to popular wisdom, evidence suggests that studying in different places at different times can help you memorize things faster, because the different locations can stimulate your brain in different ways. Try different areas in and around campus for more benefits!
· Take advantage of group work – Utilize the strategy of dividing and conquering by asking people from your classes, your roommates or people you know if they are interested in studying or working with you.
· Flash Cards – In some cases, however, the old strategies remain excellent options, and there is a reason they have been used forever. Flash cards help to visually impart their information directly to your brain (most people are visual learners), and they also help you with other techniques such as memory association.
· Get a good night's rest – Another piece of old advice that turns out to be wholeheartedly true; if you are tired, your brain synapses just aren't going to fire as quickly and cleanly as they would if you were well rested. If your mind is tired and slow, so is your thinking!
· Attend class regularly – This adage is at the top of every parent's list (and everyone who pays their own way through college!), but it's there for a good reason. Regular repetition and discussion of subject material helps you to review and solidify the material in your mind.
· Avoid subject immersion – Here we are; one of the counterintuitive points. Recent studies report that avoiding immersion in one subject, and spreading your attention between a varied group of categories, is the best way to retain information. Not to mention it's less boring!
Following tips like these can help make studying less of a chore, and hopefully something more interactive and palatable to experience (Note: we didn't say pleasurable!). Make sure to apply yourself in college, so that you can develop into a well-trained and well paid professional in your field.
Studentrenter.com is a listing service providing college students a single source to find off campus accommodation. In addition to listings they provide regular blogs on topical issues related to student life and offer students opportunities to shop for goods and services, obtain discounted travel, find loans and textbooks and connect with other students.
Finals are almost here and the last thing anyone wants to do is study (ew). The sound of studying just makes you want to curl up into a ball or go hide. The good news is campuses have a few ways to escape the studying and take a break. The activities are all across campus and they start during the most bittersweet week of the year, DEAD WEEK. No tests, no homework, just studying (ew again). Start looking around for these breaks and take note of them; you might just want to check them out. A few things that could be happening around your campus:
PAWS for stress relief- with this you can take a break from studying and go play with service puppies! I know I'd want to spend an afternoon meeting new friends.
A lot of places around campus might have a "chill" day or a "kick-back" day where you can just take the afternoon off and go eat free food, play games and possibly when door prizes! Look at the library, alumni groups, activities boards or any kind of campus group and I'm sure you will find something! And most of the time there is one everyday a week, so just make you rounds!
Often campuses offer Massage on the go (MOTG) where you can enjoy a free 5 minute massage to take the stress off. I mean, who wouldn't want that?
Another thing to look out for is a student-teacher-student reception. This is an exhibition of a lot of different artwork done by the students on campus. Take a break from the stress and go check it out. Plus, there is almost always free food and I know that's what everyone wants.
Start looking around your campus and see what you can do procrastinate from studying for finals! There are a lot of fun things to do, if you just find the right ones. Go out and get your freebies so you can stop stressing about finals. Good luck!
This is a guest post from our Internet Marketing Intern Haeli. Many thanks to her! 
Posted in
College Life
,
Dorm Life
,
Entertainment
,
Exams
,
Fun for Less
,
Health
|
Tagged
dead week
,
finals
,
Relax
,
Stress
,
studying
,
time management
|
Leave a comment