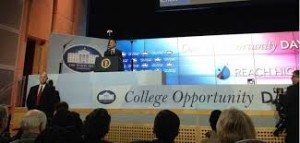 Hundreds of college presidents from across the country joined President Obama, the First Lady, and Vice President Biden for the White House Summit to hear about new actions for students to prepare for college.
The White House hosted its second annual College Opportunity Day of Action, which focused on President Obama's broadened agenda for higher education. The president plans to implement these steps:
1. Increasing Pell scholarships by $1,000 a year
2. Creating the American Opportunity Tax Credit, worth up to $10,000 over four years of college
3. Limiting student loan payments to 10 percent of income
4. Laying out an ambitious agenda to reduce college costs and promote innovation and competition
The president also explained the need for increased investments in America's community colleges and simplifying the FAFSA to make it easier for potential and current college students to apply for financial aid.
For more information visit:
http://www.whitehouse.gov/the-press-office/2014/01/16/fact-sheet-president-and-first-lady-s-call-action-college-opportunity