Published
August 6, 2013
|
By
Rachel
At eCampus.com we understand how important it is for college students to save money, which is why we work so hard to get you your textbooks easy, fast and cheap! But we aren't stupid, we know these books that you've got to have are boring. Really, really boring! We are asking you to help us beat the boredom this month by entering our photo contest for a chance to win $500 cash, or be one of seven participants to win a $25 Visa gift card. All you have to do is get creative and take a photo with your eCampus.com box (the one your books come in, or use this printout instead if you don't have a box) and upload it to our Facebook app!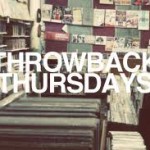 Published
June 13, 2013
|
By
Rachel
If you've ever been on Instagram, then you've probably heard of  Throwback Thursday (more commonly referred to as #TBT). For those of you that don't know, please climb out from under your rock and allow me to give you a quick overview.
Every Thursday instagrammers log on and post an "old" picture. This could range from anywhere 15 years ago to your diaper wearing days, or 15 days ago when snapped a picture of your veggie pizza. You can post something silly, something sappy, or something downright sloppy. There are not real guidelines for posting a throwback photo, although some users adhere to self-made do's and don'ts.
There is no telling how or why Throwback Thursday began, but there is no denying its popularity. If you search hashtags in the Discovery panel on Instagram then you will see that there are more than 75 MILLION photos posted in honor of this unofficial, weekly holiday. TBT has grown so much that you can now find it's influence across every social site, including Facebook and Twitter. This week we want to celebrate a little differently. Rather than sharing an old photo, we are posting an embarrassing eCampus.com video from our earlier years.
(NOTE: This video was the winning commercial from a college advertising contest and not a product of eCampus.com. To view other videos please visit our YouTube Page.)
How will you be celebrating this #TBT?
Interning from home and in the city (New York that is), going to school in New Jersey and California (and Italy) and meeting people from all over the place is hard to keep up with.  The biggest piece of advice I can give anyone split between places: live where you are.
Whether you are returning back to school or studying abroad, focusing on where you are is important.
Personally, I have gotten very good at keeping in touch with people.  Between Facebook, Skype, iChat, cell phones and snail mail, there is no reason not to keep in touch with your closest friends; but problems occur when you get so wrapped up in all of that communication and start neglecting reality.
While studying abroad, I noticed some students staying in their apartments Skyping home instead of going out.  Ensuring your family you are safe and keeping in touch with friends every so often is one thing but missing out on once-in-a-lifetime experiences to sit in front of a screen is another.
A lot of this is caused by not wanting to say goodbye to someone before you leave.  Saying goodbye is hard.  As Rory Gilmore says in episode "The Long Morrow", "There's nothing good about a goodbye. It's a very poorly named ritual."
Realize when you go off to school or off to study abroad, you aren't saying goodbye to your friends; you are saying see you later.
Another thing to realize is before going away for a semester, you know what you are leaving behind, but you have no idea exactly what the semester will bring.  Getting excited for the months ahead will get you in the right mindset when you find yourself at school instead of with your friends from home.
When apart from your friends, or someone who is "more than friends", no matter what you do, you will miss them.  A part of growing up is realizing that no matter where you go, you will be missing someone.  Accepting that fact and enjoying the people you are around and the place you are is important.
Some fear the regret of losing touch, but realizing you aren't taking advantage of the place you are is just as scary a thought.
The underlying piece of advice to all of this is balance.  There are lots of ways to balance exploring where you are and living in the moment with keeping in touch with friends.
Keep a blog, use social media and chat up or text your friends, but be sure to spend more time in reality than on a keyboard.
It's no secret that jobs are in high demand right now. Every day we see the unemployment rate fluctuate and play with our emotions. Graduating college seniors know all too well the struggles that accompany a serious job search. In these last few weeks, as they all prepare to walk across the stage, many are reflecting back on the last four years and pinpointing what may or may not have helped them land a "real-world" job. I've been listening, and taking notes trying to figure if there is a successful formula to finding a career after college, or if lady luck is the only one who can predict our professional fate.
I've heard it through the grapevine, and partially through experience, that employers are looking for a mix of things. They want to look at everything you've done in the last for years—and more recently, even your Facebook page! Employers will look at your GPA, you major, activities and your experience. So what matters most? How can you prepare yourself to be an attractive employee? (Regardless of the job you're applying for!)
Seniors going out to work now swear by their internships and hands on experience. They say that nothing helped them more! So do internships, summer jobs, and networking make all the difference when it comes to the top and bottom of a candidate pool, or is there something else to consider?
Whether it's your class work, activities or your experience, the way you spend your four years in college could have a huge impact on your future, so listen up!
No one will tell you that you can't have fun in college. In a way, people will sometimes even encourage you to do so—you have four years before the rest of your life starts. Learn lots, make a few mistakes, and mature into the adults we are all capable of being. However, what many mean by the phrase "make the most of the next four years", is slightly deeper.
Yes, we should have fun, and branch out. But we also have to remember that four years flies by. It will be over before we know it. And while "fun" makes for great memories, if we aren't careful we won't have much to show our future employers—except for those Facebook pictures you only wish they couldn't see! Our coursework, our major and our activities say a lot about who we are. Our resume showcases our academic capacity and interests. Our activities show our potential to work with groups and form leadership opportunities. But do these bullets on our resumes say enough about us, or do we need the "hands-on" experience to proof to support the words?
If you ask me, you should try your very hardest to get an internship, co-op, or summer job. The experience is invaluable in the work world. It shows future employers that you can handle a job, hopefully in your field of study, not to mention you already have some time under your belt. You can use your experience from campus—your classes, or student organizations history— to your advantage and really showcase your skills in the office, or on the job.
Need another reason to give up your summer pool time to work? You can get a feel for an industry or job before you commit to it full time. Think of it this way, applying for jobs can be great, but what if you get one in a field you don't really mesh with? Use this time while you're still a student to decide if your "desired" path is right for you.
Internships, like jobs, don't grow on trees. They can be competitive. But do your research and apply often and early!  Find connections on LinkedIn, network and chat with as many friends, coworkers, alumni and professors as you can! The more you network and research the easier it will be to find openings in companies and areas that interest you. When you're in college summer seems like a time to let loose and relax—only a few months until class starts up again! But don't get sidetracked! This time can be precious and could mean the difference between being hired and being left behind in "the pile".
-Ring Queen
I'm reading Focus on Personal Finance
Searching for a job can be overwhelming, scary and downright difficult! Let's face it, the economy isn't doing us any favors either. But don't get discouraged! There are jobs out there, you just have to know where to look. Dream jobs won't just be handed to you—they have to be worked for, and also searched for. So, with an open eye and determined spirit, let's go job hunting!
To ease yourself into the process, begin by thinking of exactly what kind of position you want and are qualified for. This will help narrow down your search so you're not sifting through thousands of jobs that aren't for you. Next, pick some companies you like and simply dig around their websites. A lot of companies will list any openings they have online. Others may need a phone call or even an in-person visit (just don't become a stalker). Remember not to count out certain companies just because you think your skills have nothing to do with what they're all about. You'd be surprised how many places hire for positions that sounds out of the blue.
If this beginning process has left you in tears and pulling out your hair, it's time for a deep breath and the next steps. Repeat after me: I don't need them anyway. Just like there are fish in the sea, there are many companies hiring. Just because Phase 1 was a bust, doesn't mean you'll soon be a bum on the streets. Besides company websites, there are plenty of places to search for jobs!
Begin Phase 2 with some social media guidance. Search Twitter, reach out to your strong connections on Facebook, write a short blog post about how you're looking for such-and-such type of a position, and most importantly, turn to LinkedIn! LinkedIn will be your professional best friend; make sure it's up-to-date and start poking around for companies. This could get you some interviews or it could get you nowhere, but there's no point in having these social media profiles if you don't actually put them to use…so use them!
Now that the obvious steps are out of the way, it's time to take a more direct searching method. Google won't really be your friend in this one, since too many articles and other random sites will pop up. But there are sites made specifically to get you hired and for companies to better find you.
Monster.com is one rather well known example. With over 41 million resumes, this site is full of job hopefuls. But with all these resumes, also comes tons of job listings. Like many sites, you can search for a specific company, job title, location or simply by skills. In addition to helping you find jobs, this site will help you land them with career advice, including interview prep, salary information, and tips for your resume. An advice forum makes this a total job lost-and-found operation, with a community of people helping (though, let's face it, also competing) to find a job that is as dreamy as possible.
BrazenCareerist.com is another go-to site for your job hunting needs. This site is like no other with virtual events to make you the prime rib on the buffet of potential employees. With Virtual Recruiting Events, you get 5 minutes without interruption to talk to employers, show off your skills and who you are. These events will hopefully give you contacts with people high on the food chain and leave you with some interviews—or at the very least, learn what (not) to do next time! Network Roulette Events will connect users with other high achievers for another 5 minutes to make new connections and perhaps form some kind of collaboration. BrazenU will school you in webinars and bootcamps to be ready to further your career, land the job, or be the best worker you can be. Talk about an all-in-one system, making you friends, searching for jobs, and helping you nail the interview to boot!
Wetfeet.com can also help you find the job that's been on your mind for weeks. This website and magazine will give you tons of advice for any question you can think of and more, what to expect from employers, and a wide variety of employers from non-profits to the well known big players. Its Insider Guides really make them unique, with in-depth, highly researched, extensively fact-checked and well edited information avalanches that will take you from knowing nothing about how to face an investment banking interview to being a pro in no time. Not only will you learn a lot about tricks of the trade, but with employer Q & As, videos, and basic company background, you'll be able to figure out which company is your own glass slipper.
This is just the tip of the iceberg! There are countless sites out there full of job opportunities that could be your dream job. Don't be afraid to hop off the computer and actually visit companies and local (or not) businesses and see what they have to say. Sometimes, all it takes is a good impression from a high-up to find a place for you. Check out job bulletins in your community, ask friends if they know anywhere suited for you, or even get your family involved in your search. You can never have too much help. Most importantly, remember you'll more often than not have to work your way up. A dream job come true won't always be the first stop on everyone's career train, but don't let your pride get in the way of getting hired. There's always an opportunity to work your way up the ladder or find a new job later on that's more you.
Good luck and happy hunting!
-ToonyToon
I'm reading Excursions in Modern Mathematics