It's 8:20am and you are scrambling to get into the office. Since you were supposed to be in 20 minutes ago, you are not exactly happy about the unbelievable amount of traffic or the fact that there is only morning talk radio on in the car. You finally make it to your desk and all you want is to listen to that one song that will freshly restart your whole day. You go to PandoraRadio and click on your favorite relaxing playlist, Dave Matthews. Then, out of no where when you're getting into this calming playlist, Nickleback is somehow thrown into the mix and your whole mood begins to drop yet again. Can you not just get a great free playlist that fits your mood? Everyone has been at this point. Sometimes you just need some music that fits your mood; good or bad. These are some FREE websites I have found that focus on whatever your mood, and let you skip the song if you're not feeling it!
This website lets you choose from a range music based on whatever your mood at that time. From energetic to "asleep on my feet" to Sunday morning to let's party. Whatever your distinct mood, stereomood can provide.
2. 8tracks.com
If you're having a day where your mood is unexplainable but you want to listen to a certain type of music, then try this site! The page offers every genre of music imaginable to choose from and then lets you choose from thousands of playlists other users have designed around that type of music.
This is a great mix of the two previous websites. You are able to check off which genres you enjoy, then choose your mood on a balance scale between energetic, calm, dark, and positive.
I love all these websites and they really help me get through a work day, or get me excited to go out for the night. Tell us what you think.
Kelsey the Intern
I'm reading Psychology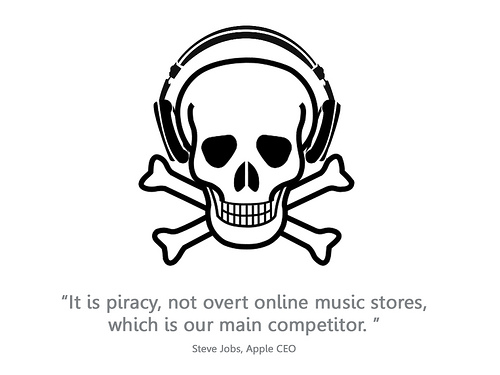 The Downloading Disaster – Ways to Avoid it
Not only is downloading music ILLEGAL, but it can also be harmful to your computer. When I say downloading I'm not referring to programs like iTunes or Rhapsody, we're talking about illegal file sharing. According to the Institute for Policy Innovation, global music piracy causes $12.5 billion dollars of economic losses every year, the loss of 71,060 U.S. jobs, and $422 million dollars in lost tax revenue. With these facts behind them and the partnerships with the Recording Industry Association of America (RIAA), schools across the world are cracking down on downloaders. I'm here to offer you a few resources to stay safe, legal, and maybe even expand your music base.
Pandora Radio – My personal favorite. This service is completely free, all you have to do is go to Pandora.com and set up an account. You pick a song or artist and using their innovative Music Genome Project they play a streaming radio feed just for you. You can also provide feedback for each song that will allow even greater customization of your Pandora radio channel. There is occasionally a 15 or 20 second commercial but its awesome. They also have an app for the iPhone and Blackberry devices.
Grooveshark – This service is relatively new to the music world, its like a combination of Twitter, iTunes, and Pandora. It allows you to use a feature similar to Pandora radio, but it also let you choose individual songs and create your own playlist. Once you have created this list you can save it, making it searchable on the site, this way you can share your favorite playlists with your friends. This is not yet available in an app form, but you can play it from your computer.
One of the trade-offs that come with this type of music service is that it wont allow you to have these songs on your mp3 player like iTunes or Rhapsody but it is cheaper and safer. With Pandora and Grooveshark you will never have to download a thing so it's super safe.
For more info check out this book from eCampus.com: Caution! Music & Video Downloading: Your Guide to Legal, Safe, and Trouble-Free Downloads
SeanJohn
I'm reading Thinking Mathematically