This weekend marks the 20th annual Lollapalooza music festival in Chicago, Illinois. Although the festival is one of the largest in the country, it began with very humble beginnings. Lollapalooza founder Perry Farrell, lead singer of Janes Addiction, originally planned the festival to be the band's farewell show.  Farrell showcased dozens of indie bands that would have otherwise been left unnoticed by commercial radio.  In an era without the internet, this was a pretty big deal. Over the years, Lollapalooza brought on bigger and bigger acts from hip hop to reggae to hard rock.
My circle of friends love going to music festivals. Besides the music and partying, one of our favorite things to do is create a bizarre scavenger hunt that could only work at a festival.  We create a list of the most insane things we could possibly imagine and spend the entire weekend trying to find the most items. All you need is a camera and a sharp eye. We have an old bowling trophy that we pass around after each festival. I totally got last place at Bonnaroo this year, but my friend Nessa took home the winner's cup. Although I'm not attending Lollapalooza this year, my buddies created a scavenger hunt that I'd like to share with my fellow counter culture enthusiasts.  Enjoy!
Someone dressed in excessive glow sticks or body paint
A turtle and a hare racing each other
A half naked dude playing a harmonica
A Purple People Eater
A Misfits t-shirt
Someone doing the cabbage patch with a Cabbage Patch Kid
The Ghostbusters
A cantelope bra
A fist fight
More than 10 people dressed the same
Someone drinking beer from a leather boot
Girl with crazy long fingernails (like 4+ inches)
Someone riding a unicycle
Full black leather outfit
A person wearing sock gloves
A farmer's tan t-shirt
Someone with a pet lizard
A unicorn
Arch enemies hugging (Batman/Joker, Cowboy/Indian, Vampire/Werewolf)
Someone dressed in full camouflage in a crowd of people
Identical twins dressed as butterflies
Two girls with matching tongue rings
A mermaid
Beer can pyramid
Bald headed woman
An octopus
Someone sleeping in their own vomit
Cleopatra costume
Multi-colored dread locks
A robot without monocles
Star Wars and Star Trek nerds hanging out together
A snake
A kiddie pool filled with candy
Old hairy guy wearing speedos
An Oompa Lumpa
Someone lighting off fireworks in a busy crowd
A drum circle with at least a dozen different drummers
Someone wearing an American flag jump suit
A double rainbow
Dora the Explorer and Diego
A dinosaur
A kid giving ice cream or cotton candy to a dog
Someone skateboarding or rollerblading on the grass, not the sidewalk
Fox
I'm reading Biological Science
Photos courtesy of Nessa Race. All rights reserved.
We all know about American Idol. How could you not? The show has created some major stars and some one hit wonders. Living rooms across America tuned in every Wednesday to watch their favorites battle it out for the American Idol title.
This January marked the 10th season of Idol! Auditions started in New Orleans, LA and go all over the country. So far we have seen auditions from New Orleans, New Jersey and Milwaukee. Tonight the judges travel to Music City, Nashville, TN! Will you tune in tonight to watch the auditions?
Auditions are my favorite part of American Idol! We want to know who you like the most and the least. We want your predictions! Tune in!
With love,
Kat VonD
I'm reading Elementary and Middle School Mathematics
It's 8:20am and you are scrambling to get into the office. Since you were supposed to be in 20 minutes ago, you are not exactly happy about the unbelievable amount of traffic or the fact that there is only morning talk radio on in the car. You finally make it to your desk and all you want is to listen to that one song that will freshly restart your whole day. You go to PandoraRadio and click on your favorite relaxing playlist, Dave Matthews. Then, out of no where when you're getting into this calming playlist, Nickleback is somehow thrown into the mix and your whole mood begins to drop yet again. Can you not just get a great free playlist that fits your mood? Everyone has been at this point. Sometimes you just need some music that fits your mood; good or bad. These are some FREE websites I have found that focus on whatever your mood, and let you skip the song if you're not feeling it!
This website lets you choose from a range music based on whatever your mood at that time. From energetic to "asleep on my feet" to Sunday morning to let's party. Whatever your distinct mood, stereomood can provide.
2. 8tracks.com
If you're having a day where your mood is unexplainable but you want to listen to a certain type of music, then try this site! The page offers every genre of music imaginable to choose from and then lets you choose from thousands of playlists other users have designed around that type of music.
This is a great mix of the two previous websites. You are able to check off which genres you enjoy, then choose your mood on a balance scale between energetic, calm, dark, and positive.
I love all these websites and they really help me get through a work day, or get me excited to go out for the night. Tell us what you think.
Kelsey the Intern
I'm reading Psychology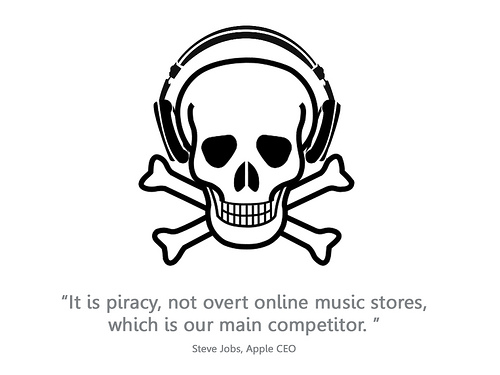 The Downloading Disaster – Ways to Avoid it
Not only is downloading music ILLEGAL, but it can also be harmful to your computer. When I say downloading I'm not referring to programs like iTunes or Rhapsody, we're talking about illegal file sharing. According to the Institute for Policy Innovation, global music piracy causes $12.5 billion dollars of economic losses every year, the loss of 71,060 U.S. jobs, and $422 million dollars in lost tax revenue. With these facts behind them and the partnerships with the Recording Industry Association of America (RIAA), schools across the world are cracking down on downloaders. I'm here to offer you a few resources to stay safe, legal, and maybe even expand your music base.
Pandora Radio – My personal favorite. This service is completely free, all you have to do is go to Pandora.com and set up an account. You pick a song or artist and using their innovative Music Genome Project they play a streaming radio feed just for you. You can also provide feedback for each song that will allow even greater customization of your Pandora radio channel. There is occasionally a 15 or 20 second commercial but its awesome. They also have an app for the iPhone and Blackberry devices.
Grooveshark – This service is relatively new to the music world, its like a combination of Twitter, iTunes, and Pandora. It allows you to use a feature similar to Pandora radio, but it also let you choose individual songs and create your own playlist. Once you have created this list you can save it, making it searchable on the site, this way you can share your favorite playlists with your friends. This is not yet available in an app form, but you can play it from your computer.
One of the trade-offs that come with this type of music service is that it wont allow you to have these songs on your mp3 player like iTunes or Rhapsody but it is cheaper and safer. With Pandora and Grooveshark you will never have to download a thing so it's super safe.
For more info check out this book from eCampus.com: Caution! Music & Video Downloading: Your Guide to Legal, Safe, and Trouble-Free Downloads
SeanJohn
I'm reading Thinking Mathematically