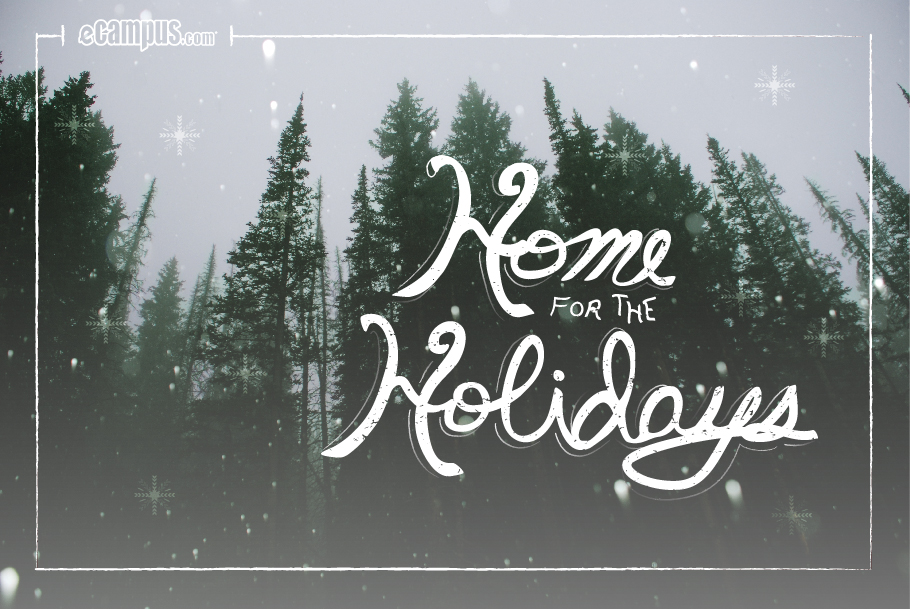 Everyone's favorite season has finally arrived! It's the time of year when ice skating downtown with friends every weekend is the norm, drinking hot chocolate and eating sweet treats daily is acceptable, and heading home to spend time with family and friends is what every college student looks forward to the most. I, like most students, love being away at school for the majority of the semester. However, as soon as Mariah Carey Christmas carols hit the radio and bells start ringing for The Salvation Army outside of the local grocery store, my anticipation to get home for the holidays begins.
Although we all look forward to heading home for the holidays, we at eCampus.com understand that for some, it can be difficult to get there. No one should have to spend their holiday in a deserted college town for lack of traveling expenses. Now, with our help, hopefully no one will have to! We are proud to announce our Home for the Holidays contest. We are celebrating the season of giving by paying for one student to travel home for the holidays. One lucky winner will receive a $300 check to spend on travel expenses this holiday season. Whether by plane, train or automobile, we want to send you home for the holidays!
To enter, simply answer the question "What do you love most about going home for the holidays?" through our Facebook or Twitter page. For Twitter, tweet your answer to @ecampusdotcom using #homefortheholidays. For Facebook, visit the eCampus.com Facebook page and click on the Home for the Holidays link at the top of the page.
For those of you who will be traveling on your own dime this holiday season, don't forget to check out Orbitz.com for top travel deals.
Good luck and happy holidays from the eCampus.com team!
'Tis the season for student travel! Through a student survey and some great data from our friends at Amtrak we found that 88% of students are planning to travel this holiday season.  Most students are traveling alone by car to make it home this holiday season.  There will be enough spent on gas for 1,943,576 students to rent textbooks for an entire semester!
Over 80,000 students will be traveling by train this holiday season on Amtrak.  Using the Student Advantage Card those students will enjoy over $850,000 in savings!  Among the Amtrak everyday passenger discounts, the Student Advantage Card holders get a 15% discount when riding the Amtrak trains. The Student Advantage Card is the nation's largest student discount program for students 16 years of age and older to access thousands of discount locations across the country, near your campus and online. Get your Amtrak Student Advantage Card today to start your savings on train travels with Amtrak.  Are you headed home for the holidays?

Sources: eCampus.com & Amtrak Student Advantage
You can find this infographic and others at the eCampus.com Library of College Infographics
If you would like to share this infographic on your blog please use the embed code below:


eCampus.comAmtrak Student Advantage
Lovejoy
I'm reading Chemistry: A Molecular Approach
Happy Holidays! It is that time of year when students are beginning to travel home for the holidays. eCampus.com is doing its part to make your trip home a little better! From November 21st to December 20th, we're giving away a new prize every day to make your trip home a little (okay… a lot) more enjoyable this holiday season! Entrants are eligible to win all 30 prizes. Limit one entry per day.  Make sure to share this sweepstakes with friends for additional chances to win. If you refer a friend and they win, we will send you a $50 eCampus.com gift card to pick up some great reads for that long flight home!
DAILY PRIZES
11/21 – Dream Essentials® Luxury Sleep Mask
11/22 – Samsonite® Electronic Luggage Scale
11/23 – $20 Starbucks® Gift Card
11/24 – L.L. Bean® Carryall Toiletry Kit
11/25 – Memory Foam Travel Neck Pillow
11/26 – Samsonite® Duffel Bag
11/27 – $25 iTunes® Gift Card
11/28 – Travel Scrabble® Game
11/29 – Griffin iTrip® FM Transmitter for MP3 Players
11/30 – Coffee Cup AC Power Inverter
12/01 – $50 Gas Card
12/02 – Royce® Leather Passport Ticket Wallet
12/03 – Case of Red Bull® Energy Drinks (24-pack)
12/04 – Amtrak® miniHD Flip Video Camera Prize Pack
12/05 – $50 Skinit.com® Gift Card
12/06 – Norelco® Electric Razor
12/07 – CHI® Ceramic Travel Hair Dryer
12/08 – AAA® 73 Piece Emergency Roadside Car Care Kit
12/09 – $75 Gas Card
12/10 – JuiceBar® Portable Solar Charger
12/11 – Nikon COOLPIX® 14 Megapixel Digital Camera
12/12 – One Year AAA® Membership
12/13 – $100 Gas Card
12/14 – Sony® Portable DVD Player
12/15 – TomTom® GPS Navigation System
12/16 – Samsonite® 4 Piece Luggage Set
12/17 – Beats by Dr. Dre® Headphones
12/18 – Apple 8GB iPod Touch®
12/19 – Nintendo 3DS® Handheld Gaming System
12/20 – Apple iPad 2®
This promotion is in no way sponsored, endorsed or administered by, or associated with, Facebook.  Click here to view the Official Rules.
Fox
I'm reading Society: The Basics