Obamacare. We've all heard this term thrown around on the news and in our Political Science classes. But if you're anything like me, I'm sure you're a bit confused about what Obamacare actually is, and how it affects you as a student.
What is Obamacare? The official name is the Patient Protection and Affordable Care Act of 2010. Basically, the act requires that all Americans have health insurance by 2014 or be subject to a tax that will provide them with coverage. The goal of the act is to reform the American healthcare system and allow more individuals (many who previously have been turned away by insurance companies due to preexisting conditions) to access affordable healthcare.
Potential Pros of Obamacare:
Parents can now keep their children on their healthcare plans until the age of 26.
Individuals with preexisting conditions can no longer be denied healthcare. This change went into effect for children in 2010 and will go into effect for adults in 2014.
Insurance companies can no longer drop individuals who become sick.
Insurance companies are required to justify their reasoning for raising prices (otherwise known as "rate hikes").
Potential Cons of Obamacare:
Starting in 2014, if you have not yet purchased healthcare, you will be taxed as much as 1% of your income to pay for healthcare services.
Some individuals and businesses could be forced to pay higher taxes.
3-5 million people in the US could lose their company sponsored health insurance because their employers may find it more financially beneficial to pay a penalty for not offering insurance and allow their employees to buy coverage on their own.
Additional important (and often unknown) facts:
People without insurance can shop for a plan that meets their healthcare needs on different healthcare exchanges. These exchanges will provide individuals with information that will allow them to become educated about whether or not they qualify for tax credits, and will also allow them to compare plans before purchasing.
This plan has been in the works for decades and was an act created and developed by members of both political parties.
Insurance will now be provided to two groups who previously were uninsured: young people and people who chose to forgo preventative care and instead used hospital emergency rooms once their illnesses became severe. Insuring these individuals will save money in two ways: young people will be paying a premium but are traditionally healthier and therefore use healthcare services less, and ER users will now be treated before their illnesses reach expensive ER severity.
As college students that will soon be stepping out into the real world with real responsibilities, it is important that we stay informed about what is going on in the world around us. We love to hear your questions and comments about these topics so feel free to write to us in the comments section below!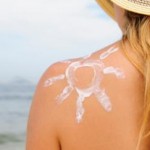 As someone who spends as much time possible outside during the summer, I never gave much thought to skin cancer. Whether I was outside daily for softball, my lifeguarding job for two summers, or just tanning in my backyard, I used sunscreen once but that was it. As I've gotten older, and as the cases of skin cancer have increased, I knew I couldn't ignore this issue anymore.
The first major change I made was that I stopped using indoor tanning beds. I heard just how greatly they increased your chance for skin cancer, and I knew I had to stop. I love the sunshine, and I would much rather be able to spend my days outside (using sunscreen!) than have to cover up during my favorite season. I've also limited the amount of days I tan outside. Rather than waking up and spending the day in my backyard tanning (which was my daily routine), I now try to limit myself to at least every other day.This infographic (below) does a great job of expressing just how wide-spread the issue of skin cancer has become.
I can't say that I don't love having a great tan, but the negatives far outweigh the positives. What are your thoughts? Is this something college students should start taking more seriously?
As students, we all know that our lack of budget and time doesn't exactly add up to being a whiz in the kitchen, but that doesn't have to mean greasy fast food for every meal. My roommates and I love to cook, and have perfected a handful of meal ideas that are both budget friendly and time efficient. Below is my college cook book that I have created:
Breakfast
-Strawberries and Cream waffles: Begin by toasting a frozen waffle. I like Kashi multigrain waffles- they're delicious and healthier than the alternative! Spread low fat cream cheese on the waffle and top with slices of fresh strawberries. Such a delicious combination that tastes so indulgent and will fuel you for your long day of classes!
-Three-ingredient Banana Pancakes: Mash 1 banana in a bowl. Add 2 eggs and ½ cup of instant oats. Mix together, pour, and flip! And there you have it- delicious, fluffy pancakes in less than 10 minutes time.
Lunch
-Pesto Pizza: This is definitely a favorite amongst my roommates and I. Start with a whole-wheat wrap and spread with a thin layer of pesto (you can make your own, or buy some at the store). Top the pizza with whatever you have in the fridge! My favorite toppings are feta cheese, cherry tomatoes, olives, and grilled chicken. Drizzle to top with a little bit of olive oil, and pop it in the oven at 350 degrees for about 8 minutes or until the crust begins to crisp on the edges.
-Homemade White Bean Dip: Start with a can of your favorite white beans and drain- I usually go with great northern beans or navy beans. In a food processor or small blender, add beans, a tablespoon of olive oil, a squeeze of lemon juice, and salt and pepper to taste. Blend until smooth and serve with pita bread and fresh veggies for dipping!
Dinner
- Greek Yogurt Chicken Breast: I absolutely love cooking with Greek yogurt because it makes dishes creamy, without adding tons of calories. Start with a cup of plain Greek yogurt and add a tablespoon of Dijon mustard. Season the mixture with whatever you have on hand (I usually add garlic and basil). Coat your boneless, skinless chicken breasts with the yogurt and let it marinate for 2 hours. Cook the chicken at 350 degrees for about 25 minutes, and enjoy! Serve with steamed veggies and brown rice.
It's like freshman year all over again…the dreaded thought of weight gain. In a foreign country with an entirely different diet than the States, it can be hard to maintain your weight and fitness—especially when you have to juggle class, exploring your new home, and venturing off on the weekends to new places! Not to mention having a host mom who likes to fill your plate with three courses at 8 pm. Others try to save money or avoid the weight sitch entirely by eating infrequently and as little as possible—no buono!
Food is an important part of every culture. Italy is all about the pasta, bread and vegetables, versus Americans chowing down on hotdogs and hamburgers. But if you look around Italy, you'll see mostly skinny or average weight citizens ordering light lunches and big dinners. So how can you handle a pasta lunch, and a pasta dinner followed by potatoes, meat and salad, and ending with a fruit salad? You have to keep your food quantities in perspective. Follow the culture. If they eat a lighter lunch, follow suit. You might get hungry again before dinner if you're used to eating earlier or having a larger lunch, but give yourself some time to adjust. Grab a snack or go exploring to keep your mind off food (though passing so many little gelato stores might make it worse). After an adjustment period, you'll be able to eat on the same schedule as the Italians, or whatever culture you're experiencing, do.
Saving money is always a concern when abroad, but don't let that keep you from eating! You don't have to go to a nice restaurant every time you want to eat. Check out grocery stores—they often have cheap, already made options for lunch or ingredients to make your own. Go out to eat with a large group and try sampling a variety of dishes; by splitting the bill, you'll still get all the flavors of your country at a lower price then trying to work your way through the restaurant's menu on a variety of visits. Also, simply checking out the smaller cafes and lesser known restaurants on side streets could lead to big money savings—and having a secret hangout!
Besides money and weight gain, others are just concerned about pleasing their host families. When you first arrive, just talk about what you can or can't/won't eat and go from there. Get a sense of their eating habits—how much they eat and when they eat—and try to mimic them as much as possible. They want you to have a good time studying abroad and want to make the adjustment easier, which can mean making you feel at home with a big hearty meal. Don't feel like you have to eat it all. Learn how to say "I'm full" or something along those lines, and politely decline. They won't be offended and it can actually help them learn how much food they should make so it's sufficient for the whole family.
Most importantly, you need to enjoy your abroad experience. Don't let counting calories or coins hold you back from eating and doing what you want to do. Once you immerse yourself in the culture, measuring out everything you eat won't matter anymore. Besides, there's always time to lose weight if you need to or form a stricter budget for the rest of your stay. In the meantime, buon appetito!
Starting now, there are just over two months of summer until we hit the books! Two months is plenty of time to change for the better and look amazing next time you walk onto campus. I have come up with a few ideas that can really help improve your outer appearance this summer. All of my ideas can be accomplished in two months with a little dedication and a lot of self-control.
The first one involves weight. If you feel that shedding a few pounds will help you to feel better about the way you look there are a few things that you need to start on right away. Your diet is essential when trying to drop extra weight fast. Cut out all sugary beverages, especially pop. If you are a routine pop drinker, simply cutting it out will instantly allow you to drop a couple pounds and feel less bloated. Along with beverages you need to watch what you eat. Try and cut out extra calories you don't need such as condiments. Eat grilled food instead of fried. Eat a side of veggies or fruit instead of a side of fries. You might feel like your depriving yourself at first, but eating healthy can be fun and become a habit. I used to drink a soft drink a day, I completely cut it from my diet about three years ago and now the thought of drinking it makes me sick. I don't even want it anymore, the closest I get to carbonation is carbonated water and that's a rarity.
Besides your diet, you need cardio! Cardio is the only way to burn fat. I hate to break it to you, but sitting still doing yoga poses is not going to burn the fat you want. You have to get busy. Either run, bike, elliptical, or swim. You need something to really get you moving in order to lose extra weight.
If you are satisfied with your weight but you're what they call "skinny fat," which is skinny but not toned, it's time to tone up. Try working with dumbbells to get your arms toned and pretty. Do lunges with weights in your hands to tone up your legs and squats to tone your booty. Yoga and Pilates come in handy for toning as well. You could also do abs videos.  Doing abs in a video always helps me work a little harder than trying to do crunches on my own. There are tons of videos on YouTube that can strengthen your stomach and help you get the lean look you desire. One of my favorites is Thin Q ten minute abs. This video has really helped me out because it slows the abs down and makes you really feel them. You need to do abs every other day, doing them every day will actually not allow you to see the results you want to see.
Another idea to help improve your appearance besides weight is hairstyle. You don't have to dye your hair a new color to create a change. Try to either grow it out or cut a new style. This summer my goal is to grow mine really long! Another thing to try is to get a nice and pretty tan. Jergen's natural glow lotion is a healthy way to get an even all over tan in just a week!
Have fun this summer and get to work! It will all be worth it when you walk onto campus confident and happy with the way you look. Surprise all your friends with the new you! Come ready to tackle the books without anything else in your way, be healthy, active, and happy this coming school year.
-Speedy G.