It's that time of year again: HALLOWEEN! If you're anything like the typical college then I'm sure you're on the lookout for fun and unique costumes on a budget. This year, we got our creative juices flowing and came up with 151 homemade costume ideas that you can easily throw together for the big Halloween party. We've provided directions for each idea, but strongly encourage you to think out of the box and use your own creativity to make these the best costumes ever!
Frosted Mini-Wheat
Use foam for this costume, cover it in brown felt, then use white spray paint to give it the "frosted" look.  Cut out the eyes and grin with black felt and hot glue to the brown felt. Glue an empty milk carton to a ball cap with some really thick looking white pipe cleaner coming out of the spout to look like milk is pouring out of the milk carton.
Load of Laundry
Take a tall laundry basket and cut a hole in the bottom that you can fit your body through.  Tie two pieces of string to the top of the basket to hold it up.  Fill the basket with laundry. Do not insert detergent.
Replacement Referee
Find a referee shirt, create one by applying black stripes to a white shirt, or vice-versa. Make sure you have a whistle around your neck. Final touch: paint your face like a clown. Touchdown!
Donald Trump
Wear a spiffy suit with a shiny tie, find an awfully unrealistic toupee like wig, and be a complete jerk to strangers. Talk as loud as you can with a deep voice. You will be surprised how much you look and sound like Donald Trump.
Dorito Taco
This costume is a great arts and crafts project!  You will need a lot of colorful foam (found at most arts and crafts stores) and a hot glue gun.  Start by cutting out a large red foam circle.  Then, cut strips of different colored foam and glue them on top of the circle.  When you are done gluing the foam strips, cut arm holes on each side of the circle.  Place your arm through the holes and wrap yourself up like a taco!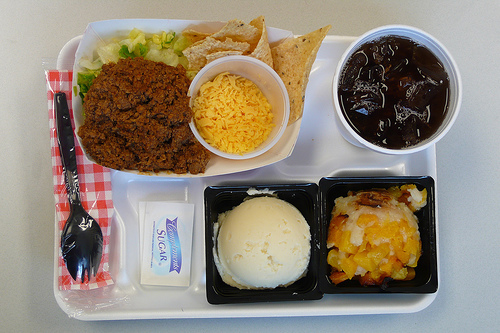 College is tough, not just academically but as you know it can be seriously tough financially as well. One place where college students tend to spend a lot of money is food. Face it, we love to eat out, we love our chipotle and delivery pizza, but you're looking at about $10 a person for either of these options. Then there's the cafeteria, somehow professors love it, I say eww. I've got a few cool, delicious, and super cheap recipe ideas to hit you with. Try them and let us know what you think.
1. Mom's tomato Mac – serves 4 for less than 2 dollars!!
Ingredients:
- 1 Box Macaroni noodles
- 1 Can, Diced tomatoes
- Sugar, salt, pepper
Boil the macaroni until it is tender to your liking then a teaspoon of sugar, salt and pepper. Stir, and then add the diced tomatoes. Simmer for about 1 min, cool and serve.
2. Totino's Pepperoni Chicken Pizza
I know what you're thinking… It can't be done, Well it can be. Heres the recipe.
Ingredients:
- 1 Totino's Pepperoni Pizza
- ½ pack of Chicken Flavored Ramen noodles
Just cook your pizza in the oven and crumble up the dry noodles. When the pizza is complete add the noodles and ½ of the ramen chicken seasoning packet. Bam! The Totino's Pepperoni Chicken Pizza.
3. The Seanwich
Yeah, I invented this one. When I was 8. It stuck with me until college and thankfully so, it super cheap and easy.
Ingredients:
- 2 slices of your favorite bread
- 1 slice American cheese
- 1 Banana
- Peanut butter
- Jelly
Toast the bread and add peanut butter and jelly. Next, add the cheese to the peanut butter side. Slice up the banana and add it to the jelly side. Sandwich the two together and cut in half. Serve with your favorite Doritos.
For some other ideas check out this book by Jamie Oliver: Jamie's Food Revolution: Rediscover How to Cook Simple, Delicious, Affordable Meal
SeanJohn
I'm reading Marketing
Today is eCampus.com's Ten Year Anniversary Celebration! How the time has flown, it seems like just yesterday that we first sat down, January 20,1999 to be exact!, and discussed the possibility of opening a company like eCampus.com. We began writing code in February and the rest is history! If you are wanting to play one of the games developed by eCampus.com or watch some of our old commercials, make sure to visit our Anniversary Celebration page! Thanks for helping eCampus.com stay alive for all these years!!
SeanJohn
I am reading You May Ask Yourself