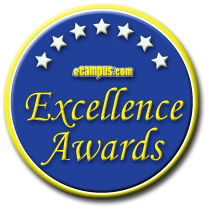 It's that time of year again. Finals are just around the corner and summer is so close you can probably smell it! Well, to reward all the hard-working students out there, eCampus.com is announcing its first annualeCampus.com Excellence Award!
The award is set up like a contest, which will began March 31st.  Basically, we're on the hunt for the most EXCELLENT current full-time college student in America! To apply you must be active in your school and local community, demonstrate a strong work ethic, exhibit outstanding leadership skills, possess great teamwork capabilities, and a desire to succeed. Even if you don't fit all those categories, apply anyway! We are going to pick the top 5 candidates from all of the AWESOME applicants we receive based on their story and then let YOU pick the most EXCELLENT student out of the bunch!
The application period ends April 22nd at midnight. From there, the wonderful folks over at eCampus.com will choose the Top 5 Candidates. On April 25th, online voting will begin to pick the winner out of the Top 5. Anyone (including the Top 5 Candidates themselves) will be able to go online and vote for who they think deserves the eCampus.com Excellence Award (one vote per person though, this isn't American Idol)!!! Voting will end May 9th at midnight and the winners will be announced that afternoon!
Now for the best part: The grand prize winner will receive a $2,000 scholarship from eCampus.com (woohoo)! Along with the scholarship, the winning student's university will also receive 30% extra buyback credit for all students with an active email address for that university when selling textbooks back to eCampus.com through 2011. What about the rest of the Top 5, you ask? They're in luck too! The four runners-up will each receive a $250 gift certificate from eCampus.com (to be used on textbooks, dvds, college gear, etc.)! How ya like them apples?
Pretty sweet deal if you ask me! So hurry and head to eCampus.com to submit yourself for the eCampus.com Excellence Award and tell all your EXCELLENT friends about it as well! And be sure to check back here for updates throughout the duration of the contest!
best of luck!
Riddler
I'm reading Fundamentals of Anatomy and Physiology