As winter break is nearing an end, the spring semester is in the looming future. No more sleeping in until three and doing nothing but hanging out in your pajamas all day. You actually have to brush your hair out and get to that 8AM class you've been dreading. You should not worry though; it will be easy to think positively as you enter this semester. I have some thoughts on why spring semester is better than fall semester.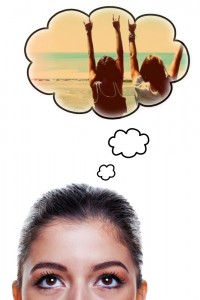 1. Time flies by: The spring semester is always pretty short compared to the fall semester, which always seems to last an entire year in itself.  Fall comes with dreading the incoming winter ahead where as in spring we welcome the warm weather with open arms. The season change makes time fly by so that at the end of the semester you'll be wondering where all the time went!
2. Spring Break: Sun rays and tan lines mean it's time for Spring Break. The spring semester has the best week of the year, while the fall semester only offers minimal holidays and indoor shelter from the cold. If you decide to take it easy with a book, travel across the country or soak up the sun with some friends- you can't go wrong. Spring break is always something to look forward to.
3. Summer is around the corner: The best thing about the spring semester is that you are very close to summer. When the fall semester begins, the daunting thoughts of an entire school year ahead can be stressful and overwhelming for some. By spring you know what to expect and can get through the semester with ease and obtain the ultimate reward of summertime.
With these three motivations, I know that I plan to make spring semester more enjoyable and easier to make my way through it. Remember your coat on your way to class now but get ready to shred those layers by April. Bring on the Spring Semester!
I find myself at the start of every semester saying how I'm going to have the best semester yet. But it never fails- just a few weeks in and I'm back to my procrastination ways. Next semester, I begin my final year of school and I'm determined to have the perfect year. Here are some of my tips to start off your spring semester the right way: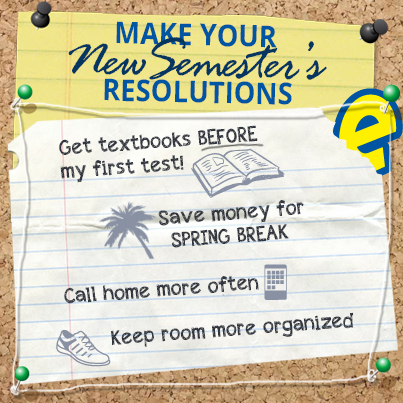 1. Buy a planner. If you don't keep a planner, I highly suggest investing in one. My planner is my life.  If I didn't have my planner I would have no idea what I should be doing. If having a planner isn't your thing, develop a system to keep your school assignments on track. Go through your syllabi and write everything down for the semester.
2. Clean sweep. Prior to the beginning of each semester, I clean everything from my room to my bathroom to my computer's desktop. I feel so much better when everything is clutter free. Performing a clean up will start your semester off on the right foot.
3. New school supplies. Throw away your old notebooks and invest in new notebooks for the new semester. Color-code your classes to keep everything aligned. Call me crazy, but I have matching folders, notebooks, post-its and highlighters for each class. It's a simple way for me to stay organized.
4. Set goals. Want to achieve all A's? That's great! Rather than just saying, "I'm going to get straight A's this semester, set check-mark goals that you can cross off throughout the semester. I love crossing things off. Break down your classes and set goals such as "Earn a B or above on Exam 1" or "Begin paper two weeks before due date." I always break down my papers from when they're assigned to the due date so I don't leave it all for one night.
It is important to keep your motivation throughout the spring while still making time for fun, especially if this is your last semester in college! What are your new semester's resolutions?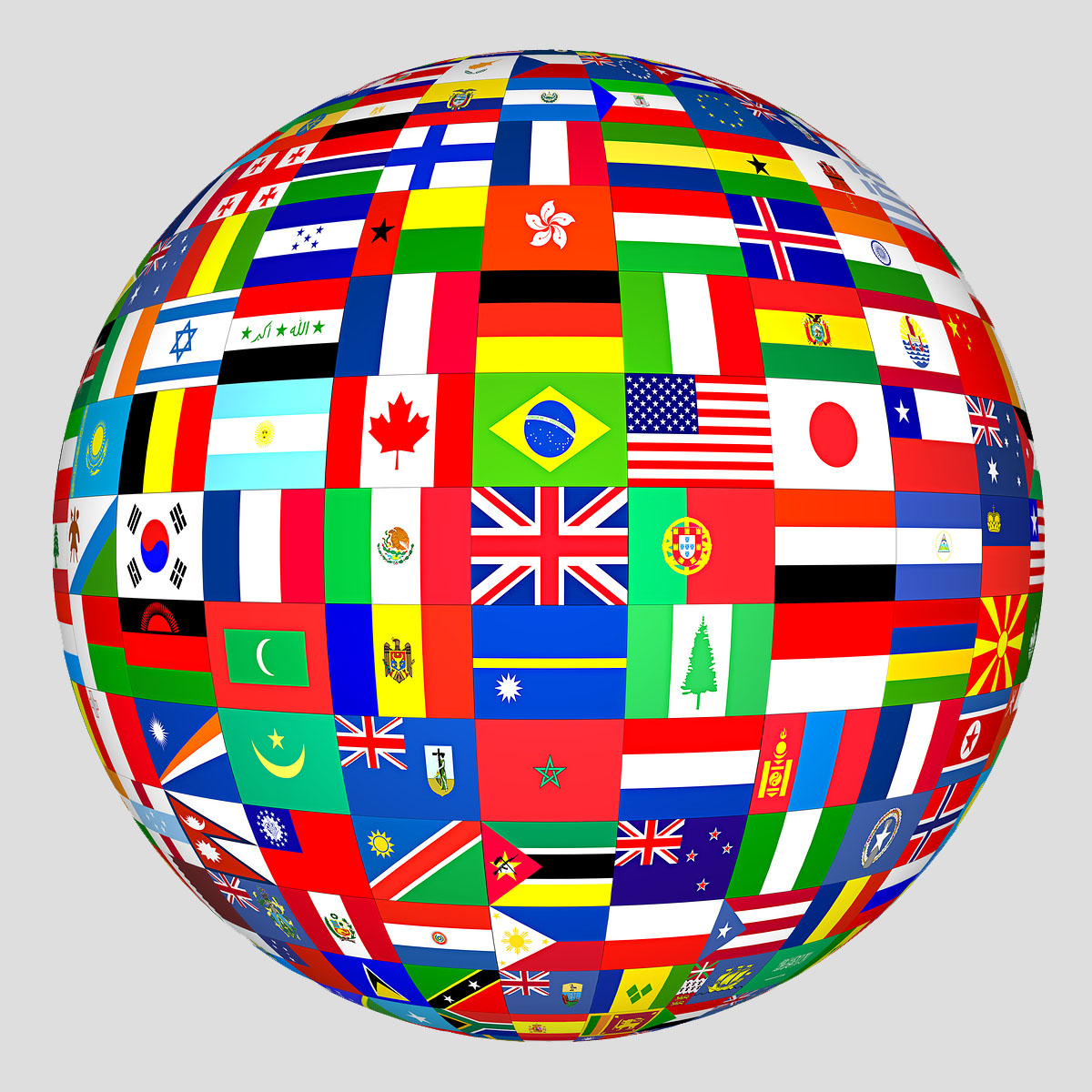 As the semester comes to an end, the majority of us are focused on surviving finals week and getting home for the holidays. However, many students, myself included, are preparing to spend time studying abroad for a few weeks, or even a semester. Although I am now very excited for my trip, my education abroad journey has not been all smooth sailing. There are a million and one things I wish I had known when I began planning my trip abroad. Here are just a few tips that I hope will make the process a little easier for anyone who is considering education abroad.
START EARLY: I repeat, do NOT wait until the last minute to start planning your trip (like I did). Although it's not impossible to plan an education abroad trip last minute, it is definitely more difficult. If you are at all interested in studying abroad, go meet with an education abroad ASAP. Different programs have different requirements. It is absolutely never too early to get started!

Decide where you want to go: One of the most important education abroad decisions you will make is where to go. One of my majors is Spanish, so I chose to study in Seville, Spain in order to complete the requirements for my major. Many colleges offer many areas of stud. But, you need to think about which cultures and experiences will benefit you the most academically. No matter where you go, you will have a great time and make awesome memories, so make sure it's going to pay off towards your degree.
Find a friend: Chances are, you know someone who has studied abroad in the past. Use them as a resource! Don't annoy them of course, but ask them to get coffee or lunch with you someday so that you can ask them questions and advice.
Don't let money stop you: If you're anything like me, you may be hesitant about education abroad because you think you can't afford it. Surprisingly, my semester abroad is going to cost me less than a semester at my home university. Now, this may not be the case for everyone. But I promise, education abroad fees include A LOT. And, you can usually apply any scholarships, loans or grants that you receive at your current school to education abroad fees. There are also TONS of scholarships available to students who want to go abroad.
Although a good GPA, campus involvement and leadership experience are all important aspects of an impressive resume, education abroad gives students an advantage over the rest. Employers and graduate programs love seeing that a student has studied abroad. Not to mention, I have never spoken to a student who regretted their education abroad experience. Have any questions or suggestions of your own about education abroad? Let us know in the comments section below.
As March quickly approaches, students can officially begin the countdown to the much anticipated week that lies ahead-SPRING BREAK! However, before you start thinking about all that R&R, keep in mind the costs associated with spring break. For many students, this is a costly (but well worth it) adventure. Spring break definitely empties your wallet, so we have some great tips on how to save a few extra bucks for all you cash strapped students:
1. Sell old clothes. As the stores begin to introduce their Spring and Summer lines it's hard to resist purchasing a cute new outfit or swim suite for your upcoming vacation. In order to keep your Spring Break budget intact, without sacrificing your style, consider selling your clothes at stores such as Plato's Closet or Clothes Mentor. These stores give you cash for your used clothes up front. Or, consider taking your clothes to a local consignment shop where you can often exchange your last season items for store credit. In doing so you're killing two birds with one stone, getting new clothes while clearing out the old ones!
2. Cut down on eating out. It's often much easier to stop by the nearest convenience store on your way to and from class. However, that slice of pizza and bottle of soda that you buy every day for lunch can really add up quickly. Instead of going out for lunch and dinner, consider packing or making your food at home. If for some reason you must go out, pass the overpriced beverage and stick to the free ice water. Your wallet will be thanking you, and so will your body – just in time for the beach!
3. Make a budget and stick to it. When you aren't committed to a budget, it's incredibly easy to get sidetracked and wind up spending way more than you intended. When you have a specified budget, you can consciously track your spending and have a working knowledge of what you can and cannot spend. Setting up a budget in Excel, or using online tools such as Mint, will help you determine where to cut corners. I suggest getting out a limited amount of cash for the week rather than swiping your card all the time. This will force you to make smarter purchasing decisions.
4. Sell back your old textbooks to eCampus.com. As the snow melts we often find ourselves making great attempts to rid our lives of old junk. Texbooks from semesters passed usually account for a large majority of clutter, and can help you rack up some extra cash. Instead of letting your textbooks collect another years worth of dust, you should consider selling them back.  It is really easy – just go to www.ecampus.com and type in the ISBN to find how much your book is worth. If you are satisfied with the amount (I always am!), just print off the prepaid shipping label and send it off to eCampus, and they take care of the rest! Within a couple of days you will receive a check in the mail, or you can get your check directly deposited to your account – it is that simple.
It can be very difficult to cut back on spending when there are so many temptations surrounding you, but when you consider a week of pure relaxation, free from financial and academic stress, it is well worth it. What other money saving or money making tricks have you used?
Good luck on midterms and safe travels to all!
Now that winter's over, what are you going to wear? Do you need to update your wardrobe pronto before you sweat your way to class but don't have a lot of money to spend? Don't worry, you're definitely not the only one. There are lots of stores and online shopping where you can find mix and match spring and summer pieces without spending like a celebrity.
One online store brimming with deals for college students is aSociete. Once you create a free account (you don't even have to be on the listserv to get daily emails if you don't want to), go to town on clothes, accessories and shoes that are always on sale—and even name brand! Though some designer duds from Betsey Johnson tend to remain in the mostly more expensive domain (generally around $45 or more), there are lots of other trendy, adorable clothes for under $20! It's definitely worth scouring through the pages upon pages of clothes for these special deals designed specifically for college kids like us.
Modocat is another online bargain outlet. Shoes, bags, clothes, accessories are all at the click of a button—so be careful! To make your outfit planning that much easier, the site also features a daily lookbook to help you find the perfect outfit for you. Even better, there are always items for sale to keep an eye on. Though like aSociete, some items get quite pricey, this site is full of the cute, quirky, fun and flirty for any price range if you just take the time to look around.
The average mall stores, like H&M and Forever 21, are also great to hit when shopping on the cheap—whether you cruise through their websites or spend time in the actual stores. Online and in physical locations, both offer new arrivals and sale items quite frequently. Some more elaborate pieces, like decked out lace dresses, will run higher, but basic tank tops, shorts, knit tops and other mix and match essentials can always be found on the cheap! And if you find something you like that's a little too pricey for you now, stay on top of that piece online and in the store—both have sales often, and you never know when it might dip down to your price point.
Don't forget about the bulls eye either! Target, though sometimes picked on for being like Wal-Mart (but it's so much classier and nicer) is full of great bargains. Not only do they have a new celebrity designer, like Jason Wu, design special lower price collections for them every few months, but they get great new styles in regularly. At the very least, hit up the bathing suit racks packed full of adorable suits at a reasonable price. And while you clothes shop, you can also get some snacks, DVDs and other home goods for your dorm or apartment—all of which can be found at decent price points.
Wet Seal, online and in some malls, offers affordability and variety. You can find a ruffly, feminine top or the punk rock skull t-shirt you always wanted. Make sure to check out the sale section, full of great steals for around $20 or less. For that price, you can fill your closet with new spring and summer shirts and have money to spare.
If you need some snazzy footwear instead of the mundane cheap flip flops meant for the beach, check out DSW (where you often pay less than Payless). They've got everything from fancy to casual, comfortable to beauty-is-pain. You can shop luxury designs, like Prada or Gucci, or just keep it simple with Clarks. Whether you need sandals or professional and comfortable shoes for an internship consisting of running around all day, you'll have no problem finding multiple pairs in one quick visit.
Lastly, it's always a good idea to look at fashion and women's magazines for ways to build a well planned out outfit inspired by a stylish celebrity for less. Sometimes they'll even offer you special discounts just because you bought that issue. Inspirations, discounts, pretty pictures of your favorite celebs, and other beauty ideas all in one? It can't get any easier than this.
So get out there and put some spring into your step while you shop. Good style doesn't have to cost a fortune, if you know where to look. You don't even have to become an extreme couponer. Happy savings!
-ToonyToon
I'm reading Physics: Principles with Applications