As winter break is nearing an end, the spring semester is in the looming future. No more sleeping in until three and doing nothing but hanging out in your pajamas all day. You actually have to brush your hair out and get to that 8AM class you've been dreading. You should not worry though; it will be easy to think positively as you enter this semester. I have some thoughts on why spring semester is better than fall semester.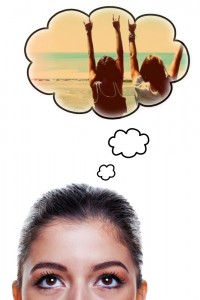 1. Time flies by: The spring semester is always pretty short compared to the fall semester, which always seems to last an entire year in itself.  Fall comes with dreading the incoming winter ahead where as in spring we welcome the warm weather with open arms. The season change makes time fly by so that at the end of the semester you'll be wondering where all the time went!
2. Spring Break: Sun rays and tan lines mean it's time for Spring Break. The spring semester has the best week of the year, while the fall semester only offers minimal holidays and indoor shelter from the cold. If you decide to take it easy with a book, travel across the country or soak up the sun with some friends- you can't go wrong. Spring break is always something to look forward to.
3. Summer is around the corner: The best thing about the spring semester is that you are very close to summer. When the fall semester begins, the daunting thoughts of an entire school year ahead can be stressful and overwhelming for some. By spring you know what to expect and can get through the semester with ease and obtain the ultimate reward of summertime.
With these three motivations, I know that I plan to make spring semester more enjoyable and easier to make my way through it. Remember your coat on your way to class now but get ready to shred those layers by April. Bring on the Spring Semester!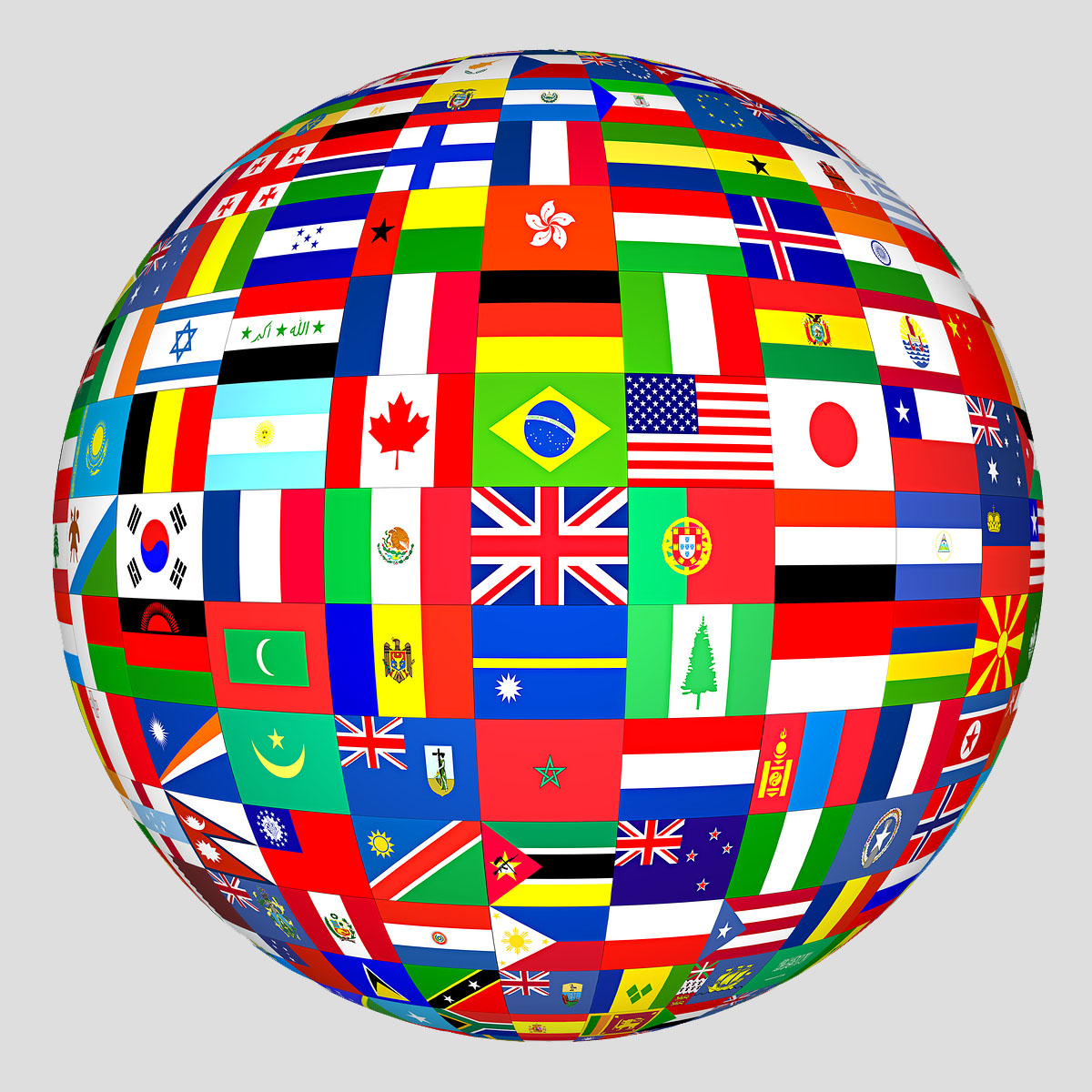 As the semester comes to an end, the majority of us are focused on surviving finals week and getting home for the holidays. However, many students, myself included, are preparing to spend time studying abroad for a few weeks, or even a semester. Although I am now very excited for my trip, my education abroad journey has not been all smooth sailing. There are a million and one things I wish I had known when I began planning my trip abroad. Here are just a few tips that I hope will make the process a little easier for anyone who is considering education abroad.
START EARLY: I repeat, do NOT wait until the last minute to start planning your trip (like I did). Although it's not impossible to plan an education abroad trip last minute, it is definitely more difficult. If you are at all interested in studying abroad, go meet with an education abroad ASAP. Different programs have different requirements. It is absolutely never too early to get started!

Decide where you want to go: One of the most important education abroad decisions you will make is where to go. One of my majors is Spanish, so I chose to study in Seville, Spain in order to complete the requirements for my major. Many colleges offer many areas of stud. But, you need to think about which cultures and experiences will benefit you the most academically. No matter where you go, you will have a great time and make awesome memories, so make sure it's going to pay off towards your degree.
Find a friend: Chances are, you know someone who has studied abroad in the past. Use them as a resource! Don't annoy them of course, but ask them to get coffee or lunch with you someday so that you can ask them questions and advice.
Don't let money stop you: If you're anything like me, you may be hesitant about education abroad because you think you can't afford it. Surprisingly, my semester abroad is going to cost me less than a semester at my home university. Now, this may not be the case for everyone. But I promise, education abroad fees include A LOT. And, you can usually apply any scholarships, loans or grants that you receive at your current school to education abroad fees. There are also TONS of scholarships available to students who want to go abroad.
Although a good GPA, campus involvement and leadership experience are all important aspects of an impressive resume, education abroad gives students an advantage over the rest. Employers and graduate programs love seeing that a student has studied abroad. Not to mention, I have never spoken to a student who regretted their education abroad experience. Have any questions or suggestions of your own about education abroad? Let us know in the comments section below.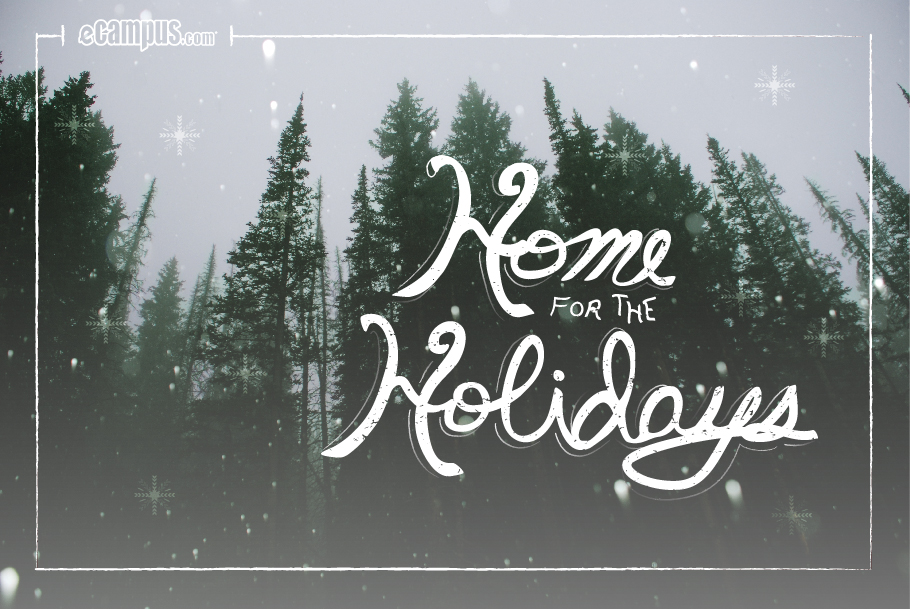 Everyone's favorite season has finally arrived! It's the time of year when ice skating downtown with friends every weekend is the norm, drinking hot chocolate and eating sweet treats daily is acceptable, and heading home to spend time with family and friends is what every college student looks forward to the most. I, like most students, love being away at school for the majority of the semester. However, as soon as Mariah Carey Christmas carols hit the radio and bells start ringing for The Salvation Army outside of the local grocery store, my anticipation to get home for the holidays begins.
Although we all look forward to heading home for the holidays, we at eCampus.com understand that for some, it can be difficult to get there. No one should have to spend their holiday in a deserted college town for lack of traveling expenses. Now, with our help, hopefully no one will have to! We are proud to announce our Home for the Holidays contest. We are celebrating the season of giving by paying for one student to travel home for the holidays. One lucky winner will receive a $300 check to spend on travel expenses this holiday season. Whether by plane, train or automobile, we want to send you home for the holidays!
To enter, simply answer the question "What do you love most about going home for the holidays?" through our Facebook or Twitter page. For Twitter, tweet your answer to @ecampusdotcom using #homefortheholidays. For Facebook, visit the eCampus.com Facebook page and click on the Home for the Holidays link at the top of the page.
For those of you who will be traveling on your own dime this holiday season, don't forget to check out Orbitz.com for top travel deals.
Good luck and happy holidays from the eCampus.com team!
In 2011, the Center for Disease Control reported that over 3,331 people were killed in crashes involving a distracted driver. Distracted driving includes activities such as texting or eating while driving, and can double your chances of getting in an accident. Is a text message really worth your life?
I'll admit it; I've sent text messages while driving. I've made phone calls, too. But there comes a point where you have to decide if that text or call is really worth your life or someone else's. Most would agree that drinking and driving is selfish. However, the reality is that texting and driving is just as bad. Nothing is so important that you can't wait until you're at your destination. If it is something urgent, pull over somewhere safe and then send the text.
My home state of Illinois, like many, has a ban on texting and driving. If a police officer sees you texting, he or she can pull you over for it. In Illinois, you will receive a $75 fine for texting and driving. Compared to many states this is generous. In Alaska, the fine is $10,000, the highest of all the states.
Arizona, Montana, South Dakota and South Carolina currently have no bans or penalties for texting and driving, which will likely change soon.
While texting or talking on a cell phone while driving isn't illegal, the Department of Transportation has been diligently working to fight the issue of distracted driving for some time now. The National Highway Traffic Safety Administration (NHTSA) offers a pledge to end distracted driving that everyone should take. Action starts with you. As a passenger in a vehicle, you can encourage the driver to put their phone down.
Distracted driving has become a major problem in this country. The main point that everyone needs to remember is that distracted driving does kill. Next time you get behind the wheel, put the phone down until you get to where you're going. It's really not worth it.
This month my roommates and I went on a last-minute overnight trip for the Fourth of July. The best part? I spent less than $50 for the entire thing (hotel, travel, food and fun)! One of my roommates received an email on July 3 from a travel site (think Travelocity, Expedia, etc.) saying that there were still rooms available in select cities for the fourth. We decided on St. Louis since it was only a few hours for us to drive, and we booked a room for just under $100. We stocked up on cheap snack food and we were on our way!
As annoying as they can be, emails from these kinds of websites can let you know about great deals or sales they have going on that you wouldn't know about otherwise. In this case, we were able to celebrate the holiday in a really fun way without spending more than we can afford. I decided to make myself an email account that is strictly for "junk" mail that I give to stores or restaurants when I have to provide one. Although I don't check it everyday, I do check it at least once or twice a week to see if there's anything good going on, but this way I can keep my actual email's inbox clean without missing out on great promotions.
Living on my own this summer has taught me the importance of saving my money. Like most college students, I'm always on the lookout for ways I can cut costs, but that doesn't mean we can't treat ourselves to a weekend getaway. Whether it's a weekend excursion to see an away game for your college, or a spring break trip to the beach, we just have to be smart about planning and use the resources available to us! If you are planning a trip that requires a flight, be sure to check out this travel site that offers cheap airfare just for students.
What ideas do you have for affordable weekend trips? We would love to hear!