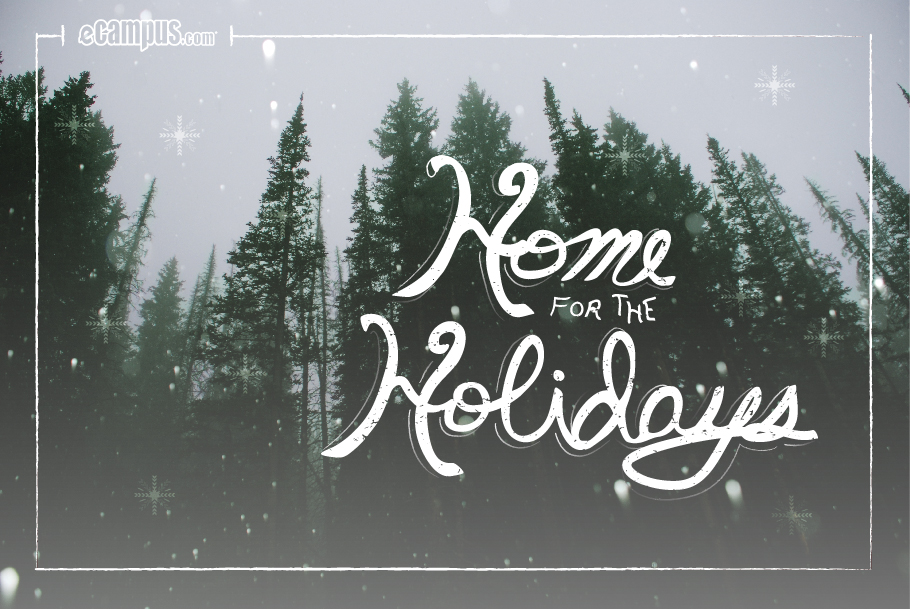 Everyone's favorite season has finally arrived! It's the time of year when ice skating downtown with friends every weekend is the norm, drinking hot chocolate and eating sweet treats daily is acceptable, and heading home to spend time with family and friends is what every college student looks forward to the most. I, like most students, love being away at school for the majority of the semester. However, as soon as Mariah Carey Christmas carols hit the radio and bells start ringing for The Salvation Army outside of the local grocery store, my anticipation to get home for the holidays begins.
Although we all look forward to heading home for the holidays, we at eCampus.com understand that for some, it can be difficult to get there. No one should have to spend their holiday in a deserted college town for lack of traveling expenses. Now, with our help, hopefully no one will have to! We are proud to announce our Home for the Holidays contest. We are celebrating the season of giving by paying for one student to travel home for the holidays. One lucky winner will receive a $300 check to spend on travel expenses this holiday season. Whether by plane, train or automobile, we want to send you home for the holidays!
To enter, simply answer the question "What do you love most about going home for the holidays?" through our Facebook or Twitter page. For Twitter, tweet your answer to @ecampusdotcom using #homefortheholidays. For Facebook, visit the eCampus.com Facebook page and click on the Home for the Holidays link at the top of the page.
For those of you who will be traveling on your own dime this holiday season, don't forget to check out Orbitz.com for top travel deals.
Good luck and happy holidays from the eCampus.com team!
In 2011, the Center for Disease Control reported that over 3,331 people were killed in crashes involving a distracted driver. Distracted driving includes activities such as texting or eating while driving, and can double your chances of getting in an accident. Is a text message really worth your life?
I'll admit it; I've sent text messages while driving. I've made phone calls, too. But there comes a point where you have to decide if that text or call is really worth your life or someone else's. Most would agree that drinking and driving is selfish. However, the reality is that texting and driving is just as bad. Nothing is so important that you can't wait until you're at your destination. If it is something urgent, pull over somewhere safe and then send the text.
My home state of Illinois, like many, has a ban on texting and driving. If a police officer sees you texting, he or she can pull you over for it. In Illinois, you will receive a $75 fine for texting and driving. Compared to many states this is generous. In Alaska, the fine is $10,000, the highest of all the states.
Arizona, Montana, South Dakota and South Carolina currently have no bans or penalties for texting and driving, which will likely change soon.
While texting or talking on a cell phone while driving isn't illegal, the Department of Transportation has been diligently working to fight the issue of distracted driving for some time now. The National Highway Traffic Safety Administration (NHTSA) offers a pledge to end distracted driving that everyone should take. Action starts with you. As a passenger in a vehicle, you can encourage the driver to put their phone down.
Distracted driving has become a major problem in this country. The main point that everyone needs to remember is that distracted driving does kill. Next time you get behind the wheel, put the phone down until you get to where you're going. It's really not worth it.
This month my roommates and I went on a last-minute overnight trip for the Fourth of July. The best part? I spent less than $50 for the entire thing (hotel, travel, food and fun)! One of my roommates received an email on July 3 from a travel site (think Travelocity, Expedia, etc.) saying that there were still rooms available in select cities for the fourth. We decided on St. Louis since it was only a few hours for us to drive, and we booked a room for just under $100. We stocked up on cheap snack food and we were on our way!
As annoying as they can be, emails from these kinds of websites can let you know about great deals or sales they have going on that you wouldn't know about otherwise. In this case, we were able to celebrate the holiday in a really fun way without spending more than we can afford. I decided to make myself an email account that is strictly for "junk" mail that I give to stores or restaurants when I have to provide one. Although I don't check it everyday, I do check it at least once or twice a week to see if there's anything good going on, but this way I can keep my actual email's inbox clean without missing out on great promotions.
Living on my own this summer has taught me the importance of saving my money. Like most college students, I'm always on the lookout for ways I can cut costs, but that doesn't mean we can't treat ourselves to a weekend getaway. Whether it's a weekend excursion to see an away game for your college, or a spring break trip to the beach, we just have to be smart about planning and use the resources available to us! If you are planning a trip that requires a flight, be sure to check out this travel site that offers cheap airfare just for students.
What ideas do you have for affordable weekend trips? We would love to hear!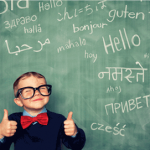 My entire life, I always thought that it would be really cool to be able to speak other languages, but I never really wanted to put in the work to learn how to speak them. However, in order to be accepted into my university, I had to take at least two years of a language. So, with this in mind, during high school, I took Latin. My experience with Latin was mostly a terrible one, so I thought I would never take another language. However, I decided to take my chances in enrolling in a foreign language this semester. I enrolled in French, with no experience at all involving the language, and I'd like to explain my experience in the order that all these emotions occurred.
Confusion. In a class where absolutely no one has any previous experience with the language, the teacher wanted to get our class used to hearing French. In order to do this, she spoke in French for about 90 percent of the first week. This is, I might remind you, a language I do not speak.
Pride. Unlike Latin, with a spoken language, you are actually able to apply your new knowledge to everyday life. In the first week, I learned how to say "I don't know" and "My name is Steven" and I felt amazing. I could walk around telling people who I was, and everyone was impressed.
Fascination. For about a month, French classes rolled by, and I loved learning new things every day.
Anger. If you're going to make rules for verbs, and nouns, and conjugating them, why would there be exceptions?!? Why would they do that to us?!?
Acceptance. No matter how hard I tried, I would never be a master of the French language. So I accepted that when our teacher would teach us one word, I'd have to learn two. I'm not so sure about how well I maintained that rule, but it worked decently for the duration of my semester.
Happiness. At the end of the semester, we had an oral exam with our teacher, in which she would ask us questions, and we would have to talk to her in French. My happiness came from the fact that I could, indeed, respond to her, and I understood what she was saying….mostly.
Overall, I recommend taking a foreign language. It involved a decent amount of work, and definitely isn't required in all cases, but it was fun, and I now have the ability to explain how many family members I have in a different language. What were your steps of emotions in your language classes?
As March quickly approaches, students can officially begin the countdown to the much anticipated week that lies ahead-SPRING BREAK! However, before you start thinking about all that R&R, keep in mind the costs associated with spring break. For many students, this is a costly (but well worth it) adventure. Spring break definitely empties your wallet, so we have some great tips on how to save a few extra bucks for all you cash strapped students:
1. Sell old clothes. As the stores begin to introduce their Spring and Summer lines it's hard to resist purchasing a cute new outfit or swim suite for your upcoming vacation. In order to keep your Spring Break budget intact, without sacrificing your style, consider selling your clothes at stores such as Plato's Closet or Clothes Mentor. These stores give you cash for your used clothes up front. Or, consider taking your clothes to a local consignment shop where you can often exchange your last season items for store credit. In doing so you're killing two birds with one stone, getting new clothes while clearing out the old ones!
2. Cut down on eating out. It's often much easier to stop by the nearest convenience store on your way to and from class. However, that slice of pizza and bottle of soda that you buy every day for lunch can really add up quickly. Instead of going out for lunch and dinner, consider packing or making your food at home. If for some reason you must go out, pass the overpriced beverage and stick to the free ice water. Your wallet will be thanking you, and so will your body – just in time for the beach!
3. Make a budget and stick to it. When you aren't committed to a budget, it's incredibly easy to get sidetracked and wind up spending way more than you intended. When you have a specified budget, you can consciously track your spending and have a working knowledge of what you can and cannot spend. Setting up a budget in Excel, or using online tools such as Mint, will help you determine where to cut corners. I suggest getting out a limited amount of cash for the week rather than swiping your card all the time. This will force you to make smarter purchasing decisions.
4. Sell back your old textbooks to eCampus.com. As the snow melts we often find ourselves making great attempts to rid our lives of old junk. Texbooks from semesters passed usually account for a large majority of clutter, and can help you rack up some extra cash. Instead of letting your textbooks collect another years worth of dust, you should consider selling them back.  It is really easy – just go to www.ecampus.com and type in the ISBN to find how much your book is worth. If you are satisfied with the amount (I always am!), just print off the prepaid shipping label and send it off to eCampus, and they take care of the rest! Within a couple of days you will receive a check in the mail, or you can get your check directly deposited to your account – it is that simple.
It can be very difficult to cut back on spending when there are so many temptations surrounding you, but when you consider a week of pure relaxation, free from financial and academic stress, it is well worth it. What other money saving or money making tricks have you used?
Good luck on midterms and safe travels to all!