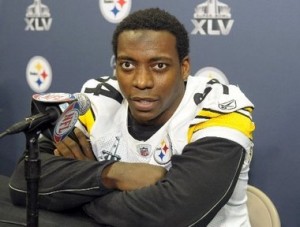 http://media.nj.com/jets_impact/photo/9556108-large.jpg
            Many people have joked that the NFL stands for "Not For Long" rather than the National Football League. The average length of a professional football career is brief, and players are becoming increasingly aware of it. Take Rashard Mendenhall, a healthy 26 year-old running back that recently announced his retirement from football. Mendenhall's retirement came in the form of a lengthy essay published in the Huffington Post, and many fans were surprised to read why he decided to leave the game so early.
As it turns out, despite the opportunity to earn several more millions of dollars as a professional athlete, Mendenhall would rather quit while he's ahead to go explore other aspects of life. In his essay, he expresses deep interest in dance, art, and literature. He voices a desire to go out and simply live his life without the constant public spotlight. Fans may have previously realized that Mendenhall was humble and soft spoken, but they likely never knew just how much of a Renaissance man he really is.
I don't contend that Rashard Mendenhall deserves any special praise for the choice he made. It was a personal decision and he didn't do anything spectacular for anyone else. However, I argue that he deserves a great deal of respect for the way he handled his business. In a well-written piece directed at his fans, he revealed his integrity and sophistication like no other athlete has recently done. By reaching out to his fan base in this particular manner, Mendenhall showed us that football players are people too. And some of them have hidden desires and interests that we would never expect.
Read his essay here:
It's the most wonderful time of the year- College Football Season! Sure we all love a good rivalry and a hard fought game, but we are talking about the real show. The game before the game. You guessed it: tailgating. According to Google, tailgating is an informal meal served from the back of a vehicle. For anyone who has actually been to a proper tailgate, you know it's so much more than an open trunk and some food. It's a place where college students, alumni and bandwagon fans alike can gather and celebrate. For some college football fans, it's more like a religious experience. But there are certain unofficial rules that one must follow to have a good tailgating experience.
Things You Will Need.
Music: Nothing gets a party started like good music. With all the small, portable devices you can plug your phone into there is really no excuse to tailgate in silence.
A cooler: It's going to be a long day of drinking and you don't want the beer to get warm. If you don't feel like dragging around a giant plastic cooler, you should consider a stylish freezer tote bag!
Junk food: You don't need to make some fancy BBQ platter, just grab some chips and pretzels on your way out and I promise you won't regret it.
Fan wear: If you're not going to proudly represent your team, then you might as well stay home! Visit the eCampus.com College Clothing Shop for a huge variety of apparel  and FREE SHIPPING on all orders.

 
Things You'll Want to Leave Behind.
A bad attitude: We all know you love your team and you probably hate the opposing team, but there is no reason to trash talk. Leave the beat down for the players on the field.
Chairs: You may disagree with me, but I find that if I am sitting down at a tailgate I get a little sleepy. If you stand up and mingle you'll probably have a better time.
Your dog: Dogs are great. Everyone loves dogs. But unless you go to the University of Georgia and you have a bulldog, you should probably leave Sparky at home.
High heels: Ladies, we know you've got some great shoes that you want to show off, but a football game is NOT the place for it. You will be much more comfortable in a pair of flat boots or sneakers. Especially if you're drinking!
If you are a freshman and getting ready to experience your first real tailgate, get ready to have the time of your life! You will probably see some things you've never seen before, or meet a few of these 16 Tailgaters!
Have you ever wondered where your favorite NFL superstars went to college? Did they attend a big division 1 school, or maybe they went to a smaller school where they didn't receive the recognition they deserve? Have you ever thought of what major they attempted? Let's take a closer look at a few of your favorite NFL stars.
Aaron Rodgers – Green Bay Packers QB
College: University of California
Major: American Studies
Tim Tebow – New York Jets QB
College: University of Florida
Major: Family, Youth, and Communities Sciences
Cam Newton – Carolina Panthers RB
College: Auburn University
Major: Sociology
Peyton Manning – Denver Broncos QB
College: University of Tennessee
Major: Communications
Eli Manning – New York Giants QB
College: Ole Miss
Major: Business/Marketing
Robert Griffin III – Washington Redskins QB
College: Baylor University
Major: Political Science
Tom Brady – New England Patriots QB
College: University of Michigan
Major: Organization Studies
Reggie Bush – Miami Dolphins RB
College: University of Southern California
Major: Political Science
The life of an immigrant in America is anything but conventional. There are countless things one comes to learn about this nation by way of pure exposure to culture. Having come from Bulgaria, I predicted that the passions of Americans would differ drastically from those most prevalent in the rest of the world. America has always presented itself as being divergent, but also as being a leader. The proverbial "city on a hill" has always set a political and economic example that other, less powerful nations use as a benchmark to evaluate their progress. The question is, can we say as much about America from a cultural perspective?
To evaluate this question, we can look to sports. There is nothing more global than a common passion that almost serves as a universal language. Throughout the world, football, or soccer (admittedly an American fabrication) serves this type of purpose. The majority of the world's nations cite football as the dominant sport within their culture and some even go as far as comparing it to religion. If you think this claim is an exaggeration, I urge you to visit a nation such as Brazil, where the kick of a ball precedes the first roll of the tongue. The sport is entirely engrained in the culture and a single match has the power to unify or divide an entire nation.
Can this phenomenon be achieved in the United States? Basketball, football, and baseball all serve as national sports, but there are few people who harbor an equal amount of passion for all three. Football season always brings about feverish fanaticism, but it doesn't ever seem as if the entire nation is unified over a single event, barring the heavily advertised colossus that is the Superbowl. Different regions of the country seem to swarm around distinct sports, so sectionalism is unavoidable.
Until recent times, "soccer" had been relegated to a lowly place on the ranking of sports in America. It was simply seen as a way in which kindergarteners, pre-schoolers, and elementary school students could get their exercise without any serious commitment. Starting in middle school, soccer was abandoned and most likely replaced by sports more in tune with American culture. The passion behind soccer has always seemed rather foreign to the American people. This is one of the first things I noticed when I initially set foot on an American playground as a ten-year-old immigrant. As late as the early 2000s, the majority of participants in soccer programs across the United States were likely to be of foreign descent. This begs the question, how has such a global phenomenon had such difficulty penetrating American culture? The question will likely remain unanswered.
An encouraging move was eventually made in 2007, when a footballing icon in the form of David Beckham made his move from Spanish giants Real Madrid to the Los Angeles Galaxy. America was buzzing. Youngsters were starstruck and, for the first time, felt passion for the beautiful game. Training facilities were expanded, the media increasingly began to integrate soccer into mainstream culture, and the nation's attention turned to something it had been missing for years. There are bright times ahead for soccer in America and we can only hope its progress remains unimpeded.
Unless you've been living under a rock for the past few months, you're well aware of the hoopla surrounding London, the Royal Family—Will and Miss Kate included, and of course, the Summer Games.
Last summer I studied abroad in London. I spent three amazing months there and needless to say, it was hard to come home. I loved everything about it, from roaming the streets pretending to be Kate Middleton, to shopping on Oxford Street, and most of all, taking the tube to and from work every day (In addition to my classes I had a summer internship).
While I was there the city was well underway preparing for the Olympics. You could take tours of the event sites, some which were still under construction, and there was even a digital countdown in Trafalgar Square in anticipation of the summer to come. I was having a blast, but part of me was jealous. I came across the pond a summer to soon it felt like. Instead of living in the moment, London was fast-forwarding my time there and already looking ahead to the next big event.
I managed to get over my small twinge of Olympic jealousy and enjoy the rest of the summer. From copious amounts of tea, to lazy days in Hyde Park, it was a summer to remember. However, as I sit and reminisce of my London days gone by I can't help but wonder, what would my time there have been like just one year later?
Here are things I would have loved, and some I'm glad I dodged.
For one, this year marked the Queen's Diamond Jubilee. There was a huge celebration—and as I mentioned before, unless you're living under a rather large rock, I'm sure you heard, saw, or read about it. The energy surrounding the event alone would be enough to make a London summer spectacular—not to mention if you got close enough to see any action! What a way to kick start the Olympic summer season. Anything remotely involving the Royal Family gets the city excited. You can smell the joy and tradition in the air.I would have loved to watch the commotion and join in the cheers.
As the games grow closer, I would have loved to be able to see the preparation for large amount of athletes, spectators, and tourists. When I was living there last summer, one of many preparations, was a huge apartment project under construction specifically to accommodate the large numbers expected to visit over the duration of the games. It was supposedly an "Ikea Village", meaning everything was designed efficiently and to utilize the least amount of space while still being trendy and modern. The Swedish know how to use their space. These apartments would have been incredible to see—I would have taken note on how to maximize my school townhouse floor plan!
Now despite the energy, the cheering, and the pure thrill of being in any city for the Olympics (which I'm sure nothing can compare to), there's one thing I'm glad I didn't have to encounter.
Traffic. London is packed. It's busy all the time. Add the Olympics into the mix and I'll let you do the math. The tube, the streets, even the sidewalks are going to be a nightmare. If there weren't designated sidewalk lanes before, now might be a good time to think about adding some. Travelers be prepared and have your traffic game face on.
Not a day goes by when I don't secretly wish to be back in London, practicing my British accent and drinking tea, and the preparation and anticipation for all of the summer events, whether they be royal or Olympic in nature, have me wishing just a little bit harder. The Olympics are always fascinating and fun to watch, regardless of where they are taking place, but the fact that they're in London this year makes it that much more exciting. I'll be anxiously awaiting—and drinking tea, of course!
-Ring Queen