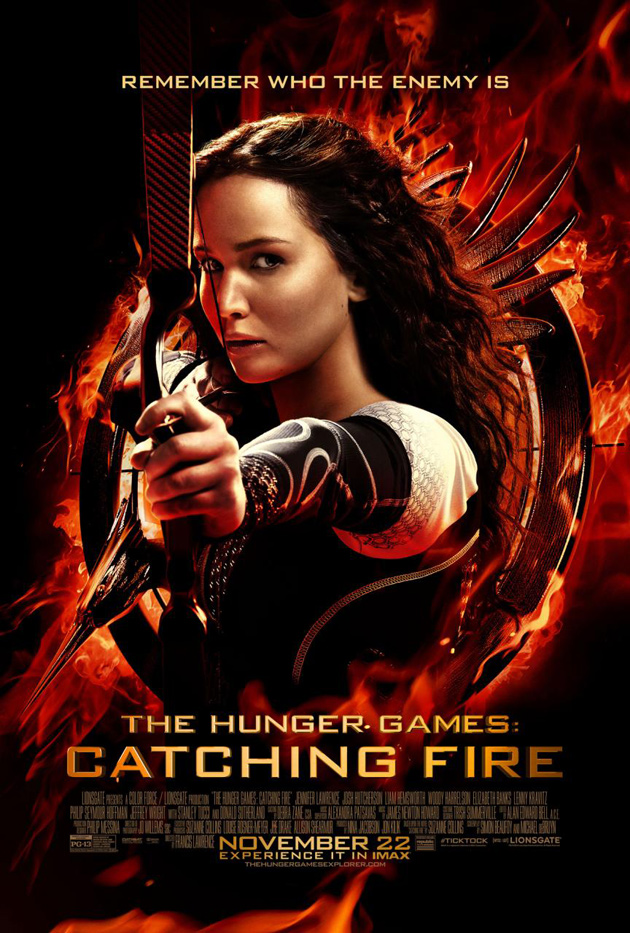 With the holiday season quickly approaching and Thanksgiving break right around the corner, it's the perfect time to check out the latest Hollywood hits. Time off of school provides the perfect opportunity to go watch those must see movies you've been dying to see, but just haven't had time.Here's my list of the three best movies to check out while on Thanksgiving break.      
The Hunger Games: Catching Fire- November 22
This is the second movie in the Hunger Games trilogy. I HIGHLY recommend watching the first one if you haven't seen it. I also recommend reading the books on your time off of school. The series has a fascinating storyline, set in the future post-apocalyptic nation Panem in North America. The country is divided into different districts, all under the political control of the Capitol. The Capitol established the Hunger Games as a way to remind the citizens of the districts of the Dark Days (75 years before the events in the books/movies).
Catching Fire starts with Katniss Everdeen  (Jennifer Lawrence)'s return after winning the 74th annual Hunger Games. President Snow is unhappy with Katniss and fellow winner Peeta Mellark (Josh Hutcherson) for breaking the rules, allowing both of them to win. The 75th Hunger Games mark what is known as the Quarter Quell, with a special set of rules. This year's participants are selected from previous Hunger Game winners.
I don't want to give too much away for those who haven't read the books, but this story and competition is sure to keep you on the edge of your seat. Katniss once again outwits the Capitol, causing President Snow to become even angrier with her.
Delivery Man- November 22
Delivery Man is Vince Vaughn's latest flick, so it's sure to keep you laughing throughout the whole movie. Vaughn stars at David Wozniak, a man who just found out he has fathered 533 children through anonymous donations to a fertility clinic 20 years ago. He is faced with the decision of whether or not to reveal his identity when 142 file a lawsuit for him to do so.
What's interesting about this movie is that it's actually a remake of Director Ken Scott's 2011 French Canadian film, Starbuck. "Starbuck" is the sperm donor alias that Vaughn's character went by.
Homefront- November 29
Homefront stars Jason Statham and James Franco in this action thriller written by Sylvester Stallone (Rocky). Statham plays a former DEA agent who moves to a small town with his daughter to get away from everything. An incident occurs on the playground at school where another student bullies her. Obviously trained by her father, the girl physically retaliates and knocks the kid down. His parents show up at the school, furious about what the girl did to their son. His father (James Franco), who goes by "Gator," begins to taunt the family.
He snoops around in their house when they're not home and discovers Statham's character was an undercover DEA agent. This upsets him even more because he is the leader of a meth-production gang in town.
The rest of the film looks like it'll live up to true Stallone and Statham action. Lots of fighting, guns and threats. What else could you want?
While these three films are obviously not the only ones coming out during this time, they're ones that I definitely plan on going to see. What must see movies are you looking forward to this holiday season?
Somehow, the subject of college doesn't seem like it would translate well to a kid's movie. Sure, college is great, but many activities that happen on campus aren't exactly PG, especially those conducted by fraternities.
However, Monsters University is yet another Pixar gem, a film that entertains both kids and older audiences alike. The film is not a sequel to 2001's Monsters Inc. but a prequel, telling Mike and Sully's story before they were friends. They enter school as enemies and rivals, but they must form an unlikely friendship in order to earn their degrees.
First and foremost, I loved the college setting, and I think that any current or former student can find humor in the jokes. The filmmakers nailed college life while still keeping it appropriate for kids. That said, the humor isn't only targeted at a younger audience. It's an ageless sort of humor, and I saw people of all ages in the theater. In fact, there were far more adults than children, and they were all laughing.
The voice cast is particularly excellent, with many of the main character's remaining unchanged. The numerous newcomers are also excellent, including such big names as Helen Mirren, Alfred Molina, Charlie Day, Nathan Fillion, and Aubrey Plaza. This impeccable voice talent allows for some great gags that may not have been so amusing if not delivered by veteran actors. Plus, they all were cast perfectly––Charlie Day in particular.
True, Monsters University is not as innovative as its predecessor. It may lack some of the laughs and some of the surprises that made the first Monsters film so wonderful. But don't get me wrong––it's by no means a boring film. Monsters University is a cute, lighthearted way to return to school on your summer break, and I highly recommend it.
View the final Monser's University trailer here. And go see the movie! You won't regret it.
There's no better way to start a summer movie season than with a Marvel superhero film.
The third installment of the Iron Man franchise and the seventh in the Marvel Cinematic Universe, Iron Man 3 picks up where The Avengers left off, focusing on billionaire playboy Tony Stark (Robert Downey Jr.) and his battle with an international terrorist, The Mandarin (Ben Kingsley), and a ruthless businessman, Aldritch Killian (Guy Pearce). I have to admit that I wasn't expecting much from this one; Iron Man 2 was decent but nothing special, and director Jon Favreau was dropped in favor of Shane Black, who's only other directing credit is 2005's Kiss Kiss, Bang Bang.
Thankfully, I was wrong.
Robert Downey Jr. delivers yet another excellent turn as Tony Stark, filled with the same charming arrogance we've come to know and love. This is his fourth time playing the role, and yet it seems like the first. Credit goes to Downey Jr., but also to Black and co-writer Drew Pearce. They present us with a Tony Stark who has doubts and anxieties stemming from his experiences in The Avengers; a very interesting new spin on a now familiar superhero. I loved the decision to link the films with more than just a few off-hand references. Instead, the events of The Avengers actually affect our hero's behavior in a tangible way.
My favorite part of Iron Man 3 was definitely Ben Kingsley's performance. He positively steals the show as the The Mandarin, Iron Man's best known nemesis from the comic books. Guy Pearce, Gwyneth Paltrow, and Don Cheadle also provide solid support.
If you're in the mood for actions, humor, and more than a few surprises, go see Iron Man 3. You won't be disappointed! Watch the trailer now.
Summer is nearly upon us, meaning the box office will be jam packed with new releases. After a long day of interning or on a not-so-beachy weekend, here are some must-see movies to pass the summer days away (and spend some of that hard-earned cash!).
1. The Avengers
Is anybody not excited to see this film, set to release on May 4th? Honestly, what more can you want? We get some dreamy actors, like Robert Downey Jr. and Chris Hemsworth, a creepy bad guy trying to take over the world, and a ton of action. It's the summer's ultimate must-see!
2. The Amazing Spiderman
This movie makes Tobey Maguire's Spiderman look lame. In a re-make of the series, adorable off-screen couple Emma Stone and Andrew Garfield work to save the world from an evil lizard man. At the very least, you should check out this flick on July 3rd to see which Spidey you prefer.
3. The Dark Knight Rises
Yet another comic book hero making the list, but you all know you're dying to see this one! Christian Bale takes on Batman for his final film of the trilogy, facing Bane (played by Tom Hardy) and a new identity as the enemy of Gotham City after he took the blame for Two Face's Crime. Christopher Nolan surely has another epic film on his hands, hitting theaters July 20th.
4. Prometheus
Prometheus is for those of you looking for a new, chilling alien flick. A team of explorers, including Charlize Theron and Noomi Rapace, find clues to the origins of mankind that leads them to a race to save Earth. Legendary Ridley Scott directs what looks to be one of the most intense, jaw dropping, action packed movies of the summer. Find Prometheus in theaters near you on June 8th.
5. Brave
Looking for some animated fun? Brave is Pixar's latest masterpiece, following the story of Princess Merida whose bravery and profound archery skills (like Katniss Everdeen!) are the only hope to break her kingdom's curse. This redheaded heroine is sure to capture our hearts. Brave comes to theaters on June 22nd.
6. Dark Shadows
Tim Burton and Johnny Depp have teamed up again for a vampire movie that has nothing to do with Twilight. Barnabas Collins, a man turned into an imprisoned vampire by a jealous witch seeking his love, is finally set free into the 1970s. While the witch continues to vie for his affections, Barnabas must protect his family against her evil ways. Catch this flick on May 11th!
7. Abraham Lincoln: Vampire Hunter
Did you know the 16th President of the United States found vampires lurking around and took it upon himself to hunt them down? Another film by Tim Burton, we'll surely see good old Abe in a new light with some magical twists and turns. See history like never before on June 22nd.
8. Men in Black III
Ten years later and we have a new installment! This 3-D alien loving flick will bring Will Smith to the past looking for his beloved side kick, Agent K, who mysteriously disappears/dies. New weapons, new aliens, and the same old mind swiping will be a nice blast to the past, coming to you on May 25th.
9. Snow White and the Huntsman
Sure it's not original, but it looks much better than its counterpart Mirror Mirror. Charlize Theron takes center stage as the evil queen, who hires huntsman Chris Hemsworth to get Kristen Stewart's heart so she can live forever. Before you know it, there's a crazy war scene going on. This is definitely more intense than the cartoon. You can see it June 1st.
10. The Odd Life of Timothy Green
A more original movie, a couple desperate for a child buries a box in their backyard with wishes of an infant. Presto, Timothy Green is born, and since he sprouts out of the earth, it's pretty much guaranteed this movie will be full of magic and weird happenings. Learn about Timothy on August 15th.
-ToonyToon
I'm reading New Perspectives on Microsoft Excel 2010
In college you'll most likely find yourself lower on money than ever before. Typical dinner and a movie dates might be out of your newfound budget. There are many ways that you can still be entertained and have a great time on a date for FREE.
Most schools allow their students to attend their sporting events either free or on a discounted price. Going to a game together is a fun environment if you're a sports fan. It's easy to talk and be yourself while bonding over school spirit. Many universities also allow their students to attend their schools theater productions either free or on a discounted price. This environment is cool because it's different and theater is often romantic as well.
If you find yourself with a really nice day ask your date to take a walk with you. A walk through a park on a nice day is free and leaves you with a lot of time to talk. If you're hungry pack a picnic and enjoy the sunshine. If you find yourself with a nice night, take your date to lay out and watch the stars. Nothing is more romantic and this is always free as well.
If the weather is not so nice, create a date at home! Rent a movie from a local Redbox, it only cost $1.00. If there are no Redboxs in your town, just pop in a DVD you already own. Put a bag of popcorn in the microwave and cozy up to a movie away from the nasty weather. Movies at home are sometimes better than the theater because it's just the two of you. If you have a kitchen, you could cook a meal together, or you can cook one for your date. My boyfriend and I have made cookies together before when it's snowy and we're stuck inside. If you want to create a dinner for your date, a good idea is Chinese food. Homemade fortune cookies are fairly easy to make and you can put your own personal messages inside!
Another thing you can do is keep your eyes open in the community. There are always art shows, farmer's markets, musical performances (in coffee shops, bars, or even on the streets) that are free and open to the public. If money has been holding you back from taking your honey on a sweet date, now you have no excuse! Get out there and have a wonderful time, it's priceless.
-Speedy G.
I'm reading Invitation to Health: Choosing to Change