It's the best day of the year! You know what that means, DANCE BLUE! Not sure what that is? Well let me tell you.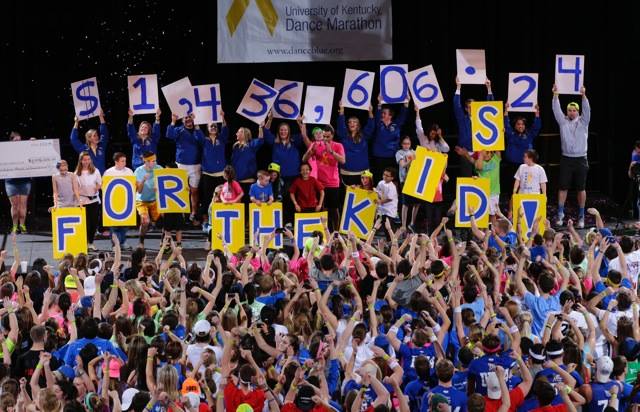 www.danceblue.org
It is a 24-hour no sitting, no sleeping student-run dance marathon held at the University of Kentucky. It's a huge fundraising event that goes toward the Kentucky Children's Hospital (KCH) and is devoted to Pediatric Hematology/Oncology Research.  This year at Dance Blue 2014, over 100 campus organizations participated and there were over 800 dancers who helped raise a total of $1,436,606.24 for the kids.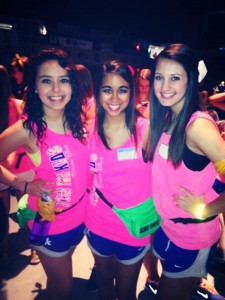 Liza Krein with friends Rosana and Andrea
WHOA. Incredible, right? As a participant in the marathon for the second year in a row, I can only speak very highly of this wonderful philanthropy event. Part of being a dancer in the event is learning a line dance in the beginning to perform at the top of every hour. This might be one of the coolest things to watch, here's a video from the campus newspaper (Kentucky Kernel) to give you a glimpse of the event.

At times during the marathon it gets hard though and you feel pain in your feet that you never thought you could feel in your life. That you are so exhausted from sleep deprivation, you consider learning to sleep with your eyes open (and standing up – giraffes can do it, maybe you can to?) and for some reason, no matter how many meals they give you, you are STARVING.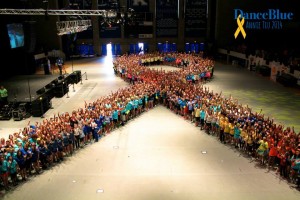 www.danceblue.org
The last few hours of Dance Blue make it all worth the pain and suffering though. As you watch the children from KCH get on stage for the Talent Show hour (my personal favorite), you can't help but forget all the pain. This year there was a cheerleading routine as well as several talented singers and I could never forget the little girl whose talent was doing the splits. Hearing the stories of families personally affected by KCH is the most moving thing you will ever hear, with tears rolling down your face from the positivity and energy you feel or the utter pain you're in; you realize why you're dancing. For The Kids. #FTK #DB14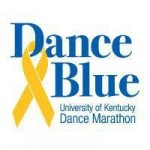 If you would like to read more information about this philanthropy, check out www.danceblue.org or if you would like to donate for next year's marathon (you can never start fundraising too early!!) you can go here www.danceblue.org/Donate/Donate-to-DanceBlue
As winter break is nearing an end, the spring semester is in the looming future. No more sleeping in until three and doing nothing but hanging out in your pajamas all day. You actually have to brush your hair out and get to that 8AM class you've been dreading. You should not worry though; it will be easy to think positively as you enter this semester. I have some thoughts on why spring semester is better than fall semester.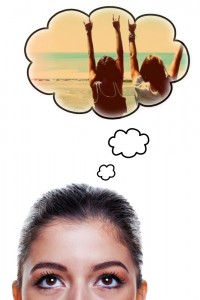 1. Time flies by: The spring semester is always pretty short compared to the fall semester, which always seems to last an entire year in itself.  Fall comes with dreading the incoming winter ahead where as in spring we welcome the warm weather with open arms. The season change makes time fly by so that at the end of the semester you'll be wondering where all the time went!
2. Spring Break: Sun rays and tan lines mean it's time for Spring Break. The spring semester has the best week of the year, while the fall semester only offers minimal holidays and indoor shelter from the cold. If you decide to take it easy with a book, travel across the country or soak up the sun with some friends- you can't go wrong. Spring break is always something to look forward to.
3. Summer is around the corner: The best thing about the spring semester is that you are very close to summer. When the fall semester begins, the daunting thoughts of an entire school year ahead can be stressful and overwhelming for some. By spring you know what to expect and can get through the semester with ease and obtain the ultimate reward of summertime.
With these three motivations, I know that I plan to make spring semester more enjoyable and easier to make my way through it. Remember your coat on your way to class now but get ready to shred those layers by April. Bring on the Spring Semester!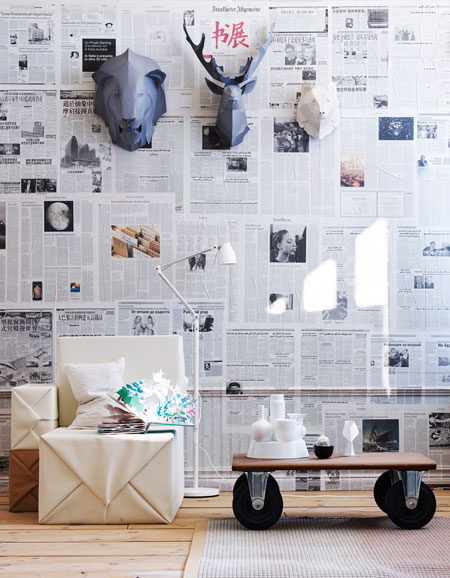 Not sure what to do with the textbooks you're now finished with? Well, you can either sell them to eCampus.com for cash, check or 20% back for in-store credit. Or, if you're just looking for an excuse to flaunt your creative proclivities, you can try these five ideas that will have your friends wishing they were as resourceful as you.
1. Dorm room Wallpaper: Take down your John Belushi and Pink Floyd posters and let yourself stand out from the crowd. Creating wallpaper from the pages of your old textbooks is sure to transform your inane décor into an indelible ambiance. I personally recommend textbooks from classes such as Art History, Biology, English (Norton's Anthology), and even Cartography, to name a few.
2. Hidden Book Safe: For the nefarious-minded readers, the uses for this are a no brainer. For the rest of us, this can be a good place to hide your spare cash or other small, valuable belongings like jewelry. For fun, try hiding a smaller book inside of your hollowed out bigger book. Awww, how adorable. Learn how to DIY here.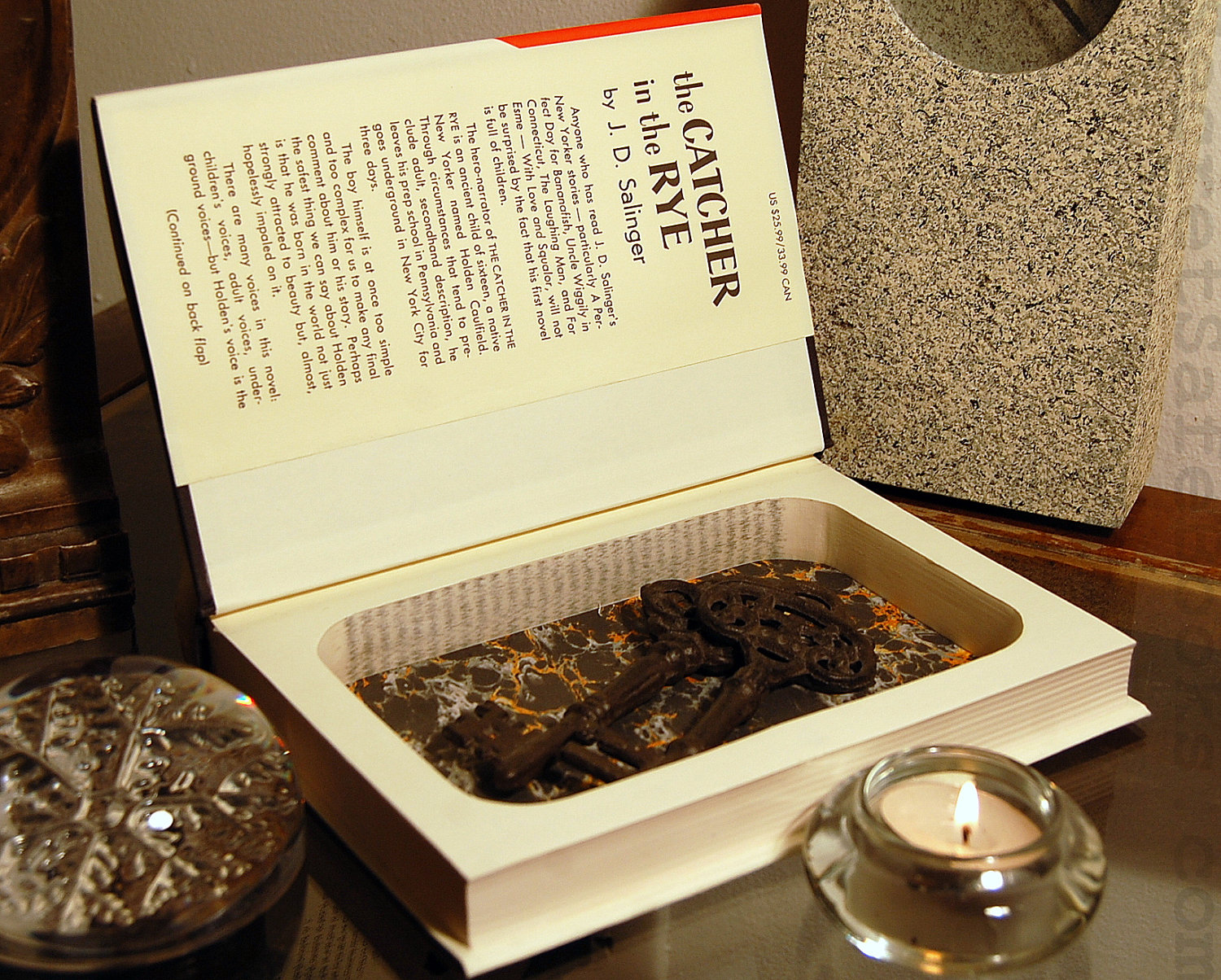 3. Invisible Book Shelf: Put your books on a shelf without the shelf. Wow! Stare at the picture long enough and it'll begin to make sense.
4. Bookcrossing – Send your books on a journey: Remember "Where's George?"—the service that tracks the location of certain $1 bills? Well this is like that, but with books. If you no longer want a book, send it on a journey and see where the wind takes it. Hell, if it makes an interesting enough trip, you can retrace its path and interview the people it's touched along the way and then write a Pulitzer Prize-winning book about the journey.
5. Origami: Envision a flock of beautifully crafted cranes suspended harmoniously over your head. Folding paper into beautiful shapes is a great way to palliate your boredom and focus your Zen. Get creative with what paper you'll use for each design. I like the idea of folding a crane from that Ornithology textbook collecting dust on my shelf. (This book would also be amazing for the wallpaper mentioned above).
Hopefully I've covered every possibility of what to do with your textbooks once you're finished with them. Have any other ideas? Let us know below!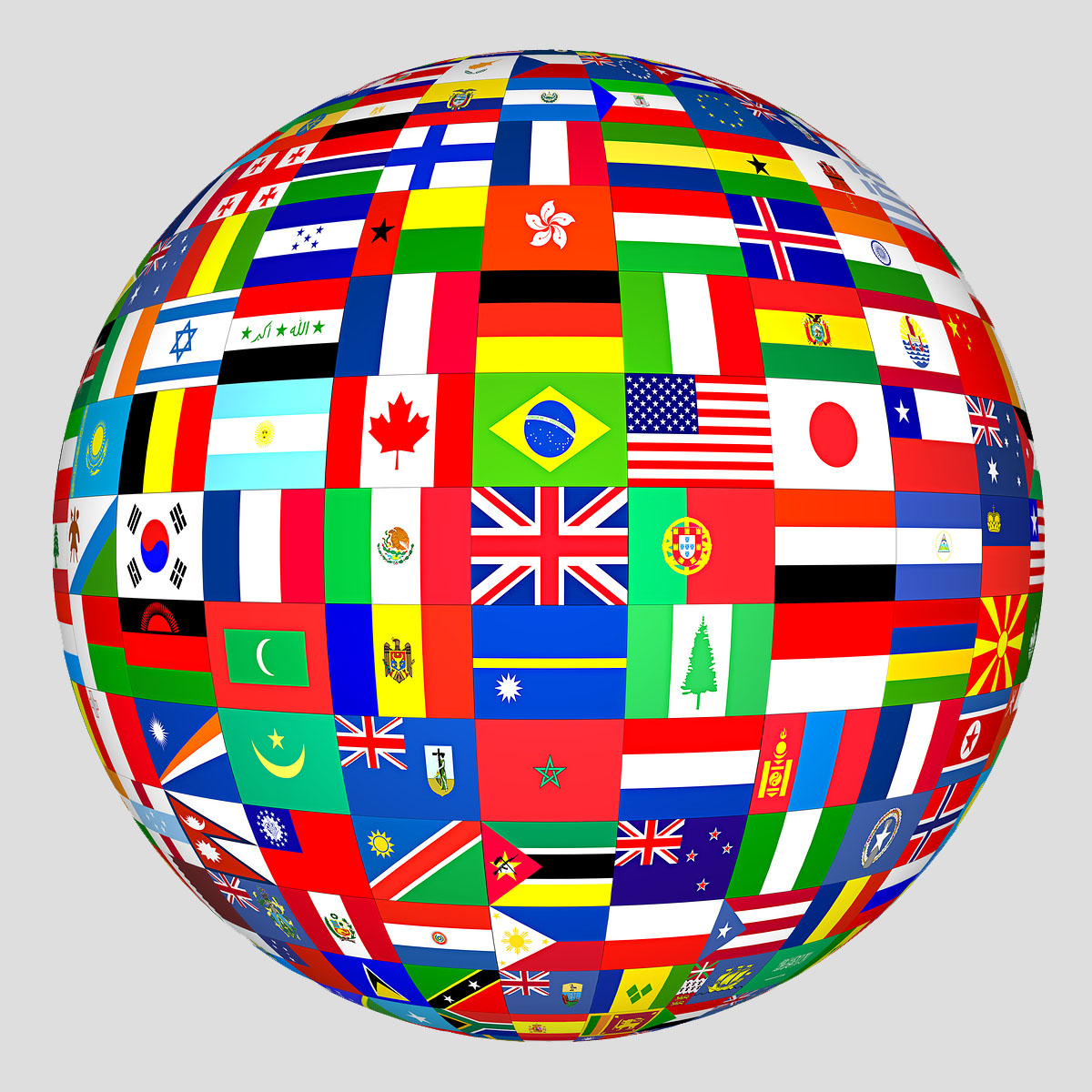 As the semester comes to an end, the majority of us are focused on surviving finals week and getting home for the holidays. However, many students, myself included, are preparing to spend time studying abroad for a few weeks, or even a semester. Although I am now very excited for my trip, my education abroad journey has not been all smooth sailing. There are a million and one things I wish I had known when I began planning my trip abroad. Here are just a few tips that I hope will make the process a little easier for anyone who is considering education abroad.
START EARLY: I repeat, do NOT wait until the last minute to start planning your trip (like I did). Although it's not impossible to plan an education abroad trip last minute, it is definitely more difficult. If you are at all interested in studying abroad, go meet with an education abroad ASAP. Different programs have different requirements. It is absolutely never too early to get started!

Decide where you want to go: One of the most important education abroad decisions you will make is where to go. One of my majors is Spanish, so I chose to study in Seville, Spain in order to complete the requirements for my major. Many colleges offer many areas of stud. But, you need to think about which cultures and experiences will benefit you the most academically. No matter where you go, you will have a great time and make awesome memories, so make sure it's going to pay off towards your degree.
Find a friend: Chances are, you know someone who has studied abroad in the past. Use them as a resource! Don't annoy them of course, but ask them to get coffee or lunch with you someday so that you can ask them questions and advice.
Don't let money stop you: If you're anything like me, you may be hesitant about education abroad because you think you can't afford it. Surprisingly, my semester abroad is going to cost me less than a semester at my home university. Now, this may not be the case for everyone. But I promise, education abroad fees include A LOT. And, you can usually apply any scholarships, loans or grants that you receive at your current school to education abroad fees. There are also TONS of scholarships available to students who want to go abroad.
Although a good GPA, campus involvement and leadership experience are all important aspects of an impressive resume, education abroad gives students an advantage over the rest. Employers and graduate programs love seeing that a student has studied abroad. Not to mention, I have never spoken to a student who regretted their education abroad experience. Have any questions or suggestions of your own about education abroad? Let us know in the comments section below.