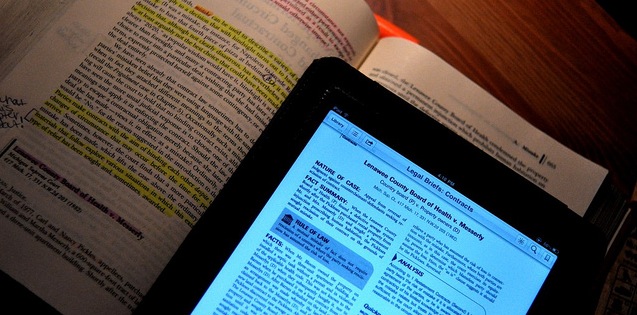 With the popularity of all-in-one electronics on the rise, college students all over the country have been taking advantage of new computers for their school work. One observation I've made while in college is that a lot of students use tablets for their classes rather than laptops. As a man without a tablet, this is very surprising. I always thought of tablets as just tiny, slow computers, or big smart phones, but I've actually seen some really creative and useful ways that my classmates are using them this past year. Here's just a small list of some of the things I've seen done.
Note taking: While many students prefer to write down their notes, using a tablet to take notes in class IS a handy way to save paper, and keep your notes looking clean and understandable.
Easy Organization: Many tablets come with, or can download, many organizational apps. These range anywhere from calendars, to help coordinate college students' very hectic lifestyles, to just keeping track of all your notes and files. Tablets can act as a great way to organize all your notes and class work. Just remember to have backup memory!
Reading: This isn't necessarily college-related, but tablets are a very quickly growing way to allow anyone to read an entire library worth of books without taking up all the space!
Online textbooks: Many schools and companies are now making their textbooks available for purchase in digital copies. I personally prefer renting a hard copy textbook, but if you don't want to deal with damage, or if it'd just be easier to have all your information on your tablet, the digital copy seems like it'd be a major convenience.
Whatever you can think of! I had a class this semester where a student used his tablet during a presentation. He had specific sentences recorded on it, and when he'd reach certain points in the presentation, the tablet would interject with arguments that he would quickly dismiss. A tablet IS a type of computer, so if you're able to find an app for it, or if you have the imagination for it, there are almost limitless capabilities for how to use it!
I'm not saying that you absolutely NEED a tablet in college, after all, I've been doing just fine without one! However, there are times that I wish I had one because it'd make my life a whole lot easier. Having to carry around a million textbooks, and not fully knowing the bus schedule because I don't have a bus app can be quite a pain, so you be the judge as to whether you'd want one or not! What kind of tablets are you all using for your classes?
Well folks, it's official. Halloween has come and gone, and it's now time to buckle down and focus on the most important assignment of your life: applying to college. If you're anything like the average student, you probably haven't even thought about your applications yet. But that's okay! Rather than filling out tons of applications to a zillion different colleges and universities, the Common Application (or Common App) can save students a lot of time and hard work.
What is the Common App? The Common App is a standardized, online college application accepted by over 500 public and private colleges and universities in the United States and abroad.  It is free for all first year and transfer students. It provides students the opportunity to fill out one application to send to each member school they wish to apply, rather than filling out an application for each different school.
The Benefits of Using the Common App: The Common App offers several benefits to students looking to apply to college for the first time or transfer to a different school.
It's free: There is no fee to use the Common App. The only cost to students is the application fee that each university charges. So for example, if a student wishes to apply to The University of Kentucky, Kalamazoo College and Yale University, they would simply fill out the Common App once, and then pay each schools application fee through the Common App website.
It saves time: Rather than filling out a different application for each school you might want to attend- which, trust me, is NOT fun- students simply fill out one application and select which member schools they want it sent to!
Everyone's using it: Cliché I know, but it's true! Over 1 million college admissions are processed using the Common App each year. So if you have questions, it's almost guaranteed that your high school counselor or college advisor will be able to help you out. In fact, some schools now only accept the Common App.
The Disadvantages of Using the Common App: No application process is perfect and the Common App is no exception.
Online vs. Paper: There is no longer a paper version of the Common Application. Although most people nowadays have access to the Internet, some do not, and the fact that the Common App is now all digital could cause an issue for some students.
Membership is selective: In order to become a member school, colleges and universities must apply. Because of this, there will most likely be one or two schools you wish to apply to that are not members.
The Common App may not be for everyone, but it is definitely a resource worth knowing about. Have you or someone you know ever used it before? Tell us about it in the comments section below!
For many of us, the first day of fall semester classes has arrived. That means moving in, buying textbooks and mentally preparing yourself for the new school year. That also means there will be stress and mental clutter coming as well. Instead of freaking out and frying your brain, try these simple tips to keep your cool and make the stress burden lighter on your shoulders:
Keep a planner. This is both a time-management tool and a stress reliever. List your schedule in the hour section and set aside time to do classwork (remember: however many credit hours a course is, that is how many hours you should spend studying and doing homework for that class per week). You can use Google Calendar (if you have a Gmail account), or if you're looking for something to carry with you, check out these adorable planners!
Clean, clean, clean. Did I say clean? A clean room is a happy room. Some students find it stressful to work in a cluttered dorm room or apartment, and often times become mentally disorganized as a result. Clean up some so you can study Plato's "The Republic" instead of staring at the pile of clothes on top of your desk.
Set aside time to play. Jack Nicholson once said, "All work and no play makes Jack a dull boy." Infamous, but it holds true for many students. Focusing too much on upcoming assignments or the next big exam will add more weight to the stress burden. Instead of being a worry wart, schedule time to take a walk or socialize with your friends, maybe even join a college club. You will be glad you did.
Did these tips help? Got any others? Share your mental organization and stress relieving tips in the comments section below!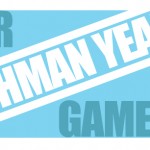 College life brings with it a limited budget and almost limitless free time.
There are plenty of hours to fill, but not a lot of spending money in your pockets. However, there are many resources at your fingertips which can make the experience affordable and enjoyable, allowing you to graduate with good spending habits and without debt.
Here are three tips to help you transition to college living while using your time, money and talents wisely.
1. Start Building Your Resume
Once graduation is over, it's time to get working. Right after high school you have a whole summer to begin saving for the future. Jump right in and get some real life experience to put on your resume and learn what it's like to have an income.
Once you start school, either reduce your hours to part-time or find another job that better suit your class schedule. For some students classwork can make employment tough, but this does not mean it's time to quit working. Just working two shifts over the weekend will give you money to use for saving and spending.
There are a variety of jobs out there for you to try. Whether or not you want something social, like working on campus or something to start networking, or doing entry level work in your field, get started early. Even food service or retail jobs can be the stepping stones to learning leadership skills you will use in the future.
2. Evaluate Income and Spending
Putting together a budget requires accurately estimating how much income you have and what regular expenses you will owe. Determine the funds you have to work with by adding together the money you were given for graduation, any regular spending money your parents will provide and financial aid money that will go toward expenses and paychecks from working.
Even if your parents can't afford much or checks from graduation are small, the money can be leveraged so that you have a cash safety net during college.
Use Microsoft Excel or another online budgeting application to create a budget that tracks the cost of books, cell phone bill and other personal items. Discuss with your parents early on the costs they will assume for you. Making a plan before it's time to pay can prevent you from spending more than you can repay or taking out more than you need in student loans.
Open a student checking and saving account to receive discounted rates and track your spending to make sure you follow your budget. Start with at least $100 to open the savings account and then deposit some of your earnings every two weeks until you have $1,000. You can use the savings for major expenses such as flying home for winter break or making an emergency visit to the hospital after breaking in your leg in intramural soccer.
3. Manage Time Intentionally
Believe it or not, studying is a major way to save money, not to mention improve your grades and prepare you for a career. Putting a sizable portion of your time into study groups or planting yourself at the library utilizes this time to its greatest potential. Take the initiative to be a disciplined student and devote hours to your class work.
You may feel tempted to use these hours for fun events like shopping, going out to eat or paying for other entertainment. Limit your nights out to once or twice a week so that you are in control of your grades, but still able kick back and relax here and there.
Take advantage of the on-campus events sponsored by your school. After all, part of your tuition is going toward these activities, which are often free to you and accompanied with free food. This will help with immersing you in the community as well as saving you from spending money on other forms of entertainment.
College is a time to embrace many new things, but debt doesn't have to be one of them. Make the most of your freshman year by working hard, sticking to your budget and hitting the books.
Alanna Ritchie is a content writer for Debt.org, where she writes about personal finance and little smart ways to spend (and save) money. Alanna has an English degree from Rollins College.
College is busy. But news flash—you knew that coming in.
Over the last 3 years I have made it my goal to be as involved and "busy" as possible—while of course still keeping up with my classes and grades. My friends look at it as a death sentence. They can't figure out why I want to always be running around, shouldn't I be studying?  But all arguments aside, I always came to the conclusion that the alternative was worse: Spending 4 years trapped, alone, in my dorm room.
Let's play a game. Would you Rather?
Would you rather be busy, or be bored to tears?
Would you rather have a jam-packed schedule, or not enough to do?
And last one…
Would you rather have stories to tell (stressed ones, funny ones, crazy ones) or think back on your time and not remember anything but books?
Okay so these are extreme, but you get the point.
I go to a relatively small school, so it's easier to get involved—maybe even more encouraged. However, I took them up on it and haven't regretted it since. Sure some days are too busy and I can't wait to drop everything and take a nap, but I wouldn't trade it for anything. Everyone tells me they are "too busy". I want to reply, "good! You should be!", but always think twice. You should be busy in college, it comes with the territory, or at least it should.
In fact, I've watched my friends over the last 3 years do the exact opposite of me—try to stay uninvolved. I love them to death, but I think I made the winning choice. There are days when I don't see them leave their rooms, or do more than just watch a new episode of the "must-see" TV show. While I agree that they have chosen the less stress-filled path, I think that when we graduate in May, they might be slightly disappointed at what they missed out on.
We all make choices in college, many of which shape who we are. It's not mandatory to get involved; maybe studying really does take that long. But the way I see it is we have 4 years in college. Classes are most important and studying goes along with that, but what about the rest of the time? Once you graduate the tickets aren't as cheap, the activities aren't as readily available. The programs, movies, parties, and friend groups aren't as easy to find.
Yes college is about the books, but it's also about growing up and gaining experience—social experience as well as life experience, and a big part of that is learning to balance. College should be a balance of work and fun, books and friends, movies and food. It's the whole package! Your classes may be the meat and bones of the experience—the thick of it, but the cherry on top of your 4 years is the friends, memories and stories you'll be able to tell about the other stuff you did. Ramen in your dorm room can't go in your scrapbook. Trust me.