In 2011, the Center for Disease Control reported that over 3,331 people were killed in crashes involving a distracted driver. Distracted driving includes activities such as texting or eating while driving, and can double your chances of getting in an accident. Is a text message really worth your life?
I'll admit it; I've sent text messages while driving. I've made phone calls, too. But there comes a point where you have to decide if that text or call is really worth your life or someone else's. Most would agree that drinking and driving is selfish. However, the reality is that texting and driving is just as bad. Nothing is so important that you can't wait until you're at your destination. If it is something urgent, pull over somewhere safe and then send the text.
My home state of Illinois, like many, has a ban on texting and driving. If a police officer sees you texting, he or she can pull you over for it. In Illinois, you will receive a $75 fine for texting and driving. Compared to many states this is generous. In Alaska, the fine is $10,000, the highest of all the states.
Arizona, Montana, South Dakota and South Carolina currently have no bans or penalties for texting and driving, which will likely change soon.
While texting or talking on a cell phone while driving isn't illegal, the Department of Transportation has been diligently working to fight the issue of distracted driving for some time now. The National Highway Traffic Safety Administration (NHTSA) offers a pledge to end distracted driving that everyone should take. Action starts with you. As a passenger in a vehicle, you can encourage the driver to put their phone down.
Distracted driving has become a major problem in this country. The main point that everyone needs to remember is that distracted driving does kill. Next time you get behind the wheel, put the phone down until you get to where you're going. It's really not worth it.
Obamacare. We've all heard this term thrown around on the news and in our Political Science classes. But if you're anything like me, I'm sure you're a bit confused about what Obamacare actually is, and how it affects you as a student.
What is Obamacare? The official name is the Patient Protection and Affordable Care Act of 2010. Basically, the act requires that all Americans have health insurance by 2014 or be subject to a tax that will provide them with coverage. The goal of the act is to reform the American healthcare system and allow more individuals (many who previously have been turned away by insurance companies due to preexisting conditions) to access affordable healthcare.
Potential Pros of Obamacare:
Parents can now keep their children on their healthcare plans until the age of 26.
Individuals with preexisting conditions can no longer be denied healthcare. This change went into effect for children in 2010 and will go into effect for adults in 2014.
Insurance companies can no longer drop individuals who become sick.
Insurance companies are required to justify their reasoning for raising prices (otherwise known as "rate hikes").
Potential Cons of Obamacare:
Starting in 2014, if you have not yet purchased healthcare, you will be taxed as much as 1% of your income to pay for healthcare services.
Some individuals and businesses could be forced to pay higher taxes.
3-5 million people in the US could lose their company sponsored health insurance because their employers may find it more financially beneficial to pay a penalty for not offering insurance and allow their employees to buy coverage on their own.
Additional important (and often unknown) facts:
People without insurance can shop for a plan that meets their healthcare needs on different healthcare exchanges. These exchanges will provide individuals with information that will allow them to become educated about whether or not they qualify for tax credits, and will also allow them to compare plans before purchasing.
This plan has been in the works for decades and was an act created and developed by members of both political parties.
Insurance will now be provided to two groups who previously were uninsured: young people and people who chose to forgo preventative care and instead used hospital emergency rooms once their illnesses became severe. Insuring these individuals will save money in two ways: young people will be paying a premium but are traditionally healthier and therefore use healthcare services less, and ER users will now be treated before their illnesses reach expensive ER severity.
As college students that will soon be stepping out into the real world with real responsibilities, it is important that we stay informed about what is going on in the world around us. We love to hear your questions and comments about these topics so feel free to write to us in the comments section below!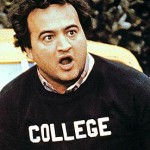 With another semester coming to an end I find myself reflecting on the things I wish I would have done differently. Luckily I am not graduating yet so there is still time to make changes. By no means am I an expert, but I want to offer a few recommendations for making the most out of college so you can graduate with no regrets.
Schedule Early Classes. A great thing about course scheduling is that you can make your schedule whatever you want it to be. Most students choose to make their school days begin around noon, or 1pm, so that they can sleep in, and until recently, I looked at it from that perspective too. This semester, the only availability for a class I needed was at 8 in the morning every single day, and to be honest, I couldn't be happier with it. Sure, getting up that early is still really tough, but its benefits outweigh anything that a 1pm schedule could get me. Waking up early lets you not only get all your work out of the way, it also allows you to explore any interests that would normally just be too time consuming. So if you ever wanted to try kickboxing, rock climbing, or maybe even salsa dancing, do yourself a favor, and actually give yourself the time to do all of that. Which brings me to my next point.
Try out new clubs and hobbies. There are a ton of them out there. Whether they're related to the outdoors, or volunteer services, or even just fashion clubs, they get you out of your room, and into a crowd of people with similar interests to your own. On top of that, they can help you forget about school stress for a while and can get you into those industries you always wanted to work for or learn about.
Stay Fit. This is a really general statement, I know. But doing anything physical will help in ways you wouldn't even imagine. Staying fit doesn't necessarily mean going for long runs every day, or even working out at the gym. Doing anything that keeps your body active works for me, whether it's playing football, rugby, or going on hiking trips, just make yourself sweat every once in awhile. Not only will it help you live longer, and feel more confident about yourself, staying active also helps you relax and think more clearly.
Take at least one class a semester that interests you. This one's pretty self-explanatory. As an engineering major, I know that classes that you need to take can get pretty monotonous. But it's always nice to have a class, any class, even one that doesn't count towards your credits, that just lets you relax and learn about something that always seemed interesting to you.
Don't just follow the crowd. I know the college cliche is to overwork yourself on weekdays and party on weekends. I know a decent amount of students in my dorm that follow that as a law, but honestly, making that your entire life is really boring. College is what you make of it, not what people tell you about it. People will tell you that college is a time to try new things, and meet new people, but that does not necessarily mean work and party. Do it your way, not the way of others.
Stay in touch with campus life. I went to a puppy parade last weekend. A puppy parade. That in itself should make you jump on your university's website to see what's being held this week. About a week ago, male students had a "Walk a Mile in Her Shoes" event, in which men actually walked a mile in high heels. From random things like that to cool community service events, a whole lot goes on around campus, so go check it out, you never know what you might find.
Remember how quickly high school flew by? Well, with more responsibility and opportunities, you can bet that college will come and go even faster. You don't want to be walking across the stage on graduation day wishing you could do things differently. What advice would you give yourself as a freshman?
As students, we all know that our lack of budget and time doesn't exactly add up to being a whiz in the kitchen, but that doesn't have to mean greasy fast food for every meal. My roommates and I love to cook, and have perfected a handful of meal ideas that are both budget friendly and time efficient. Below is my college cook book that I have created:
Breakfast
-Strawberries and Cream waffles: Begin by toasting a frozen waffle. I like Kashi multigrain waffles- they're delicious and healthier than the alternative! Spread low fat cream cheese on the waffle and top with slices of fresh strawberries. Such a delicious combination that tastes so indulgent and will fuel you for your long day of classes!
-Three-ingredient Banana Pancakes: Mash 1 banana in a bowl. Add 2 eggs and ½ cup of instant oats. Mix together, pour, and flip! And there you have it- delicious, fluffy pancakes in less than 10 minutes time.
Lunch
-Pesto Pizza: This is definitely a favorite amongst my roommates and I. Start with a whole-wheat wrap and spread with a thin layer of pesto (you can make your own, or buy some at the store). Top the pizza with whatever you have in the fridge! My favorite toppings are feta cheese, cherry tomatoes, olives, and grilled chicken. Drizzle to top with a little bit of olive oil, and pop it in the oven at 350 degrees for about 8 minutes or until the crust begins to crisp on the edges.
-Homemade White Bean Dip: Start with a can of your favorite white beans and drain- I usually go with great northern beans or navy beans. In a food processor or small blender, add beans, a tablespoon of olive oil, a squeeze of lemon juice, and salt and pepper to taste. Blend until smooth and serve with pita bread and fresh veggies for dipping!
Dinner
- Greek Yogurt Chicken Breast: I absolutely love cooking with Greek yogurt because it makes dishes creamy, without adding tons of calories. Start with a cup of plain Greek yogurt and add a tablespoon of Dijon mustard. Season the mixture with whatever you have on hand (I usually add garlic and basil). Coat your boneless, skinless chicken breasts with the yogurt and let it marinate for 2 hours. Cook the chicken at 350 degrees for about 25 minutes, and enjoy! Serve with steamed veggies and brown rice.