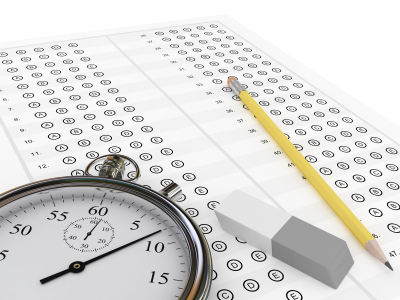 It's that time of year again. Soon, high school students all around the country will begin taking standardized tests for college. Whether you're taking the ACT or SAT, it's always nice to have some pre-test advice. And while I can't exactly help you with the actual test questions, I can answer some common questions that many students may have.
Q: Where do I sign up for the test?
A: For the SAT, head over to the official SAT website and follow the instructions to register for your test. Do the same thing at the official ACT site to register for the ACT. Public and private schools around the country are made available for testing, so search through the list of nearby schools and choose the testing site that works best for you.
Q: Should I take the SAT or the ACT?
A: While most colleges and universities only require one of these tests, it can help to take both. Many colleges require, or prefer, SAT scores over ACT scores. I recommend taking the SAT first, and the ACT can always act as another positive to add to your transcript. Before signing up, look at which colleges you are applying to, and see which test they prefer.
Q: Should I study?
A: Absolutely. There are many SAT/ACT prep courses, websites, books, etc all meant to boost your scores. While the tests are labeled as standardized, some information, such as vocabulary, will prove challenging to many students. I guarantee if you spend time in any of the above listed prep opportunities, your score WILL be much higher.
Q: What do I need to score?
A: Unfortunately, there is no one answer to this question. However, there are helpful resources to help you decide. Some colleges and universities weight SAT/ACT scores heavier than others. Also, some colleges ask for higher scores than others do. I, once again, highly recommend visiting your prospective colleges' websites and looking for their past class statistics and requirements.
Q: Do I need to take any SAT II's?
A: SAT II's are subject tests the SAT offers to test a student's knowledge in a particular subject. Depending on your major selection, and college choice, you might be required to take an SAT II in a relevant subject area. As an engineering major, I didn't take any SAT II's. However, I know that those students who did take them had an enormous leg up in the application process.
Q: What tips do you have for actually taking these tests?
A: Relax! Study far ahead of time so you aren't cramming last minute. On the days before the test make sure you get lots of rest and relaxation. Cramming before the tests will NOT be pleasant for anyone involved, I promise. Make sure you eat a decent breakfast before the test, and just stay calm!
I know that taking the SAT/ACT can be very stressful, but if you make sure you study ahead of time, I promise you'll do well. Check your school or library for any books or tips on SAT information, and check out the websites mentioned above for any more things that I might have forgotten. Good luck!
While the economic forecast may make you gloomy, it will give you peace of mind to know that many industry sectors today are thriving. What does that mean for you? You guessed it: jobs do exist!
But professional success won't necessarily come fast and easy. Some of the best and most lucrative career paths require significant applied intelligence, creativity, and hard work. They also may require years of formal training involving some higher education, such as a master's degree. Below are career paths that require a master's degree for you to evaluate and see if one is right for you:
1) School Administrator – Master's or doctoral educational administration degrees are available for students seeking a career in education. Such degrees will qualify students to work as school principals, assistant principals, educational board members, or faculty advisors. According to the U.S. Bureau of Labor Statistics (BLS), employment rates for post-secondary school administrators will grow by 19 percent between 2010 and 2020, and the median annual salary in 2010 was $83,710 for post-secondary school administrators.
2) Marriage and Family Therapist – A Master of Science in Marriage and Family Therapy will provide students with the experience necessary to practice in this field. According to the BLS, most marriage and family therapists in the U.S. work for service or government-run agencies, outpatient care centers, or at physicians' offices. Employment is predicted to grow by 37 percent through 2020, and the median annual salary in 2010 was $39,710.
3) Social Worker – To enter the workforce as a social worker, you will need to earn a master's degree in clinical social work. According to the BLS, this field is expected to grow by 25 percent through 2020, and, in 2010, social workers earned a median annual salary of $42,480.
4) Physician Assistant – Accredited master's degrees will qualify physician assistants to perform medical diagnostics and procedures under the supervision of physicians, as well as provide a license for them to practice. According to the BLS, employment in this field will increase by 30 percent from 2010 and 2020, largely due to healthcare industry expansion, and the median annual salary for the position in 2010 was $86,410.
5) Computer and Information Research Scientist – Breaking into this field requires a Master's or Ph.D. in Computer Science to better prepare workers for all aspects of computer and information science. According to the BLS, this occupation will increase by 19 percent from 2010 to 2020, and, in 2010, the average annual salary wage was $100,600.
The above positions will provide a rewarding career path for you, as well as substantial financial benefits. However, in order to gain employment in these fields, you must earn a master's degree, which will provide you with a competitive edge in today's tough job market.
Mandy Fricke is the community manager for Elearners.com where she helps manage their online community for their master's programs. In her free time she enjoys biking, traveling, and reading in coffee shops.
(Sources available upon request)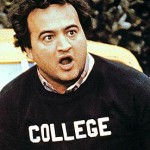 With another semester coming to an end I find myself reflecting on the things I wish I would have done differently. Luckily I am not graduating yet so there is still time to make changes. By no means am I an expert, but I want to offer a few recommendations for making the most out of college so you can graduate with no regrets.
Schedule Early Classes. A great thing about course scheduling is that you can make your schedule whatever you want it to be. Most students choose to make their school days begin around noon, or 1pm, so that they can sleep in, and until recently, I looked at it from that perspective too. This semester, the only availability for a class I needed was at 8 in the morning every single day, and to be honest, I couldn't be happier with it. Sure, getting up that early is still really tough, but its benefits outweigh anything that a 1pm schedule could get me. Waking up early lets you not only get all your work out of the way, it also allows you to explore any interests that would normally just be too time consuming. So if you ever wanted to try kickboxing, rock climbing, or maybe even salsa dancing, do yourself a favor, and actually give yourself the time to do all of that. Which brings me to my next point.
Try out new clubs and hobbies. There are a ton of them out there. Whether they're related to the outdoors, or volunteer services, or even just fashion clubs, they get you out of your room, and into a crowd of people with similar interests to your own. On top of that, they can help you forget about school stress for a while and can get you into those industries you always wanted to work for or learn about.
Stay Fit. This is a really general statement, I know. But doing anything physical will help in ways you wouldn't even imagine. Staying fit doesn't necessarily mean going for long runs every day, or even working out at the gym. Doing anything that keeps your body active works for me, whether it's playing football, rugby, or going on hiking trips, just make yourself sweat every once in awhile. Not only will it help you live longer, and feel more confident about yourself, staying active also helps you relax and think more clearly.
Take at least one class a semester that interests you. This one's pretty self-explanatory. As an engineering major, I know that classes that you need to take can get pretty monotonous. But it's always nice to have a class, any class, even one that doesn't count towards your credits, that just lets you relax and learn about something that always seemed interesting to you.
Don't just follow the crowd. I know the college cliche is to overwork yourself on weekdays and party on weekends. I know a decent amount of students in my dorm that follow that as a law, but honestly, making that your entire life is really boring. College is what you make of it, not what people tell you about it. People will tell you that college is a time to try new things, and meet new people, but that does not necessarily mean work and party. Do it your way, not the way of others.
Stay in touch with campus life. I went to a puppy parade last weekend. A puppy parade. That in itself should make you jump on your university's website to see what's being held this week. About a week ago, male students had a "Walk a Mile in Her Shoes" event, in which men actually walked a mile in high heels. From random things like that to cool community service events, a whole lot goes on around campus, so go check it out, you never know what you might find.
Remember how quickly high school flew by? Well, with more responsibility and opportunities, you can bet that college will come and go even faster. You don't want to be walking across the stage on graduation day wishing you could do things differently. What advice would you give yourself as a freshman?
So you're about to graduate college – congrats! What now?
As the economy recovers, so does the job market, allowing new opportunities to emerge. This is great news for those who are currently in college! However, many of these jobs require candidates to have more than an undergraduate degree. It is predicted that 2.6 million new jobs will be created between 2010 and 2020, and that individuals with masters or doctoral degrees will be the ones to fill those spots.
Many students are turning to graduate school as a way of carving a niche for themselves in today's competitive job market. Grad school can be a risky bet which could land you in a deep pit of student loan debt, or it could result in a dream job with a six-digit salary. Such a commitment requires a great deal of research, and with the growing number of programs offered it can quickly become an overwhelming process. Meeting with advisers and professors is a great starting point, but most students will want to do some investigating on their own. It is important to gather a wide variety of non-biased information, but with the endless amount of websites, books and blog articles dedicated to "facts" about grad school, it can be difficult to find high-quality sources. This is why I recommend U.S. News & World Report's annual Grad Guide.
Each year, U.S. News & World Report surveys thousands of programs and academic professionals to create a guidebook that helps students navigate the world of graduate school. For the second year in a row, eCampus.com has taken some key information from this elaborate, 200+ page grad guide and created an infographic to help students streamline their research. The goal behind this piece, as with all infographics, is to take a large amount of information and condense it into a unique graphic that's easy to understand. Similar to the 2013 grad school infographic, The Good & The Bad in Bad, this 2014 edition highlights trends regarding admissions, debt and salaries for the top five professional fields (Business, Education, Engineering, Health & Medicine and Law).
New this year is a section called the "Virtual Path", which describes the growth in options for online graduate programs. There is also the option to attend a partially online program, where some classroom attendance is required. Such opportunities are favored among non-traditional students who may have children or a full-time job. As this trend increases you will find that there are some great resources for affordable online education programs.
As graduate school becomes a more prevalent option for those holding college degrees, it is important that this decision is made with all of the right information at hand. This infographic should not be used to replace your grad school research, but it is a great way to quickly gather information and gain an understanding of new trends in the academic and professional worlds.
Good luck to all who join me in the pursuit of a higher-education!
To view the full infographic, and purchase your copy of U.S. News & World Report's Best Graduate Schools 2014 guidebook at 10% off list price, visit http://www.ecampus.com/best-grad-schools.asp or click the above image.
Are you approaching graduation and thinking about going to grad school? Or maybe you've been out of school for several years and are contemplating a return, but you're wondering if it's worth it. This is a question that many soon-to-be, as well as current, college graduates are faced with on a daily basis. When taking into consideration the present state of the job market, more and more students are turning to higher education as a means of differentiating themselves and taking their careers to the next level. The decision to pursue grad school has also become a way of "buying" more time and avoiding the harsh realities of our slowly recovering economy.
However, making the decision to go to graduate school is not as simple as one would hope. Students are forced to look into the inevitable financial burdens and intense time commitments associated with graduate level programs. Throughout this process students scour the web for trustworthy information on various programs and career paths to consider. One of the most credible sources they rely on is the U.S. News & World Report.
Each year they release a guidebook to the Best Grad Schools in the nation, but for the first time ever eCampus.com has decided to put a new spin on these rankings by creating an innovative visual in the form of an infographic. Using their findings on the top five professional fields (Business, Health & Medicine, Law, Engineering and Education), we've managed to take a large amount of useful information and condense it into a unique, easy to digest graphic. Our goal here, as with all of our infographics,  is to bring you a large amount of practical information in the fastest and easiest way possible.
This infographic provides some of the hard-to-swallow facts about graduate school, and whether or not the time and money spent obtaining that advanced degree will really yield the results many students are hopeful for. With "The Good and Bad in Grad" exposed, eCampus.com hopes this fun and helpful visual guides prospective grad students to make the right decision for their future. What are your thoughts? Is Grad school something you've been considering?
To access the full infographic, please click the image.