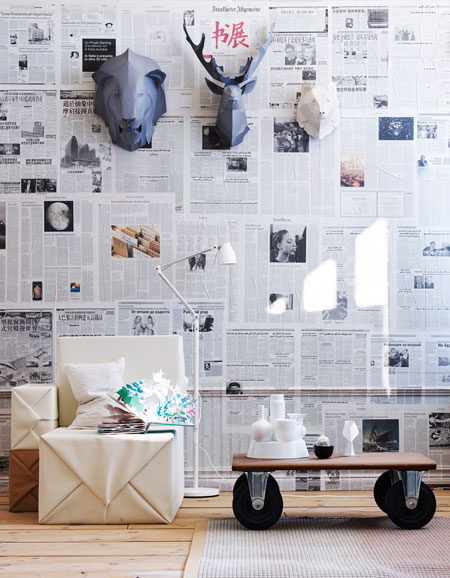 Not sure what to do with the textbooks you're now finished with? Well, you can either sell them to eCampus.com for cash, check or 20% back for in-store credit. Or, if you're just looking for an excuse to flaunt your creative proclivities, you can try these five ideas that will have your friends wishing they were as resourceful as you.
1. Dorm room Wallpaper: Take down your John Belushi and Pink Floyd posters and let yourself stand out from the crowd. Creating wallpaper from the pages of your old textbooks is sure to transform your inane décor into an indelible ambiance. I personally recommend textbooks from classes such as Art History, Biology, English (Norton's Anthology), and even Cartography, to name a few.
2. Hidden Book Safe: For the nefarious-minded readers, the uses for this are a no brainer. For the rest of us, this can be a good place to hide your spare cash or other small, valuable belongings like jewelry. For fun, try hiding a smaller book inside of your hollowed out bigger book. Awww, how adorable. Learn how to DIY here.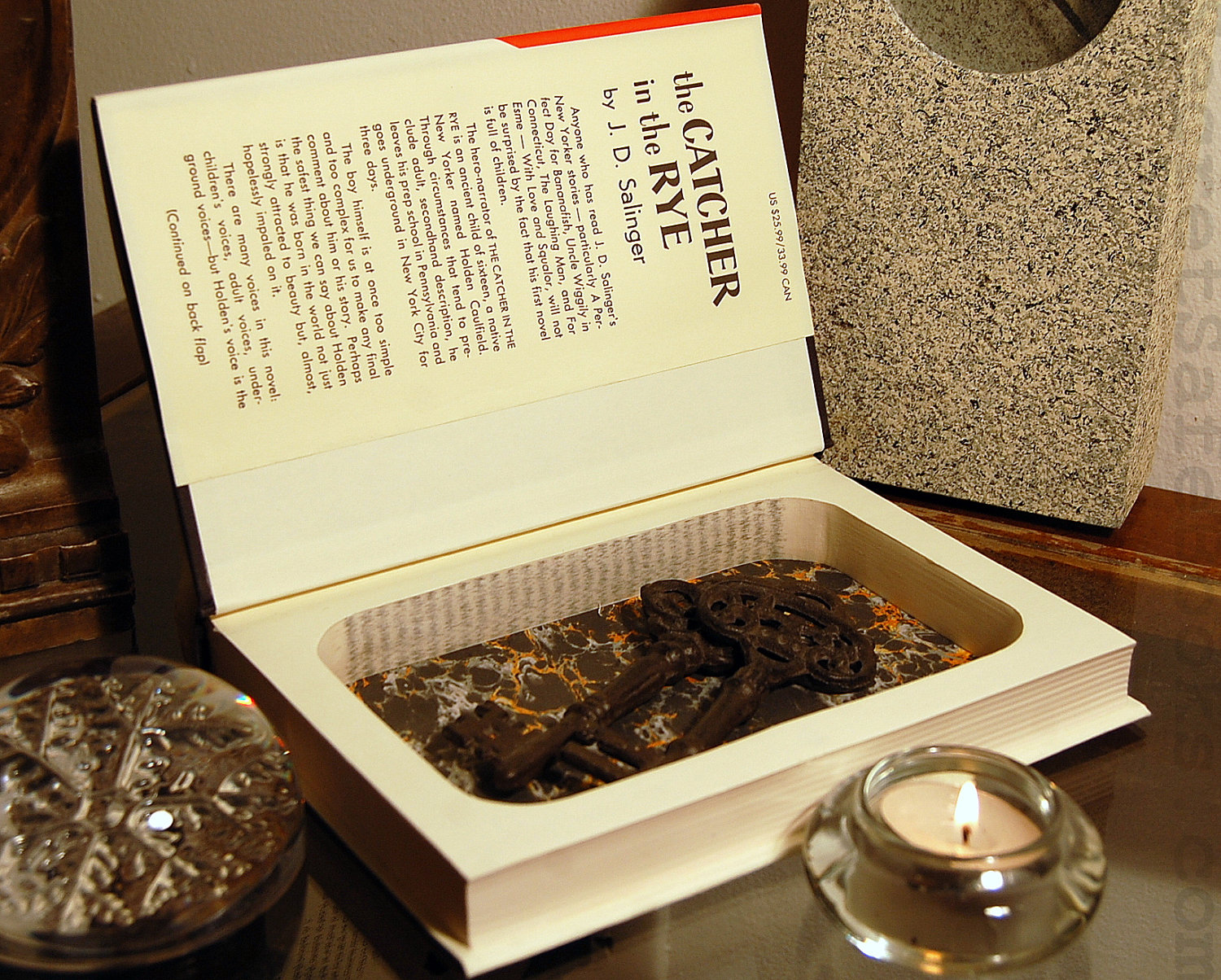 3. Invisible Book Shelf: Put your books on a shelf without the shelf. Wow! Stare at the picture long enough and it'll begin to make sense.
4. Bookcrossing – Send your books on a journey: Remember "Where's George?"—the service that tracks the location of certain $1 bills? Well this is like that, but with books. If you no longer want a book, send it on a journey and see where the wind takes it. Hell, if it makes an interesting enough trip, you can retrace its path and interview the people it's touched along the way and then write a Pulitzer Prize-winning book about the journey.
5. Origami: Envision a flock of beautifully crafted cranes suspended harmoniously over your head. Folding paper into beautiful shapes is a great way to palliate your boredom and focus your Zen. Get creative with what paper you'll use for each design. I like the idea of folding a crane from that Ornithology textbook collecting dust on my shelf. (This book would also be amazing for the wallpaper mentioned above).
Hopefully I've covered every possibility of what to do with your textbooks once you're finished with them. Have any other ideas? Let us know below!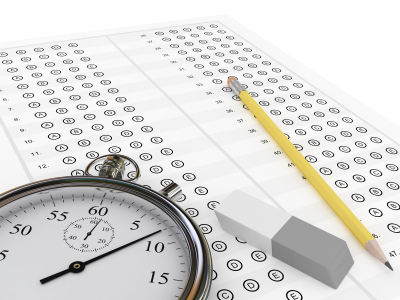 It's that time of year again. Soon, high school students all around the country will begin taking standardized tests for college. Whether you're taking the ACT or SAT, it's always nice to have some pre-test advice. And while I can't exactly help you with the actual test questions, I can answer some common questions that many students may have.
Q: Where do I sign up for the test?
A: For the SAT, head over to the official SAT website and follow the instructions to register for your test. Do the same thing at the official ACT site to register for the ACT. Public and private schools around the country are made available for testing, so search through the list of nearby schools and choose the testing site that works best for you.
Q: Should I take the SAT or the ACT?
A: While most colleges and universities only require one of these tests, it can help to take both. Many colleges require, or prefer, SAT scores over ACT scores. I recommend taking the SAT first, and the ACT can always act as another positive to add to your transcript. Before signing up, look at which colleges you are applying to, and see which test they prefer.
Q: Should I study?
A: Absolutely. There are many SAT/ACT prep courses, websites, books, etc all meant to boost your scores. While the tests are labeled as standardized, some information, such as vocabulary, will prove challenging to many students. I guarantee if you spend time in any of the above listed prep opportunities, your score WILL be much higher.
Q: What do I need to score?
A: Unfortunately, there is no one answer to this question. However, there are helpful resources to help you decide. Some colleges and universities weight SAT/ACT scores heavier than others. Also, some colleges ask for higher scores than others do. I, once again, highly recommend visiting your prospective colleges' websites and looking for their past class statistics and requirements.
Q: Do I need to take any SAT II's?
A: SAT II's are subject tests the SAT offers to test a student's knowledge in a particular subject. Depending on your major selection, and college choice, you might be required to take an SAT II in a relevant subject area. As an engineering major, I didn't take any SAT II's. However, I know that those students who did take them had an enormous leg up in the application process.
Q: What tips do you have for actually taking these tests?
A: Relax! Study far ahead of time so you aren't cramming last minute. On the days before the test make sure you get lots of rest and relaxation. Cramming before the tests will NOT be pleasant for anyone involved, I promise. Make sure you eat a decent breakfast before the test, and just stay calm!
I know that taking the SAT/ACT can be very stressful, but if you make sure you study ahead of time, I promise you'll do well. Check your school or library for any books or tips on SAT information, and check out the websites mentioned above for any more things that I might have forgotten. Good luck!
Although some school policy forbids professors to mark a student down for attendance, some of those professors have found a loophole in requiring in-class participation and smaller classwork assignments. Other schools, mainly small ones, let professors keep attendance as a percentage of the student's overall grade.
I am all for going to class and doing what I have to do to get this degree, but at some point, it seems like college is holding people back. Throughout my academic career, I have taken courses at Ramapo College, Florence University of the Arts and California State University of Monterey Bay. As I graduate from Ramapo, I ensure my courses relate to courses I would have taken there, but I seem to be repeating a lot of material.
A prime example is taking a course this semester that is a student newspaper workshop course. I am all for working on the student newspaper, interviewing faculty and writing up articles, because no matter how much writing experience you have, you can always have more and writing for different platforms, for different audiences is something I have made it a point to expand. The problem is the lectures. I understand if a student has no journalism experience they need some explanation, but if I understand the material and continue to make deadline, why can't I leave?
I mean don't get me wrong, I don't think of myself as high and mighty and I'll reiterate the fact that I enjoy working on the paper, but why can't college classes have a BYE just like sports?
We had to take AP tests to have our high school AP classes count for college credit. Why can't that logic follow into college? Shouldn't we be able to take a test before the course or do the classwork and pass the midterm and final for a grade? It gets frustrating to know that I am taking four hours out of my week on top of the time spent writing the articles to listen to a lecture I have heard before. Instead, I could be working on my other internships.
Anyone else feel like this? Sometimes getting to the end of a degree, you realize more and more how ready you are for the next step, a step into your Big Girl Pants.
The beginning of the new school year should come with an entirely revamped set of expectations. No, I'm not talking about mundane academic topics or crushing parental pressure. I'm referring to the standards you (should) set for yourself with each passing year. Did you happen to get a little out of shape this past exam period? This tends to happen, to some degree, to everyone when their diet is reduced to copious amounts of coffee, overpriced scones, and the vending machine's baffling selection of candy bars. Feeling completely sapped of energy after your daily exertions in the classroom or "don't have time" for the gym? When stress enters the equation, all else is left behind. The positives become easy to overlook and dwelling on failure is intuitive. Don't fall into the trap! Recognize the signs and click into a healthy routine that will do wonders for your confidence.
From a male perspective, particularly in college, being in good physical shape becomes really important. Why, you ask? Didn't we leave the superficiality safely stowed away in a high school locker? The answer is – sort of.  We certainly left behind the immature wisecracks based on people's appearance, but I don't believe we have completely left behind the judgment. You've heard the saying – "First impressions are hard to erase." Appearance is an inevitable part of every first impression. You may be an extraordinarily accomplished person, but give off an antipathetic vibe. Paying due attention to your looks has benefits that go beyond the superficial. The science behind the claim is common knowledge. Exercising on a regular basis not only optimizes physical attractiveness but also literally "clears your mind." Increased blood flow throughout the body livens you up and clears up any signs of the foggy malaise that usually has you stapled to the couch.
More often than not, getting into a regular exercise routine has nothing to do with capability. Even the busiest individual has thirty minutes to an hour of free time to devote to miscellaneous activities each and every day. The biggest issue for most is motivation. Admittedly, the thought of adding another "duty" to your schedule is taxing. This is precisely the negative mindset you must try to avoid. Working out shouldn't be thought of as a difficult and annoying responsibility. If you're a beginner, hitting the gym will seem challenging initially. Escaping your lazy streak will seem like a nightmare. You sit there and think about it – the muscle soreness, breathlessness, and intimidating sight of those who got the memo a little ahead of time. This is one of the only times I will advise you to stop thinking. Contemplating these sorts of things only delays progress. Dive right in and get a taste of what regular exercise is actually like. Your program will become more and more structured as your enthusiasm increases.
The college environment encourages self-improvement. We are told that these are the years in which we are "shaped." Take this both figuratively and literally. With intellectual growth must come social awareness and that requires greater effort. When you're satisfied with one aspect of your being, begin molding the next. Always strive to be well rounded and you will gain respect.