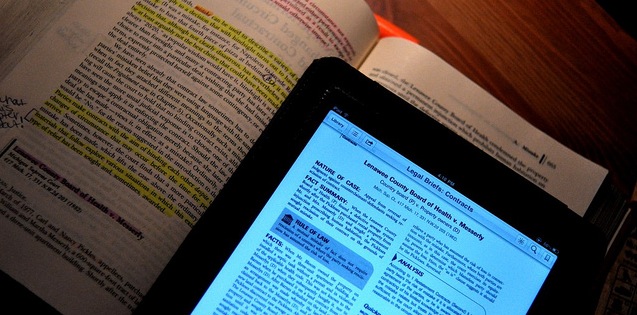 With the popularity of all-in-one electronics on the rise, college students all over the country have been taking advantage of new computers for their school work. One observation I've made while in college is that a lot of students use tablets for their classes rather than laptops. As a man without a tablet, this is very surprising. I always thought of tablets as just tiny, slow computers, or big smart phones, but I've actually seen some really creative and useful ways that my classmates are using them this past year. Here's just a small list of some of the things I've seen done.
Note taking: While many students prefer to write down their notes, using a tablet to take notes in class IS a handy way to save paper, and keep your notes looking clean and understandable.
Easy Organization: Many tablets come with, or can download, many organizational apps. These range anywhere from calendars, to help coordinate college students' very hectic lifestyles, to just keeping track of all your notes and files. Tablets can act as a great way to organize all your notes and class work. Just remember to have backup memory!
Reading: This isn't necessarily college-related, but tablets are a very quickly growing way to allow anyone to read an entire library worth of books without taking up all the space!
Online textbooks: Many schools and companies are now making their textbooks available for purchase in digital copies. I personally prefer renting a hard copy textbook, but if you don't want to deal with damage, or if it'd just be easier to have all your information on your tablet, the digital copy seems like it'd be a major convenience.
Whatever you can think of! I had a class this semester where a student used his tablet during a presentation. He had specific sentences recorded on it, and when he'd reach certain points in the presentation, the tablet would interject with arguments that he would quickly dismiss. A tablet IS a type of computer, so if you're able to find an app for it, or if you have the imagination for it, there are almost limitless capabilities for how to use it!
I'm not saying that you absolutely NEED a tablet in college, after all, I've been doing just fine without one! However, there are times that I wish I had one because it'd make my life a whole lot easier. Having to carry around a million textbooks, and not fully knowing the bus schedule because I don't have a bus app can be quite a pain, so you be the judge as to whether you'd want one or not! What kind of tablets are you all using for your classes?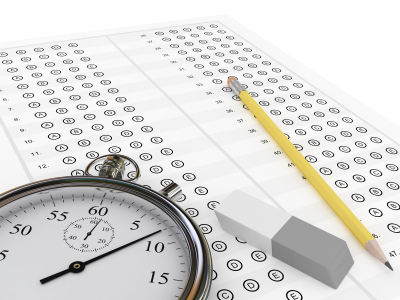 It's that time of year again. Soon, high school students all around the country will begin taking standardized tests for college. Whether you're taking the ACT or SAT, it's always nice to have some pre-test advice. And while I can't exactly help you with the actual test questions, I can answer some common questions that many students may have.
Q: Where do I sign up for the test?
A: For the SAT, head over to the official SAT website and follow the instructions to register for your test. Do the same thing at the official ACT site to register for the ACT. Public and private schools around the country are made available for testing, so search through the list of nearby schools and choose the testing site that works best for you.
Q: Should I take the SAT or the ACT?
A: While most colleges and universities only require one of these tests, it can help to take both. Many colleges require, or prefer, SAT scores over ACT scores. I recommend taking the SAT first, and the ACT can always act as another positive to add to your transcript. Before signing up, look at which colleges you are applying to, and see which test they prefer.
Q: Should I study?
A: Absolutely. There are many SAT/ACT prep courses, websites, books, etc all meant to boost your scores. While the tests are labeled as standardized, some information, such as vocabulary, will prove challenging to many students. I guarantee if you spend time in any of the above listed prep opportunities, your score WILL be much higher.
Q: What do I need to score?
A: Unfortunately, there is no one answer to this question. However, there are helpful resources to help you decide. Some colleges and universities weight SAT/ACT scores heavier than others. Also, some colleges ask for higher scores than others do. I, once again, highly recommend visiting your prospective colleges' websites and looking for their past class statistics and requirements.
Q: Do I need to take any SAT II's?
A: SAT II's are subject tests the SAT offers to test a student's knowledge in a particular subject. Depending on your major selection, and college choice, you might be required to take an SAT II in a relevant subject area. As an engineering major, I didn't take any SAT II's. However, I know that those students who did take them had an enormous leg up in the application process.
Q: What tips do you have for actually taking these tests?
A: Relax! Study far ahead of time so you aren't cramming last minute. On the days before the test make sure you get lots of rest and relaxation. Cramming before the tests will NOT be pleasant for anyone involved, I promise. Make sure you eat a decent breakfast before the test, and just stay calm!
I know that taking the SAT/ACT can be very stressful, but if you make sure you study ahead of time, I promise you'll do well. Check your school or library for any books or tips on SAT information, and check out the websites mentioned above for any more things that I might have forgotten. Good luck!
Almost every college student has their fair share of roommate horror stories. What most people don't realize, however, is that they probably have some not so great roommate qualities themselves. But don't fear, it's not difficult to be a good roommate! Here's a list of roommate stereotypes, and some tips on how not to be labeled as one of them.
Pig Pen: This is almost exclusively applicable to guys. This gross person can usually be found eating in bed, or right behind his giant trash pile on the floor. Be considerate of your roommate and throw your trash in the trash can. Also, take the trash out. Otherwise, the garbage will overflow the and inevitably attract bugs….believe me, it happens all the time.
Music Show-off: Every dorm floor will have at least one of these. You can usually find them in their room bragging about their powerful sub-woofer that can shake the building, or showing off their brand new album. Please, for the love of God, be considerate of everyone else on the planet. Whether it's quiet hours or not, there is no reason that everyone in the building needs to know what song you're listening to. Only play music loud enough for you to hear, and if your roommate's trying to work, or just relax, turn the volume down.
The "Borrower": I get that it's OUR room, but unless you ask to use something that isn't yours, it's not cool to use it. This rule can be completely disregarded if you're very good friends with your roommate, in which case, do whatever you want. However, if you're really just roommates, or acquaintances, take the time to ask before you borrow. It's really just common courtesy.
Just remember, people aren't always going to be exactly who you want them to be. So just relax, go with the flow and try to accept your roommate for who they are. Unless of course they're all three of these examples in one. In which case, you should probably go ahead and move out. Have any awful roommate stories? Share them in the comments section below!
University of Delaware: Changing the World and Public Policy
Everyone wants to change the world in one way or another. But it seems that as time goes on, too many things get in the way of certain goals and dreams. This course focuses on a wide variety of relevant politics, as well as asking the broad question: "Can you get a job, AND make a difference?" The subject material revolves around the student's perspective of the world, and gives great life lessons all while counting towards your GPA.
Ohio State University: Parenting
In today's day and age, many guides and technologies exist to help teach our society better ways to parent, but do all those products really help? As a high level course, this college course takes philosophical approaches towards mastering this ancient occupation. Finally, a class that answers students' famous question: "How will I ever use this in the real world?"
Colorado State University: Death, Dying and Grief
This seemingly gloomy class focuses on the processes that lead to death, but in addition to this, also actually applies its knowledge towards teaching students how to deal with grief.
Wellesley College: Self and world: Introduction to Metaphysics and Epistemology
Many counselors and advisors suggest that each student should at least take one philosophy course while in college. Many philosophy courses help teach students a new way of thinking and reasoning. While this course may just sound like a more complex general philosophy course, it actually focuses on issues such as the relation between mind and body and the existence of God. In addition to certain unique areas of its curriculum, the course instructors specifically encourage students to develop and express their own opinions on each subject.
University of Connecticut: Cinema and Society in Contemporary Italy
This course focuses on analyzing Italian society as shown through its media and literature throughout its history. The logic applied through this course actually seems very interesting, and every student review seemed to revere the class as one of the best they've ever had. Unfortunately I don't think they'll be showing this college movie.
Stanford University: Self Theories
College can be a very confusing time and place in a student's life. Many people have no idea what they want in a career or where they want to be in ten years. Most students don't even know who they are as a person. This course revolves around a person's belief in themselves. The course connects a person's confidence and self worth to their performance in academics, sports and even relationships. On top of all of that, it also offers different methods to change and develop these beliefs!