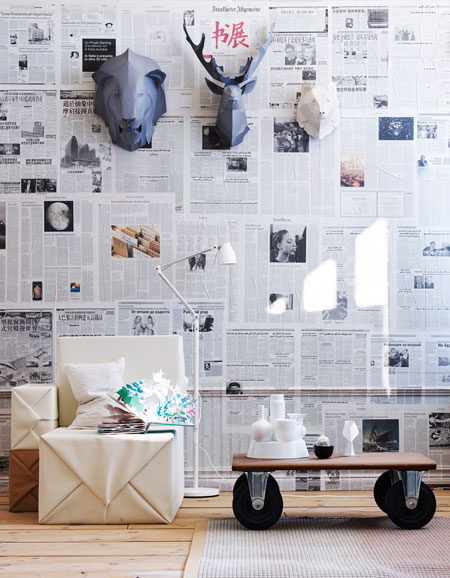 Not sure what to do with the textbooks you're now finished with? Well, you can either sell them to eCampus.com for cash, check or 20% back for in-store credit. Or, if you're just looking for an excuse to flaunt your creative proclivities, you can try these five ideas that will have your friends wishing they were as resourceful as you.
1. Dorm room Wallpaper: Take down your John Belushi and Pink Floyd posters and let yourself stand out from the crowd. Creating wallpaper from the pages of your old textbooks is sure to transform your inane décor into an indelible ambiance. I personally recommend textbooks from classes such as Art History, Biology, English (Norton's Anthology), and even Cartography, to name a few.
2. Hidden Book Safe: For the nefarious-minded readers, the uses for this are a no brainer. For the rest of us, this can be a good place to hide your spare cash or other small, valuable belongings like jewelry. For fun, try hiding a smaller book inside of your hollowed out bigger book. Awww, how adorable. Learn how to DIY here.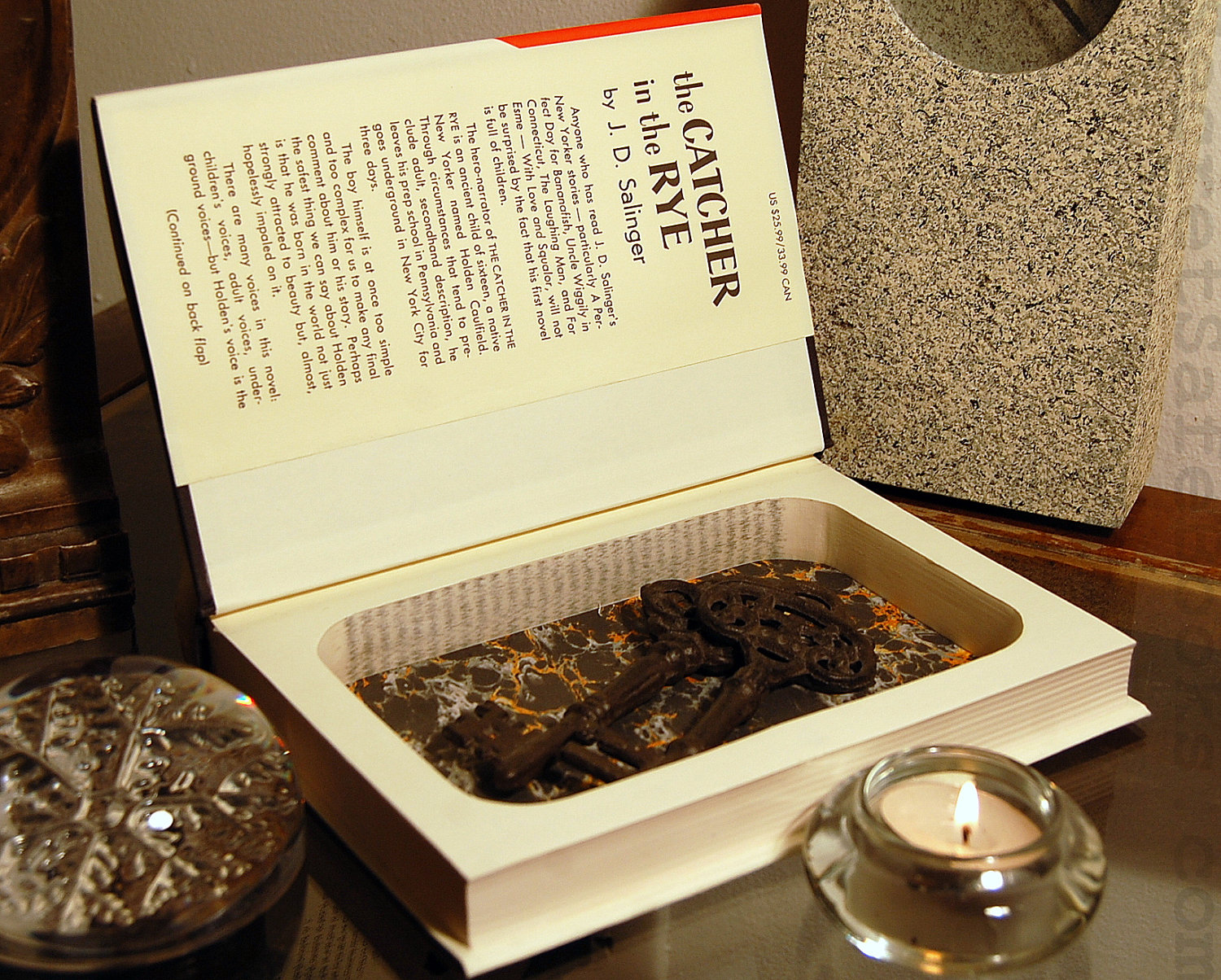 3. Invisible Book Shelf: Put your books on a shelf without the shelf. Wow! Stare at the picture long enough and it'll begin to make sense.
4. Bookcrossing – Send your books on a journey: Remember "Where's George?"—the service that tracks the location of certain $1 bills? Well this is like that, but with books. If you no longer want a book, send it on a journey and see where the wind takes it. Hell, if it makes an interesting enough trip, you can retrace its path and interview the people it's touched along the way and then write a Pulitzer Prize-winning book about the journey.
5. Origami: Envision a flock of beautifully crafted cranes suspended harmoniously over your head. Folding paper into beautiful shapes is a great way to palliate your boredom and focus your Zen. Get creative with what paper you'll use for each design. I like the idea of folding a crane from that Ornithology textbook collecting dust on my shelf. (This book would also be amazing for the wallpaper mentioned above).
Hopefully I've covered every possibility of what to do with your textbooks once you're finished with them. Have any other ideas? Let us know below!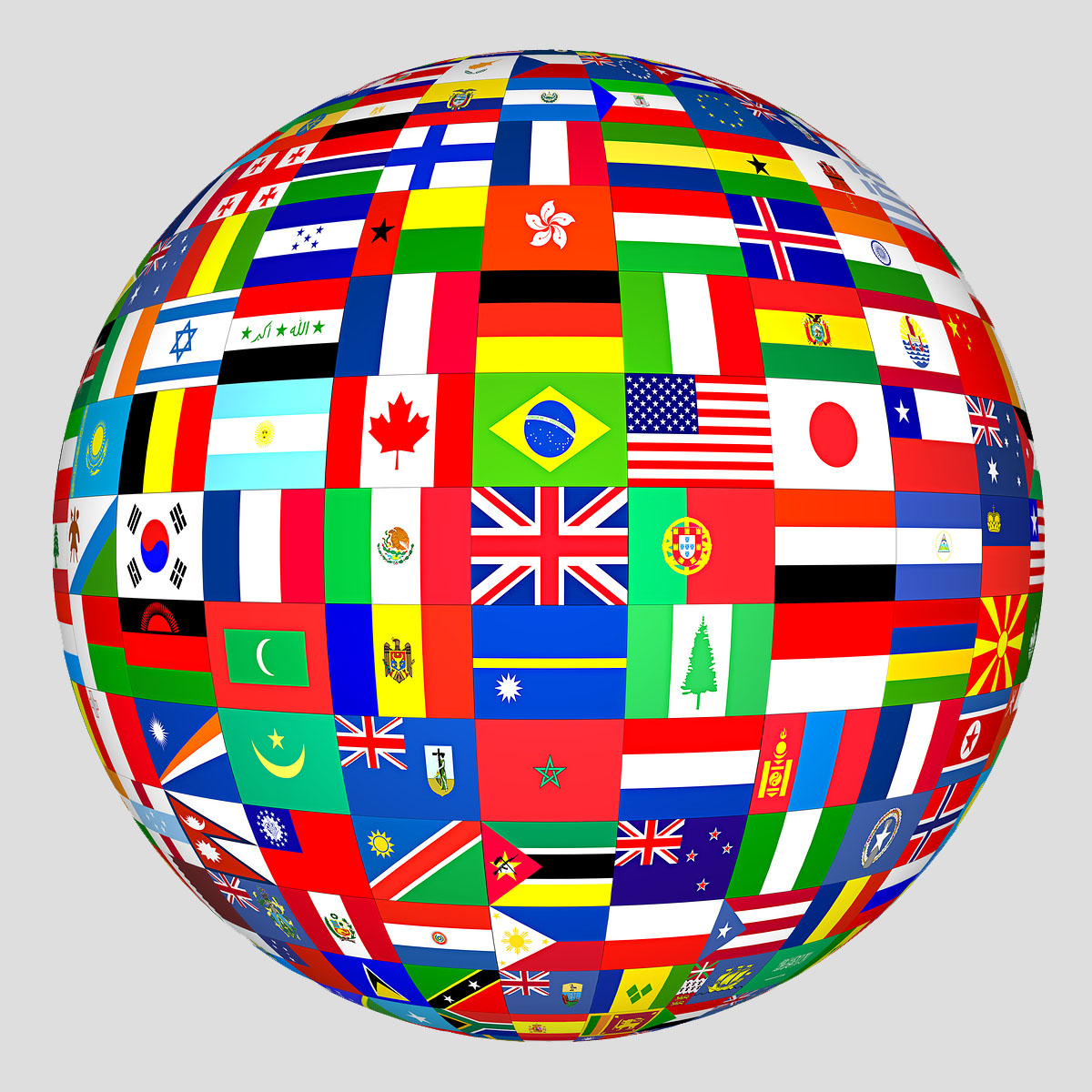 As the semester comes to an end, the majority of us are focused on surviving finals week and getting home for the holidays. However, many students, myself included, are preparing to spend time studying abroad for a few weeks, or even a semester. Although I am now very excited for my trip, my education abroad journey has not been all smooth sailing. There are a million and one things I wish I had known when I began planning my trip abroad. Here are just a few tips that I hope will make the process a little easier for anyone who is considering education abroad.
START EARLY: I repeat, do NOT wait until the last minute to start planning your trip (like I did). Although it's not impossible to plan an education abroad trip last minute, it is definitely more difficult. If you are at all interested in studying abroad, go meet with an education abroad ASAP. Different programs have different requirements. It is absolutely never too early to get started!

Decide where you want to go: One of the most important education abroad decisions you will make is where to go. One of my majors is Spanish, so I chose to study in Seville, Spain in order to complete the requirements for my major. Many colleges offer many areas of stud. But, you need to think about which cultures and experiences will benefit you the most academically. No matter where you go, you will have a great time and make awesome memories, so make sure it's going to pay off towards your degree.
Find a friend: Chances are, you know someone who has studied abroad in the past. Use them as a resource! Don't annoy them of course, but ask them to get coffee or lunch with you someday so that you can ask them questions and advice.
Don't let money stop you: If you're anything like me, you may be hesitant about education abroad because you think you can't afford it. Surprisingly, my semester abroad is going to cost me less than a semester at my home university. Now, this may not be the case for everyone. But I promise, education abroad fees include A LOT. And, you can usually apply any scholarships, loans or grants that you receive at your current school to education abroad fees. There are also TONS of scholarships available to students who want to go abroad.
Although a good GPA, campus involvement and leadership experience are all important aspects of an impressive resume, education abroad gives students an advantage over the rest. Employers and graduate programs love seeing that a student has studied abroad. Not to mention, I have never spoken to a student who regretted their education abroad experience. Have any questions or suggestions of your own about education abroad? Let us know in the comments section below.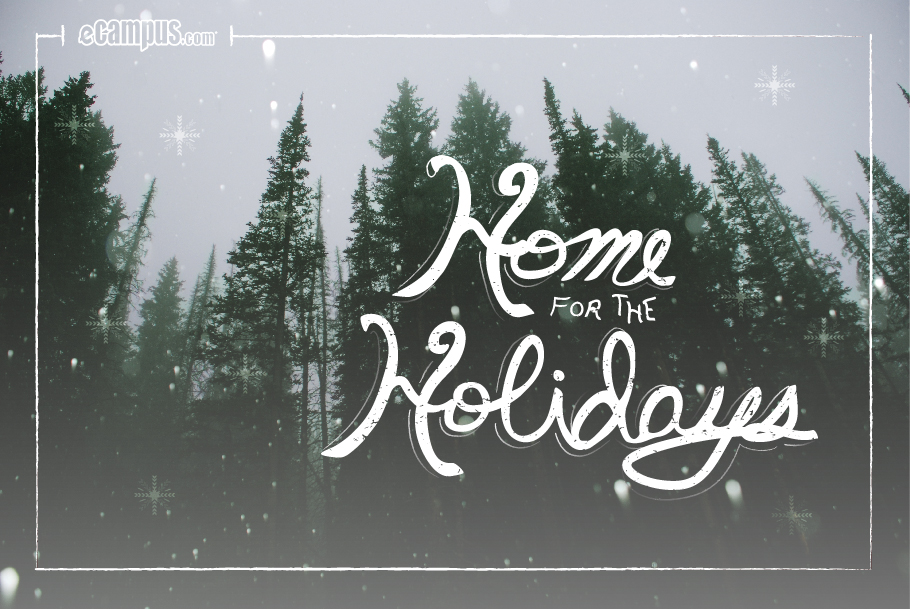 Everyone's favorite season has finally arrived! It's the time of year when ice skating downtown with friends every weekend is the norm, drinking hot chocolate and eating sweet treats daily is acceptable, and heading home to spend time with family and friends is what every college student looks forward to the most. I, like most students, love being away at school for the majority of the semester. However, as soon as Mariah Carey Christmas carols hit the radio and bells start ringing for The Salvation Army outside of the local grocery store, my anticipation to get home for the holidays begins.
Although we all look forward to heading home for the holidays, we at eCampus.com understand that for some, it can be difficult to get there. No one should have to spend their holiday in a deserted college town for lack of traveling expenses. Now, with our help, hopefully no one will have to! We are proud to announce our Home for the Holidays contest. We are celebrating the season of giving by paying for one student to travel home for the holidays. One lucky winner will receive a $300 check to spend on travel expenses this holiday season. Whether by plane, train or automobile, we want to send you home for the holidays!
To enter, simply answer the question "What do you love most about going home for the holidays?" through our Facebook or Twitter page. For Twitter, tweet your answer to @ecampusdotcom using #homefortheholidays. For Facebook, visit the eCampus.com Facebook page and click on the Home for the Holidays link at the top of the page.
For those of you who will be traveling on your own dime this holiday season, don't forget to check out Orbitz.com for top travel deals.
Good luck and happy holidays from the eCampus.com team!
Well folks, it's official. Halloween has come and gone, and it's now time to buckle down and focus on the most important assignment of your life: applying to college. If you're anything like the average student, you probably haven't even thought about your applications yet. But that's okay! Rather than filling out tons of applications to a zillion different colleges and universities, the Common Application (or Common App) can save students a lot of time and hard work.
What is the Common App? The Common App is a standardized, online college application accepted by over 500 public and private colleges and universities in the United States and abroad.  It is free for all first year and transfer students. It provides students the opportunity to fill out one application to send to each member school they wish to apply, rather than filling out an application for each different school.
The Benefits of Using the Common App: The Common App offers several benefits to students looking to apply to college for the first time or transfer to a different school.
It's free: There is no fee to use the Common App. The only cost to students is the application fee that each university charges. So for example, if a student wishes to apply to The University of Kentucky, Kalamazoo College and Yale University, they would simply fill out the Common App once, and then pay each schools application fee through the Common App website.
It saves time: Rather than filling out a different application for each school you might want to attend- which, trust me, is NOT fun- students simply fill out one application and select which member schools they want it sent to!
Everyone's using it: Cliché I know, but it's true! Over 1 million college admissions are processed using the Common App each year. So if you have questions, it's almost guaranteed that your high school counselor or college advisor will be able to help you out. In fact, some schools now only accept the Common App.
The Disadvantages of Using the Common App: No application process is perfect and the Common App is no exception.
Online vs. Paper: There is no longer a paper version of the Common Application. Although most people nowadays have access to the Internet, some do not, and the fact that the Common App is now all digital could cause an issue for some students.
Membership is selective: In order to become a member school, colleges and universities must apply. Because of this, there will most likely be one or two schools you wish to apply to that are not members.
The Common App may not be for everyone, but it is definitely a resource worth knowing about. Have you or someone you know ever used it before? Tell us about it in the comments section below!
As college students, we spend a good majority of our time reading: reading textbooks, reading academic journals, reading online articles. But what about the books we actually enjoy reading? I know for me, one of my favorite pastimes is curling up with a good book and letting the words work their magic. Here are just a few must read books that you have to check out for yourself!
1. The Great Gatsby by F. Scott Fitzgerald: This one is an obvious classic. Full of old time charm and elegance, The Great Gatsby is one of my all-time favorite novels. The movie is great, but the book is better. The thing I love the most about this American classic is that you can read it over and over, yet find something new to love about it each time.
2. Water for Elephants by Sara Gruen: Once again, this is a book where the movie just can't do it justice. Sara Gruen knew what she was doing when she wrote this piece of enticing literature. The adventurous, romantic storyline will keep anyone wanting for more.
3. The Glass Castle by Jeannette Walls: Of all the memoirs I have read, this is hands down my favorite. I repeat, this book is a must read! I have never gotten as caught up in a book as I did while reading The Glass Castle. The novel is a true story about a troubled family that will have your eyes wide the entire time you read it.
4. The Shining by Stephen King: What better book to read at Halloween time than Stephen King's classic, The Shining? This suspense filled novel will have you on the edge of your seat the entire time you are reading. Full of sinister twists and turns, the Shining is worth reading again and again.
5. The Help by Kathryn Stockett: There are few books that can warm your heart, make you laugh and make you cry all within the same page. The Help is not only a classic because of its excellent writing, but also because it educates readers on America's history while keeping them enthralled in an excellent storyline.
6. Pride and Prejudice by Jane Austen: Okay, hear me out on this one. I, like most students, was required to read this book in high school and felt like I was going to die of boredom. However, I reread the classic Jane Austen novel as a more educated, open minded college student, and absolutely fell in love!
I highly suggest picking up one or all of these must read books at eCampus.com. But if these don't fit your fancy, check out our other popular fiction titles that are on sale now!