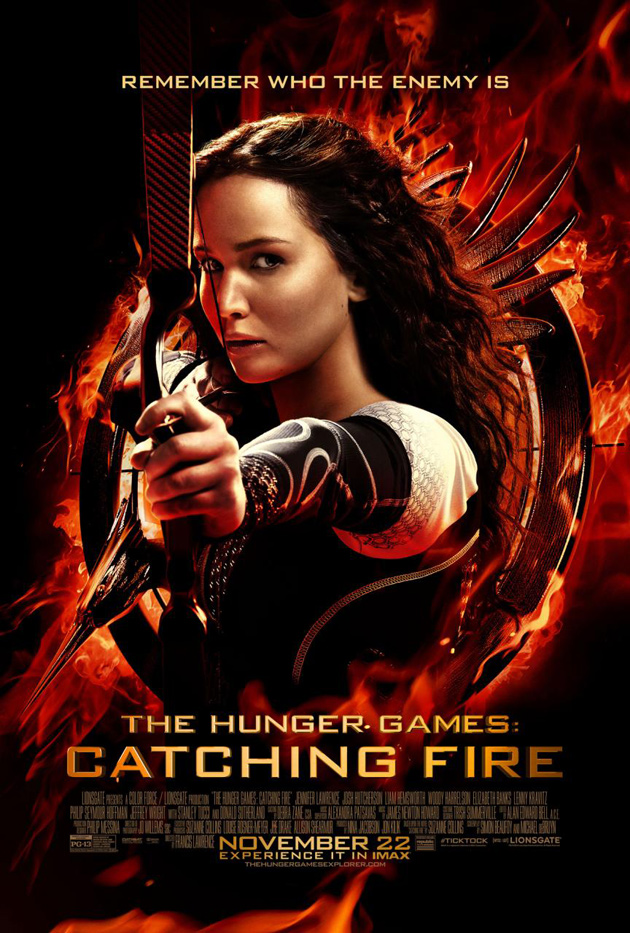 With the holiday season quickly approaching and Thanksgiving break right around the corner, it's the perfect time to check out the latest Hollywood hits. Time off of school provides the perfect opportunity to go watch those must see movies you've been dying to see, but just haven't had time.Here's my list of the three best movies to check out while on Thanksgiving break.      
The Hunger Games: Catching Fire- November 22
This is the second movie in the Hunger Games trilogy. I HIGHLY recommend watching the first one if you haven't seen it. I also recommend reading the books on your time off of school. The series has a fascinating storyline, set in the future post-apocalyptic nation Panem in North America. The country is divided into different districts, all under the political control of the Capitol. The Capitol established the Hunger Games as a way to remind the citizens of the districts of the Dark Days (75 years before the events in the books/movies).
Catching Fire starts with Katniss Everdeen  (Jennifer Lawrence)'s return after winning the 74th annual Hunger Games. President Snow is unhappy with Katniss and fellow winner Peeta Mellark (Josh Hutcherson) for breaking the rules, allowing both of them to win. The 75th Hunger Games mark what is known as the Quarter Quell, with a special set of rules. This year's participants are selected from previous Hunger Game winners.
I don't want to give too much away for those who haven't read the books, but this story and competition is sure to keep you on the edge of your seat. Katniss once again outwits the Capitol, causing President Snow to become even angrier with her.
Delivery Man- November 22
Delivery Man is Vince Vaughn's latest flick, so it's sure to keep you laughing throughout the whole movie. Vaughn stars at David Wozniak, a man who just found out he has fathered 533 children through anonymous donations to a fertility clinic 20 years ago. He is faced with the decision of whether or not to reveal his identity when 142 file a lawsuit for him to do so.
What's interesting about this movie is that it's actually a remake of Director Ken Scott's 2011 French Canadian film, Starbuck. "Starbuck" is the sperm donor alias that Vaughn's character went by.
Homefront- November 29
Homefront stars Jason Statham and James Franco in this action thriller written by Sylvester Stallone (Rocky). Statham plays a former DEA agent who moves to a small town with his daughter to get away from everything. An incident occurs on the playground at school where another student bullies her. Obviously trained by her father, the girl physically retaliates and knocks the kid down. His parents show up at the school, furious about what the girl did to their son. His father (James Franco), who goes by "Gator," begins to taunt the family.
He snoops around in their house when they're not home and discovers Statham's character was an undercover DEA agent. This upsets him even more because he is the leader of a meth-production gang in town.
The rest of the film looks like it'll live up to true Stallone and Statham action. Lots of fighting, guns and threats. What else could you want?
While these three films are obviously not the only ones coming out during this time, they're ones that I definitely plan on going to see. What must see movies are you looking forward to this holiday season?
In 2011, the Center for Disease Control reported that over 3,331 people were killed in crashes involving a distracted driver. Distracted driving includes activities such as texting or eating while driving, and can double your chances of getting in an accident. Is a text message really worth your life?
I'll admit it; I've sent text messages while driving. I've made phone calls, too. But there comes a point where you have to decide if that text or call is really worth your life or someone else's. Most would agree that drinking and driving is selfish. However, the reality is that texting and driving is just as bad. Nothing is so important that you can't wait until you're at your destination. If it is something urgent, pull over somewhere safe and then send the text.
My home state of Illinois, like many, has a ban on texting and driving. If a police officer sees you texting, he or she can pull you over for it. In Illinois, you will receive a $75 fine for texting and driving. Compared to many states this is generous. In Alaska, the fine is $10,000, the highest of all the states.
Arizona, Montana, South Dakota and South Carolina currently have no bans or penalties for texting and driving, which will likely change soon.
While texting or talking on a cell phone while driving isn't illegal, the Department of Transportation has been diligently working to fight the issue of distracted driving for some time now. The National Highway Traffic Safety Administration (NHTSA) offers a pledge to end distracted driving that everyone should take. Action starts with you. As a passenger in a vehicle, you can encourage the driver to put their phone down.
Distracted driving has become a major problem in this country. The main point that everyone needs to remember is that distracted driving does kill. Next time you get behind the wheel, put the phone down until you get to where you're going. It's really not worth it.
I truly believe that joining a registered student organization (RSO) was one of the smartest, most beneficial decisions I made in college. Upon transferring to ISU last fall, I joined their Public Relations Student Society of America (PRSSA) chapter. As a member of PRSSA, I am exposed to so many opportunities I wouldn't get in a classroom environment (even if it is a College Course for the Real World). I highly recommend joining a student organization that relates to your field of study. The knowledge and experience you gain is beyond valuable.
Being a member of a registered student organization is a great opportunity to work your way into a leadership position. As a member last year, I was able to observe how the organization was run and create my own ideas. This is my second year as a member of PRSSA, and I decided to take my membership one step further; I applied for a chair position. I am proud to say that this year I will be the Relations committee blog chair. Employers love to see progression from member to leader on a resume, so keep that in mind when becoming involved!
Running for a leadership position in your registered student organization should not be taken lightly. I took it just as serious as applying for a job. I had to polish my resume and write a cover letter, which I had no idea how to do. This gave me a chance to not only learn how to write a cover letter, but to also practice my interview skills. Our PRSSA chapter maintains a high level of professionalism, largely due to the seriousness of its' members.
Your years as an undergraduate student give you the opportunity to prepare for your future career. You can choose to pursue experiences that will help you out, or you can sit idly and wish later on that you had gotten involved. The choice is yours!

I sometimes find myself wondering how my college assignments could possibly relate to my future career. It seems like I memorize all these theories and concepts, without knowing their practical applications. I mean seriously, has anyone in the real world ever dissected a sentence?! My favorite professors are the rare ones who make an attempt to relate what we're learning to our futures. It's often through assignments/projects that I've been able to see the things I learn in college extending into my "real life". Lately, it seems that all my professors this semester are talking about that "portfolio" we're supposed to be compiling.  So what exactly is a professional portfolio and how do I make one?
The point of a portfolio is to be able to showcase real examples of your work to those interviewing you. It's a way to show off your skills and strengths as a professional. What does my portfolio contain? I have writing samples from the blogs that I write for (this being one!), a letter of recommendation, feature stories I wrote for my internship over this summer and class assignments that are comparable to tasks I'd have in the workforce. I also make sure I have a few copies of my current resume just in case. I know some people keep their own personal business cards in their portfolio, as well as ones they receive.
Ultimately, what you put in your professional portfolio is up to you—whatever you think future employers would be impressed by. If you have special awards or achievements, show them off! This is your time to shine. College is a four-year period that allows you to build up and add to this crucial piece for your future, so it's important you have something to show for it!
Moving into my first apartment was such an exciting experience. I've lived on my own in the dorms for the past two years, but am now fully independent without anyone looking after me (like residential hall staff). Shopping for my apartment was in some ways similar and some ways different than shopping for a dorm room.
First off, I had to buy kitchen supplies. I would recommend buying a cheap dinnerware set.  It's college,  items are bound to get broken or lost, so I really didn't find it necessary to invest in a super nice set of dishes. As far as cups go, I just bought a cheap set of four glasses to add to my collection of free cups I've gotten from campus events. Silverware is super cheap; I bought mine for $1 per set of four. When it comes to pots and pans, stick to the bare minimum. All you will need is two to three of each to get by. When shopping for these items don't forget that thrift stores and yard sales will often be your best friend!
Luckily, I had a lot of items for my bedroom from the past two years, but I did have to go out and buy new bedding (I now have a full-sized bed as opposed to a twin extra -long). I bought a complete bed-in-a-bag set from Walmart for about $40.
As far as some general items go, I would highly recommend bringing cleaning supplies when you first move in. My apartment looked as if it had barely been cleaned prior to move in day, so a nice scrub of the place isn't a bad idea. It's also definitely a good idea to communicate with your roommates and see who can contribute what. Depending on how many people are in your apartment, there's no need to have multiple dining sets. Sharing is fine and splitting the cost is even better! It's a good idea to sit down and make a list of what you have and what you need for your home away from home. It's tempting to buy lots of fancy new stuff, but the reality is that it's just not necessary.
What are some items you've either been glad you bought or that you found you didn't actually need?